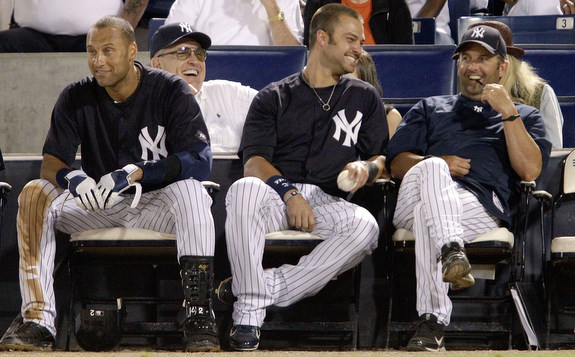 Another televised Spring Training game, another Manny Banuelos appearance. Don't get me wrong, I'm not complaining, but it's just weird how he seems to pitch in every game that's on the tv. He's starting today's game while CC Sabathia pitches in a minor league game that gives the team some flexibility (in case he has a short inning or something, they can add a fourth out, etc.). From what I understand he's only going to throw two or three innings as well, since it's his final tune-up before Opening Day on Thursday. I don't know how many innings are on the docket for Banuelos, but the more the merrier. Here's the lineup…
Brett Gardner, CF
Derek Jeter, SS
Mark Teixeira, 1B
Alex Rodriguez, 3B
Nick Swisher, RF
Jorge Posada, DH
Chris Dickerson, LF – say hello to the new guy
Eduardo Nunez, 2B
Austin Romine, C
Available Pitchers: Manny Banuelos, Mariano Rivera, Rafael Soriano, Joba Chamberlain, David Robertson, Boone Logan, Mark Prior, Luis Ayala, Romulo Sanchez, Steve Garrison, Josh Schmidt, Pat Venditte, and Chase Whitley. It will be the second of back-to-back days for Joba, Robertson, Soriano, and Logan by design.
Available Position Players: Gustavo Molina (C), Eric Chavez (1B), Doug Bernier (2B), Ramiro Pena (SS), Ronnie Belliard (3B), Austin Krum (LF), Justin Maxwell (CF), and Abe Almonte (RF).
The game is scheduled to start at 1:05pm ET and can be seen on YES. Enjoy.