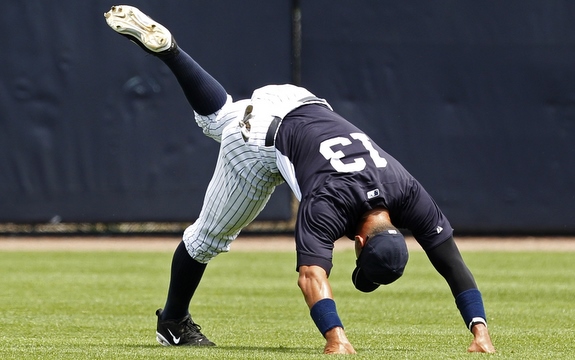 At long last, the Yankees will play their final game of the Grapefruit League schedule today. Once this one is over, the team will pack up and fly back to New York and prepare for Thursday's season opener against these same Tigers they're playing today. The weather still isn't great in Tampa, so chances are the regulars will just get an at-bat or two and hit the showers. No sense in risking injury at this point. Here's the starting lineup, which will probably be what we see against Justin Verlander on Thursday…
Brett Gardner, CF
Derek Jeter, SS
Mark Teixeira, 1B
Alex Rodriguez, 3B
Robbie Cano, 2B
Nick Swisher, RF
Jorge Posada, DH
Andruw Jones, LF
Russell Martin, C
Available Pitchers: Freddy Garcia, Rafael Soriano, Bartolo Colon, Luis Ayala, Mark Prior, Wilkins Arias, Andy Sisco, Eric Wordekemper, and Pat Venditte.
Available Position Players: Austin Romine (C), Eric Chavez (1B), Eduardo Nunez (2B), Ramiro Pena (SS), Doug Bernier (3B), Ray Kruml (LF), Melky Mesa (CF), and Justin Maxwell (RF).
Depending on where you live, you can watch this game live on either YES or ESPN at 1:05pm. Remember, it doesn't matter if they win or lose, just that no one gets hurt. Enjoy.
Note: Congrats to Manny Banuelos for winning the James P. Dawson Award as the top rookie in camp. Jon Weber, of all people, won the award last year, Gardner the year before.