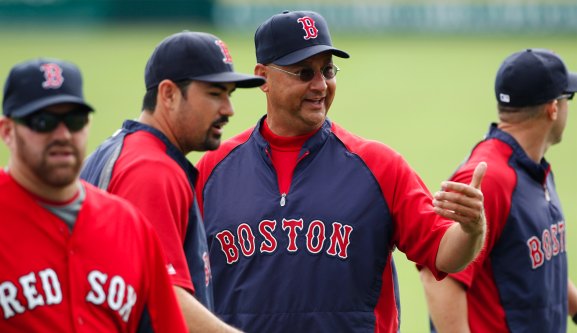 Stop me when this sounds familiar. Big market team invests tons of money into a team, but suffers from key injuries. The three-team nature of the AL East puts them out of the playoffs. Then, the following off-season they make a big splash by spending tons of money. That's exactly what happened with the 2008 Yankees, and it more or less happened again last off-season with the Red Sox. They added two key players in big money deals (just wait for Adrian Gonzalez's extension announcement) and appear to have a team just as strong as, if not stronger than, the Yankees in 2011.
Let's just hope the parallels end there.
Strengths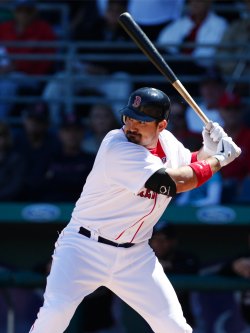 As has been the case for nearly a decade, the Red Sox draw great strength from the starting lineup. The only time in the past nine seasons that they've finished outside the top four in runs scored was in 2006. They might not be the powerhouse that led the league in runs scored from 2003 through 2005, but they're going to give the Yankees a run for their money in 2011. Their lineup is just that deep.
While batting Jacoby Ellsbury atop the lineup might not be the best use of the team's best bats, it makes little difference. It just slides everyone down a spot, meaning last year's top DH, David Ortiz, hits sixth, and J.D. Drew, who even in a down year had a .341 OBP, seventh. Even at eight and nine they have Jarrod Saltalamacchia, who we know has talent, and Marco Scutaro, who is better than most No. 9 hitters.
Then there's the heart of their order, the two-through-five that rivals any team in the bigs. It starts with Dustin Pedroia, who, with Chase Utley likely to miss a decent portion of 2011, figures to be one of the top two second basemen in the league. Following him is Carl Crawford, Adrian Gonzalez, and Kevin Youkilis. I suppose they could flip Youkilis and Gonzalez, but it matters little. That gives the Red Sox two excellent on-base and power guys in back of the speedier Crawford and Pedroia.
The Red Sox bullpen, at least the back end, has become a strength, too. Last year the Sox lost a few games due to Jon Papelbon meltdowns, but that could be just a blip on the radar. He has been one of the league's elite closers for four years now, and it will take more than one season with a few blown saves to downgrade his status. Last year Dan Bard was the only reliable setup man, but during the off-season the Sox added Bobby Jenks to the mix. The rest of the bullpen is full of question marks, including Matt Albers, but the Sox have a few arms on the farm — Al Aceves and Felix Dubront — who can step in if someone falters.
The bench, too, can be considered a strength, even if Jason Varitek again serves as the backup. Darnell McDonald produced a quality 2010 season and could be of use to the Sox as a fifth outfielder. Ahead of him is Mike Cameron, who would start on most teams and will probably take some at-bats from Drew or Ellsbury against lefties. Jed Lowrie, too, could eventually take over as the starting shortstop. That's a clear sign of a strong bench: the presence of players who could start for decent teams.
Big Question Marks
This section didn't appear in Mike's Orioles preview, because this is something unique to the Red Sox. In rating the Sox, I couldn't decide whether to put the rotation in strengths or weaknesses. It has strengths for sure, and with a few lucky breaks the entire staff could become a strength. But as it stands they've got an ace and a bunch of question marks. It sounds like some other team we've come to know.
Jon Lester remains one of the game's premier pitchers. Last year I picked him to win the AL Cy Young, and he really wasn't that much worse than the winner, Felix Hernandez. This year Dave Cameron of FanGraphs rode my coattails with the Lester pick, and I don't think it's any less likely to happen than last year. If he puts it all together this year — high strikeout, low walk, low homer, and high groundball rates — he could be the pitcher we hate to love.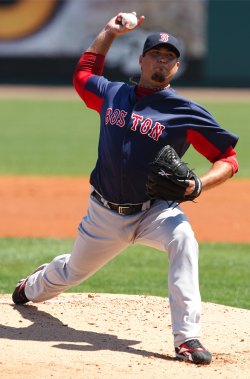 Behind him, though, the Red Sox have little certainty. Clay Buchholz was the best pitcher behind Lester last year, but he greatly outperformed his peripheral stats. Is he due for a regression, or will he progress similarly to his teammate? Lester, remember, had a below-average strikeout rate in 2008, but experienced a huge jump in 2009. If Buchholz follows his lead he could be in for another excellent season. But if he doesn't, I would expect his 2011 to look something like Phil Hughes's 2010.
Then there are Josh Beckett and John Lackey, who were disappointing for different reasons last season. Beckett pitched poorly and got hurt, and it stands to reason that the two are interrelated. At 31 he's no sure thing to bounce back, but his track record demonstrates that it is entirely possible. Remember, he had a rough 2006 season when he came to the AL and then came to dominate in 2007. We're four years removed from that, but it can still happen. It's just a little less likely this time around.
John Lackey was a disappointment during his first season in Boston, with a reduced strikeout rate and inflated walk rate. Yet he underperformed his peripherals, a 4.40 ERA to a 3.85 FIP. As with Beckett, he's a bit older and so a recovery isn't guaranteed. I have a bit less faith in him to recover than Beckett, but that's mostly a stuff argument — i.e., I think that Beckett's pure stuff can help him produce another top-flight season, while I'm not as big a believer in Lackey's stuff.
Weaknesses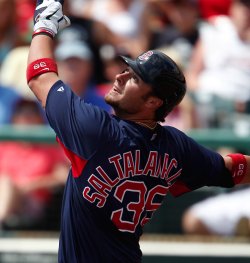 While the Red Sox are strong up front, they're a bit week when we move deeper into the roster. That includes the bench, bullpen, lineup, and rotation. Some are a bit weaker than others, but each has a chink in the armor.
In the rotation the Sox have Daisuke Matsuzaka holding down the fifth spot. His track record has been unimpressive during his time in the states. This can even include the 2008 season, when he finished with a 2.90 ERA. his 5.05 per nine walk rate indicates that he got a tad lucky — there is no way he can sustain an 80.6 percent strand rate. The last two years have seen him spend time on the disabled list and in general pitch ineffectively. The Sox have a few pitchers who can come up and take his place, but they're not exactly high-upside options.
In the bullpen the Sox might be strong in the late innings, but their other options do not inspire. Dan Wheeler has a quality track record, in the AL East to boot, so we might even count him as a strength. I don't think we can do the same for Matt Albers, Dennys Reyes, or Tim Wakefield. The Sox might get something out of these guys, and as previously mentioned they have a number of arms in AAA who can fill in should these guys falter. That's what I expect to happen. Even Wakefield, a Red Sox mainstay, could find this is his final year. I don't imagine the Sox will continue to use him if he's as ineffective as he was last year.
The starting lineup looks solid at the top, but the last two spots are something of weaknesses. Marco Scutaro is a fine shortstop, but his track record suggests that he's not any better than he displayed in 2010. Jed Lowrie figures to take his spot at some point during the season, at which point there's a chance that the lineup spot turns into a strength. Until then it's a weakness — at least relatively so. Jarrod Saltalamacchia represents the biggest chink in the Red Sox armor. This is not only because he's completely unproven, but also because they don't have a strong backup option. In one way it takes guts to put so much faith unto a 26-year-old who hasn't done a thing at the major league level. In another, more accurate, way, it probably wasn't the best idea on the part of management.
Overall Outlook
While the Red Sox have weaknesses and question marks, they're still among the best teams in the league on paper. That's no different than last year, of course. The big difference this year centers on health. As a team the Sox are in basically the same position as last year. They merely replaced departing players Victor Martinez and Adrian Beltre with Crawford and Gonzalez. Their relative performances should roughly even out, though Crawford and Gonzalez will probably be a bit better overall.
The difference is that they're starting fresh. Last year they lost Pedroia in June and then Youkilis a bit later in the season. If those two stayed healthy last year's pennant race would have evolved much differently. If they stay healthy this year the Red Sox will be in a much better position, even if they didn't make wholesale upgrades. If they all stay healthy this will be a powerhouse of a team. Then again, we can say that about more than one other team in the league. Bad breaks happen. The Red Sox are just hoping that they experience fewer of them this year.