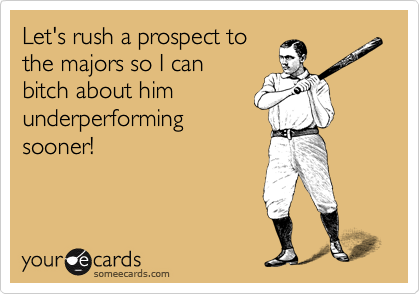 There is no more optimistic time of the year than Spring Training. The old cliche is that every team is in first place, and the reports of players adding a new pitch or refining their swing mechanics allow the optimistic part of our imagination run wild. Included in that is prospects, who we can watch flash the talent that makes them a prospect in the first place, and then somehow get lumped into the mix for a big league job. Just over two weeks away from the start of the regular season, Manny Banuelos finds himself in that spot.
The little lefty, who turned 20 this past Sunday, made his first start (and fourth appearance) of the Grapefruit League schedule Monday night, holding what figures to be the Red Sox's Opening Day lineup (sans J.D. Drew) scoreless for 2.2 innings. Banuelos worked out of trouble in both the first and second innings, the latter with the bases loaded and one out. His night came to an end when Kevin Youkilis swung and missed at a 3-2 changeup, a pitch 20-year-olds aren't supposed to throw. That's a big league pitch. Overall, Banuelos has thrown 7.2 scoreless innings this spring, striking out ten while walking four and allowing that same number of hits. Sergio Mitre is the only other pitcher on the staff to have thrown at least five innings while allowing no runs.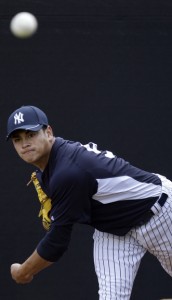 While he certainly looks ready when he's out on the mound, we have to remember that Banuelos is just a kid, a kid with 15.1 Double-A innings to his credit. If you want to add in the playoffs, it's 25 Double-A innings. If you want to be really generous and include his time in the Arizona Fall League after the season, then it's 50 innings against Double-A caliber competition. Either way, it's not a whole lot, which is why he isn't/shouldn't be in the mix for a big league job.
One reason I want to see Banuelos go back to the minors is because I want to see him get his ass handed to him. Struggles are good for development because a) a player learns to deal with failure, and b) the team gets to see how they react. Diamondbacks' ace Ian Kennedy is a classic example of a pitcher that had to learn about failure in the show. That guy never struggled on a baseball field in his entire life, and all through high school and college and minors he was told he was the bomb and was going to make it. Then he gets to the bigs and finds out that hitters couldn't care less about how good you were in the minors or how high you were drafted. A solid month of getting hit around by hitters isn't necessarily bad for Banuelos' development, but it's bad for the team if he experiences that for the first time in the majors, in games that actually count. His poise has been universally praised, but I want to see it put to the test.
There's also the innings issue. Counting the playoffs and AzFL, Banuelos threw just 99.1 IP last summer, a year after throwing 109 IP. He's probably good for 150 this season, which will carry him through mid-August. If the team gets "creative," maybe he lasts through September. Either way, we've seen Phil Hughes and Joba Chamberlain wilt down the stretch under career high workloads in the last two years, so let's not make it three in a row. Plus Banuelos is so young remember, he's still developing physically and his workload has to monitored carefully.
Trust me, I don't want to see Freddy Garcia and/or Bartolo Colon making starts for the Yankees any more than you do. If it was up to me from a pure entertainment standpoint, Banuelos would be in the starting rotation along with Dellin Betances and Andrew Brackman. However, it's not like the team doesn't have viable alternatives stashed away in Triple-A for Garcia's and Colon's inevitable flame-out, rushing Banuelos is just bad news. He clearly has the talent to be a long-term fixture for a championship-caliber team, and there's no need to screw around with that for an extra win or two this year.