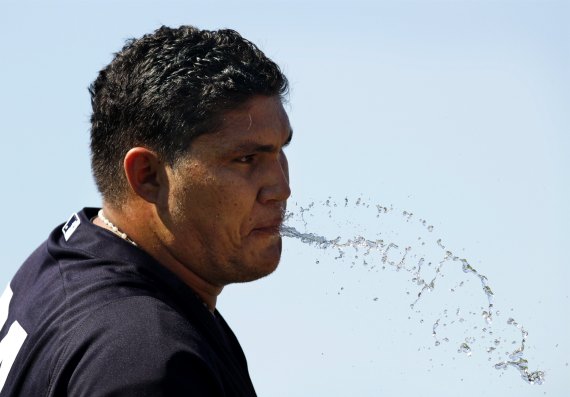 Heading into spring training, the Yankees bullpen situation appeared relatively set. Mariano Rivera, Rafael Soriano, David Robertson, Joba Chamberlain, Boone Logan, and Pedro Feliciano constituted six out of the seven members. Sergio Mitre or Ivan Nova figured to be the last. But, as so often happens, guys got hurt. While Mitre appears ready for action again, the Yankees are taking a more cautious tack with Chamberlain. If he doesn't respond to treatment for his oblique, his absence could open up an opportunity in the bullpen.
One pitcher who could benefit is Romulo Sanchez. Acquired from the Pirates in exchange for Eric Hacker, Sanchez entered his second Yankees camp with an ultimatum. Since he's out of options, the Yankees must add him to the active roster or else expose him to waivers. Given his hard-throwing nature, there's a strong chance that another team takes a chance. Previously Sanchez's departure seemed a foregone conclusion. But now with a couple of injuries in camp he might have a chance.
When the Pirates traded Sanchez to the Yankees, he didn't appear to have much potential. For the first two years of his minor league career he possessed the undesirable combination of low strikeout rate and high walk rate. But in 2007 he started mowing down more hitters and walking fewer, which led to his first big league call-up. That was a mostly unsuccessful 18 innings, but the promise was still there. But in 2008, in AAA, his strikeout rate dipped again. He did pitch 13.1 big league innings scattered throughout the year, but he wasn't particularly impressive. That helps explain why the Pirates traded him for a low-potential pitcher such as Hacker.
Again in 2009 Sanchez saw his strikeout rate spike, this time to nearly a batter per inning in Scranton. His walk rate was still high, but that's always easier to stomach with a high strikeout rate. In 2010 he showed that it was no fluke, as he struck out 8.3 per nine. Of course, he also walked 5.1 per nine. His lack of control was on display during his paltry 4.1 innings in the Bronx, most of which came during an early May appearance against the Red Sox. The potential remains, but the control issues are what holds Sanchez back.
This spring has seen more of the same. Sanchez has pitched in four games, totaling 4.1 innings, and has walked four batters. Yet he has struck out only one. Even still, as Ken Rosenthal reported yesterday, scouts have been impressed by Sanchez. That's not too surprising, since spring stats, especially in such a minuscule sample, can be deceiving. If he really has looked impressive this spring, it would be a shame for the Yankees to lose him. With their current injuries, they might not have to.
If Chamberlain opens the season on the DL, I'm fairly certain that Sanchez would take his place. That would only last a week or so, but it would give Sanchez a big league audition before the Yankees make a decision on him. Perhaps that extra time will convince the Yankees that Sanchez is a suitable replacement for Sergio Mitre. But, chances are that it will just delay his inevitable placement on the waiver wire.
On a team with fewer options in the bullpen, Sanchez makes sense. Even on the Yankees he might provide a better option than Mitre in the seventh-man/long-man bullpen role. Still, the concerns about his wildness will probably prevent him from capturing a long-term spot on the team. Injuries to two relievers might open up a temporary opportunity, but Sanchez still likely won't be a Yankee come May.