The Texas Rangers have proven to be quite a pain in the ass over the last year, but that doesn't make them unbeatable. Sunday night's rubber game was a reminder that the Yankees are never quite out of any game because of their power, their bullpen, and their deep bench, all of which they used to secure the series win.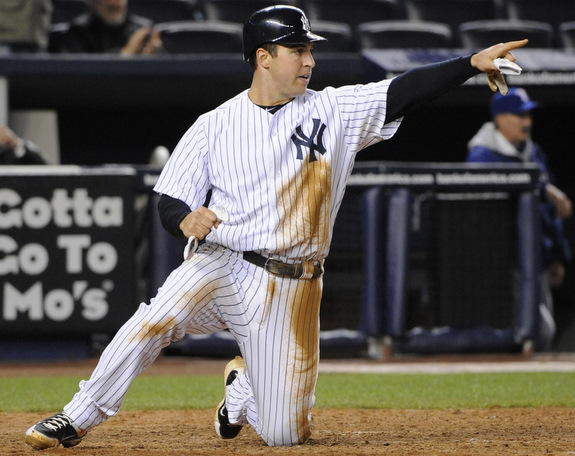 Back From The Dead
Over the last few years, the drop-off from Alex Rodriguez to his replacement has always been massive. It didn't matter if it was Cody Ransom or Ramiro Pena or Morgan Ensberg or whoever, it's always been a huge loss of production. The Yankees sought to deepen their bench this past offseason, and although it's still extremely early, it looks like they hit the nail on the head with Eric Chavez. The former Athletic stepped in for Alex on Sunday night and although he'll never fully replace him, the Yankees didn't miss a beat.
When Chavez stepped to the plate in the eighth inning against the Rangers on Sunday, a back-and-forth affair that featured homers and errors and thunder (literally) came down to essentially one at-bat. The Yankees had runners on first and second with two outs against noted Yankees' whipping boy Arthur Rhodes, someone Chavez had already faced 25 times in his career. He took two straight sliders for a 2-0 count, but then Rhodes went after him with fastballs. The first was fouled back, the second on the outside corner for strike two. Chavez, standing at his locker with his throwing shoulder wrapped in ice after the game, said he was looking for the slider all at-bat, but that 2-2 count brought a fastball, and A-Rod's fill-in adjusted to the pitch and took it right back up the box. Mark Teixeira did his puffy faced hustle around third to score the go-ahead run on Chavez's single, which may have earned him True Yankee™ status. At +.265 WPA, it was the biggest play of the game for New York.
As if the game-winning hit wasn't enough, Chavez also turned a sweet 5-4-3 double play in the third and assisted on the game-ending ground out. Zombie Eric Chavez, back from the dead and raising hell. Hooray for a deep bench.

Too Many Homers!
If you watched and listened to ESPN's broadcast of the game, then I'm sure you heard their announcing crew bemoaning the fact that the Yankees have hit a lot of homeruns. They acted like it was a bad thing; creating runs with one swing is ruining baseball, apparently. Well the long ball kept New York in this game before Chavez had a chance to do his thing whether ESPN liked it or not.
Robinson Cano got the got the party started right in the second inning, pulling an inside slider deep into the second deck in right for the Yankees' first run. Russell Martin followed up three innings later with a two-run shot, his fourth of the season. He had five all of last year and seven in 2008. Curtis Granderson went deep an inning later, putting two more runs on board. It was his first homer off a right-handed pitcher this season, believe it or not. Alexi Ogando allowed two dingers all of last year, but he paid dearly for being a pure two-pitch pitcher facing this lineup multiple times.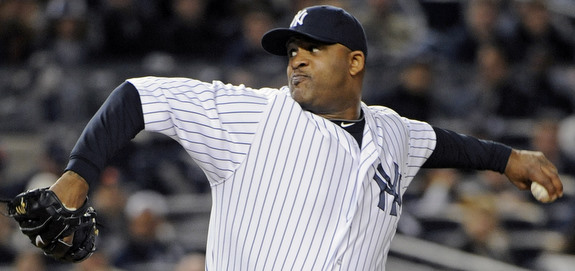 Leftovers
CC Sabathia wasn't great tonight, but really it was only Michael Young and Adrian Beltre that cost him. Those two combined to go 5-for-6 with two doubles and a homer off the Yankees' ace while the rest of the Texas lineup went 3-for-19 with two walks with six whiffs. The big guy took the ball into the seventh and although four runs in 6.1 IP won't win him any Cy Young Awards, it was enough to keep his team in the game. More often than not, they'll win those contests.
Joba Chamberlain, working for the second day in a row and the third time in four days, relieved CC and immediately walked Ian Kinsler on four pitches. Young drove him in two batters later, which is annoying because that guy really isn't as good as he looked this weekend. Joba escaped the inning without further damage, and Rafael Soriano did a nice job of redeeming himself for Saturday's debacle with a scoreless eighth inning in a tie game. Mariano Rivera, of course, was his usual self in the ninth, nailing down the 6-5 win.
Jorge Posada's assault on the three true outcomes continued with a pair of walks in four plate appearances, and now 22 of his 50 trips to the plate this year have ended with ball four, strike three, or a slow trot around the bases. Derek Jeter picked up a hit and even hit another ball with authority to the opposite field, his third hard hit ball in the air over the past two days. Progress! Chavez and Martin each had two hits, and Nick Swisher chipped in a single as well. It was a total team effort offensively tonight, the six runs were scored by six different players.
The Yankees sent 108 players to the plate in this series, and just nine struck out. Nine! Nine others walked and six homered. Everyone else had a .226 BABIP. If you're not missing bats against a lineup like this, well you're not going to win games. It's that simple. Texas, if you're wondering, sent 110 batters to the plate. Eighteen struck out, 12 walked, one homered, and everyone else had a .253 BABIP.
How about that thunder and lightning? It felt like my entire building shook, so yeah, that was pretty intense.
WPA Graph & Box Score
MLB.com has the box score and video highlights, FanGraphs some other neat stuff.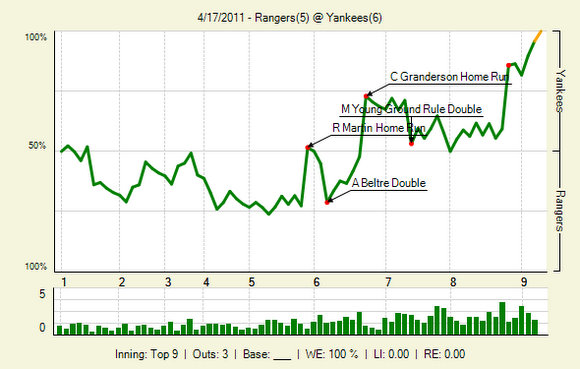 Up Next
The Yankees are off on Monday, then they'll head to Toronto for a quick two-game series against the Blue Jays. A.J. Burnett squares off against Kyle Drabek on Tuesday.