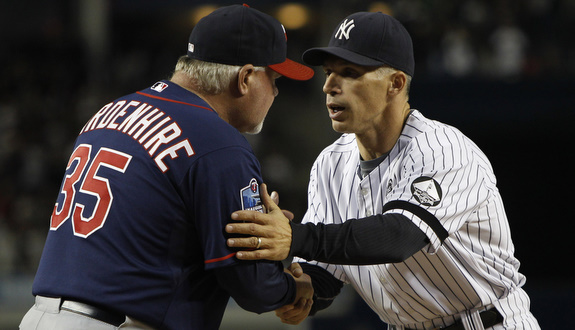 There's nothing quite like a night game. Yeah, baseball was meant to be played under the sun, yadda yadda yadda, but there's just something about a night game at Yankee Stadium that I love. After three afternoon affairs against the Tigers, the Yankees are playing their first night game of the season tonight against the Twins.
Oh the Twins. The same Twins that couldn't beat the Yankees if their collective lives depended on it. Minnesota is just 18-57 against New York in the Ron Gardenhire era (regular season and playoffs), a .240 "winning" percentage. That's a 39-win pace over 162 games. A team of replacement level players would have won something like 46 games last year. Furthermore, the Twinkies are 6-30 in the Bronx since 2002, and four of those wins came in games started by Johan Santana. So yeah.  The Twins certainly aren't a bad team, but for whatever reason their formula just hasn't worked against the Bombers over the last nine years.
Here's the starting lineup…
Brett Gardner, LF
Derek Jeter, SS
Mark Teixeira, 1B
Alex Rodriguez, 3B
Robbie Cano, 2B
Nick Swisher, RF
Jorge Posada, DH
Curtis Granderson, CF
Russell Martin, C
(The fearless) Ivan Nova, SP
The YES Network is broadcasting this one as (almost) always. First pitch is scheduled for 7:05pm ET. Enjoy.