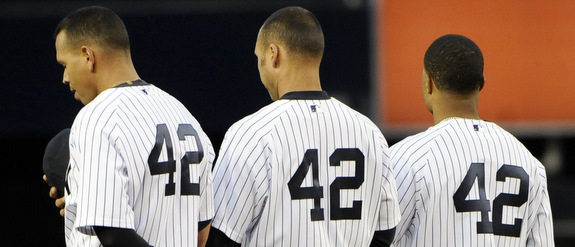 For the second straight night, the Yankees watched almost helplessly as their young starter dug them quite a hole. And for the second straight night, the bullpen tossed up zero after zero and gave the offense a chance to get back in the game. Unfortunately they were unable to complete the comeback on Friday, but they did bring the tying run to the plate in the bottom of the ninth. Let's recap the loss bullet-point style…
Ivan Nova … not good dude. Five walks and a hit batter is just too many free baserunners against that Rangers lineup. He really needs to figure out how to get outs once the lineup turns over, because he's not giving the Yankees any length in his starts. When the other team has more runs than hits, then you've got to point the figure right at yourself. Walks and wild pitches/passed balls killed them.
Six, six freaking double plays! Some were turned with great defense, others were completely routine. That's the new franchise record by the way, no Yankees team had ever grounded into six double plays in a nine-inning game before tonight. Crazy.
Lance Pendleton kicked off his Hall of Fame career in style, eh? Struck out the first two men he faced and gave the team three perfect innings. He's the first pitcher in team history to fire three perfect innings in his debut. How about that?
Curtis Granderson hit his third homer of the season, and all three have come off lefties. Once he starts putting them over the fence against righties, he'll really be in business.
Two hits for Derek Jeter and two hits for Nick Swisher, so they were productive at the top of the lineup. Alex Rodriguez doubled in the ninth and drew a walk earlier in the game, continuing his assault on AL pitching. I hereby proclaim his new nickname: wOBA-Rod.
Three walks for Jorge Posada, and now 20 of his 43 plate appearances (46.5%) have ended in a walk, strikeout, or homer this season. Three-true outcomes baby. Eric Chavez with a pinch-hit single, the one he should have had in the ninth inning of Thursday's game if Brett Gardner hadn't been allowed to bat for himself.
Here's the WPA Graph, and here's the box score. The double plays are frustrating, but for whatever reason this loss doesn't bother me. I guess that by the end of the ninth, the GIDP's were more comedic than anything else. Oh well. These two clubs will get back at it tomorrow afternoon, when Sweaty Freddy Garcia takes on Derek Holland. Assuming it doesn't rain, of course.
Here's a quick recap of the night in the minor leagues.