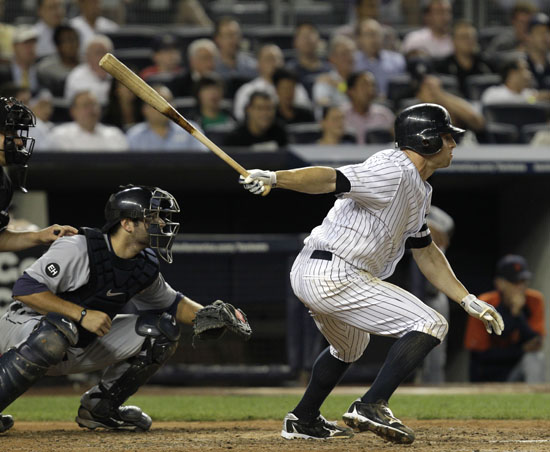 No two ways about it: Brett Gardner is in the midst of an awful slump. He was given the coveted leadoff spot in the order and has thanked the Yankees for the present by batting a miserable .150/.227/.225 to start the season. In a lineup where the 7-8-9 hitters are no joke, Gardner appears to be trying to put a hole in the Yankees lineup right at the top. There's no way he sticks there if he keeps up with this performance. He doesn't have to be amazing – just get on base and steal a lot of bases and avoid the double plays with a certain shortstop and noted new groundball machine coming up behind him. But it's not happening at the moment.
It doesn't really matter to the Yankees whether Gardner bats first or ninth in the long run – according to David Pinto's lineup analysis, they gain just 0.045 runs with Gardner's 2010 numbers leading off over him batting ninth, which comes out to about seven runs all season. For a team that's showing as much offensive power as this one is, seven runs over 162 games is a drop in the bucket. But maybe it matters to Brett Gardner. The leadoff spot in an order, while perhaps not as important in the giant scheme of all things baseball, does have a certain prestige about it. Certain players like to hit leadoff. Certain players don't. Whatever that intangible is, maybe it's bogging Gardy down. Let's see.
Admittedly, we're still dealing with fairly small sample sizes when we look at his plate appearances in only these two spots. It's odd to think that this is only Gardy's third year as anything other than a September call-up, and only his second year where he'll be showing up in, ideally, more than 110 games. Additionally, no one really knows if Gardner's poor second-half 2010 was all wrist injury or pitchers adjusting to him but I'm willing to bet it was some combination of both. Halfway through the year, scouting reports are coming in on a guy. Gardner's must have looked something like, 'throw strikes.' We'll do what we can with the number we have and take the results with a grain of salt.
Gardner has 264 plate appearances leading off in 59 games, all but two of which he started. In those games, he's batted a mediocre .256/.338/.348, with a tOPS+ (OPS+ relative to total OPS+) of 92. In comparison, he's started 116 games in the nine-hole, giving him 419 plate appearances and a slightly worse line of .240/.333/.312 and a tOPS+ of 81. There's good news and bad news here. Good news: the numbers are better for the leadoff spot. Bad news: the numbers go down with the increased PA, so the second line is probably closer to what we might see over a larger sample. However, the numbers are so close that it honestly doesn't matter. Not surprisingly, there's also a change in the stolen base approach: Gardy only stole five more bases in those additional 155 PA batting ninth, and was also caught an extra five times. And if the sizes were equal, he would also have more walks from the leadoff spot as well: 48 BBs in 419 PA batting ninth vs. 25 BB in 264 PAs leading off.
One interesting thing to note is that that Gardner's BABIP batting ninth is .286, which is a little lower than average. Bat him leadoff, however, and his BABIP shoots up to .337. I'm not sure why this is: could be luck, could be a different approach at the plate, could be the pitchers throwing him balls he can get better hits off of. Either way, that leadoff number is much, much closer to his career .321 BABIP than the nine-hole one. While we're on this topic, Gardner's 2010 BABIP of .340 and makes his current 2011 BABIP of .222 look pretty depressing.
There's a lot of different elements to take into account here, but even with the small samples it seems like batting leadoff doesn't bother Gardner, which is definitely a good thing for the Yankees and for the speedster. Let's hope that we can all look back in a few years and have much larger samples that prove he is an amazing leadoff hitter and should never leave that spot. Then we can all roll our eyes at his 2011 April slump and talk about how unlike him that was. For now, all we know is that Gardner's not doing too well and it probably doesn't have anything to do with where he's batting. Let's hope his new approach figures itself out or he returns to whatever was working in 2010.