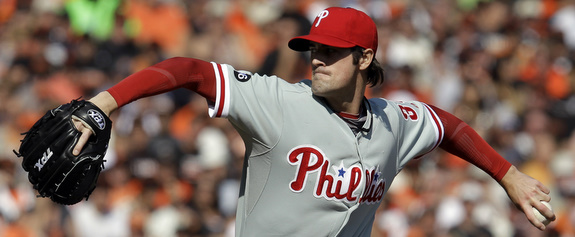 The Yankees have been, and pretty much always will be a team that relies on high-end free agents to remain king of the MLB jungle. Sometimes those players work out, sometimes they don't, and sometimes they're in between. MLB Trade Rumors posted a list of players currently scheduled to become a free agent after the 2012 season yesterday, and there are plenty of attractive names in there, especially when it comes to starting pitchers. Just a sampling…
Matt Cain (28)
John Danks (28)
Zack Greinke (28)
Cole Hamels (29)
Francisco Liriano (29)
Shaun Marcum (31)
Jonathan Sanchez (30)
Jered Weaver (30)
The ages listed are their 2013 season age, so Cain, Greinke, and Danks will all still be two years away from the big three-oh when the hit the market. That's great because the Yankees, like just about every team, is always in need of starting pitching, especially of the young and high-end variety. In a perfect world, New York would sign two of these guys and have them join forced with CC Sabathia to form a powerful 1-2-3 combination. That would make breaking in a young pitcher (Manny Banuelos? Dellin Betances? Brett Marshall? who knows) slightly easier, at least in theory.
Here's the question though: what is the Yankees payroll situation going to look like in two years? As of right now, the team has $128.2M tied up in just six players in 2013, and that assumes club options for Robinson Cano ($15M) and Curtis Granderson ($13M) are bought out for $2M apiece. That also doesn't account for the extremely likely scenario in which Sabathia opts out of his contract after this season and re-signs to a much more lucrative one. It also assumes that Rafael Soriano won't be using either of his opt outs. So despite that near $130M commitment, the Yankees would still be lacking three starting outfielders, a second baseman, a catcher, a designated hitter, three starting pitchers, plus an entire bullpen and bench.
If you figure it takes $50M to fill all those holes except the rotation, we're still looking at $180M committed with three starting pitchers still needed. Figure one is a kid making the minimum or close to it, Ivan Nova in his final pre-arbitration season or something like that. Each of those eight pitchers above will command at least $10M a year on the open market, a few of them $20M or so. The Yankees would have to support a $210-220M payroll in 2013 to bring two of those guys aboard using my rough estimation of the cost to fill the rest of the roster.
Maybe it happens, maybe it doesn't, but it's worth noting that after the 2013 season, the Yankees will be waving goodbye to A.J. Burnett ($16.5M) and Soriano ($14M), and maybe even Derek Jeter ($17M). I highly doubt that last one though. Could the team take the hit of a huge payroll that one year knowing some money will come off the books after the season? I dunno, possibly. Possibly not.
Now that we've wasted a sufficient amount of time looking at a free agent market that is still two years away, I have to remind you that not everyone listed there will actually become a free agent. Teams are locking up young players (not just pitchers) to long-term contract extensions more than ever before, and all of those guys seem like prime candidates for such deals. Realistically, maybe two or three of those guys will be available in two years, in which case the Yankees would probably pursue one. Then again, it could be the 2008-2009 offseason all over again.