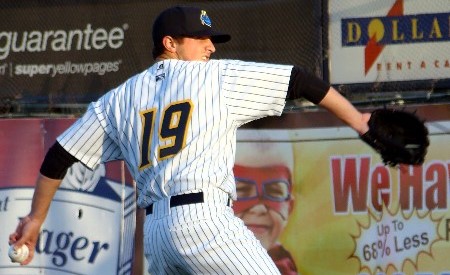 It's easy to lose track of all the quality pitching prospects the Yankees have in their farm system, especially at the upper level. One guy seemingly flying under the radar is left-hander Shaeffer Hall, part of the club's 2009 draft class. Hall, 23, is currently doing a fine job of holding down a rotation spot for Double-A Trenton after splitting last season between Low-A Charleston (2.61 FIP, 57% grounders in 68 IP) and High-A Tampa (3.30 FIP, 49% grounder in 69 IP). The performance is definitely there, no doubt about it, but the issue here is that the stuff doesn't match up, which is often the case with these late round guys.
Hall came out of Kansas as a 25th round pick in '09 with command of three pitches: a mid-to-upper 80's fastball, a good changeup, and a slurvy breaking ball. His college coach, Ritch Price, went so far as to compare him to Jamie Moyer for his ability to pitch will less than knock-out stuff, and it's usually not good when someone is drawing those kinds of comparisons before his 25th birthday. But still, Hall's a strike thrower and he's left-handed, a combination that will earn him plenty of chances to show he can contribute at the big league level.
There's a chance that Hall could cut it as a back-end starter in the lesser league, but his most likely role on a contending team in the AL East is a situational lefty out of the bullpen. Since his best pitch is a changeup (historically used to combat batters of the opposite hand), he doesn't exactly fit the profile though. Without a clear long-term role or the skill set to force anyone's hand, Hall is right on the edge where quality prospect meets fringy player.
Slap a grade on Hall as a prospect.