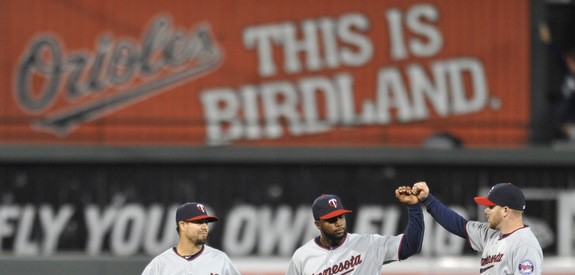 For the first time in 2011, the Yankees will be playing a team for the second time when they visit Camden Yards this weekend. CC Sabathia gets the ball in the Friday night opener, then will be followed by Freddy Garcia in a rare Saturday night game and Ivan Nova in the third and final game on Sunday afternoon. We know there's always a nice turnout by Yankees fans when they visit Baltimore, so it's like home away from home.
What Have The Orioles Done Lately?
Oh boy, what a tailspin for the O's. Since their 6-1 start they've lost nine of their last 11 games (including two to the Yankees last week) and have been outscored 61-37 in a perfect storm of poor pitching and poor hitting. The Yankees roll into town for the weekend series without having to worry about Jeremy Guthrie or Zach Britton; neither of Baltimore's two best pitchers is scheduled to start any of the three games.
Orioles on Offense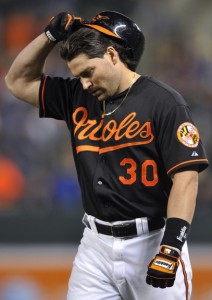 When we last checked in on the Orioles, they were a bottom five team in all of baseball in terms of wOBA and OBP. They've managed to up their team wOBA from .281 to .298 since last facing the Yankees, which is no longer bottom five but is still bottom nine. The team OBP climbed a bit from .282 and now sits at .291, but that's the second worst mark in the game, ahead of only the uber-slumping Twins.
Matt Wieters is coming into the series like a man possessed, picking up seven hits in his last five games, including two doubles and two homers. Brian Roberts is in the middle of a nine-game hitting streak, a stretch that started in the first game against the Yankees last week. He's hitting .368/.415/.500 during that time. Robert Andino is filling in for the injured J.J. Hardy, and he has eight hits (all singles) in his last five games. Mark Reynolds (two for his last 26), Nick Markakis (three for his last 30), Luke Scott (four for his last 24), and Derrek Lee (six for his last 30) are all slumping. Adam Jones and Vlad Guerrero are neither slumping nor on fire, they're just kinda going through the motions right now.
Orioles on the Mound
Friday: Brad Bergesen: A high school teammate of Phil Hughes, Bergesen has made two starts and one relief appearance this season, throwing two garbage time innings against the Yankees last week. He's allowed three homers in just 10.2 IP this year, and he's never been one to miss bats: just a 4.53 K/9 and 5.8% swing-and-miss rate in his career. Bergesen will make the Yankees put the ball in play with 88-91 mph two- and four-seamers, and every so often he'll bust out a changeup or slider. The Bombers have put a hurtin' on him in the past, scoring 11 runs in 17 innings against him. Pitch-to-contact pitchers usually don't fare well against the Yankees lineup, so expect good things.

Saturday: Chris Tillman: The Yankees faced Tillman in the series last week, tagging him for six runs and nine hits in just an inning-and-a-third. He held the utterly punchless Twins to three runs in 6.2 IP on Monday, but he was still missing some velocity and the results had more to do with Minnesota's faults than his strengths. The game plan hasn't changed one bit, just work the count and let it fly whenever Tillman makes a mistake.
Sunday: Jake Arrieta: After beating the Yankees twice in 2010, Arrieta pitched well against them last week but it was clear the Yankees made adjustments the second and third time through the order. They tagged him for five hits and three runs in the fifth and sixth innings after the young right-hander held New York to just one baserunner (a walk) over the first four innings. The Yankees should be better prepared for his two-seamer and slider heavy approach, hopefully jumping on the board a little earlier than they did last week.
Bullpen: Buck Showalter's bullpen comes into the series pretty well rested, with only closer Kevin Gregg making as many as two appearances over the last four days. The only new face added to the 'pen since last week is lefty specialist Clay Rapada, who replaced injured long-man Chris Jakubauskas. The middle relief/setup crew is rock solid with Jason Berken, Jim Johnson, and Koji Uehara from the right side while Mike Gonzalez takes care of business from the left. If the Yankees do what they're supposed to do against the starters, the relievers should be nothing more than footnotes in the series.
Recommended Orioles Reading: Camden Crazies