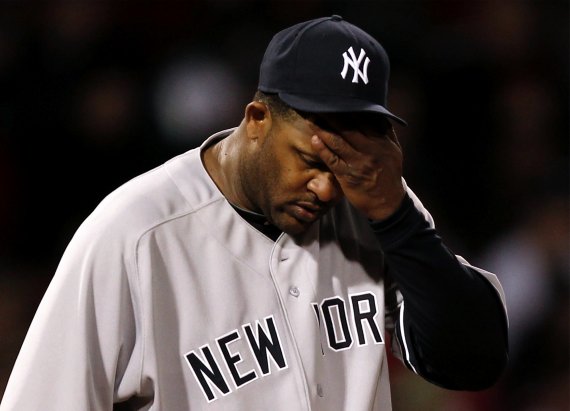 Marco Scutaro's two-run double in the seventh inning Sunday night marked the first point in the series when I comfortably thought that either team was going to win a game. Before that no lead felt safe, because the pitching had been so haphazard. But with Josh Beckett mowing down Yankee after Yankee, the game certainly felt over. My first thought after that was, "Great, another loss in a CC start." There's not much the big man could have done about it, since the offense didn't provide even the minimum one run required to win any game. But it was a disappointment nonetheless. Those CC starts are of great importance to the Yankees this year.
The Yankees clearly share this view of their workhorse ace. Last Tuesday we saw Girardi go to Rafael Soriano in the eighth inning of a four-run game after Soriano had pitched the previous day. This isn't too out of the ordinary, but it's not something we're used to seeing. For whatever reason, the setup man/closer cutoff comes at three runs. With a four-run lead in the eighth we're far more likely to see Robertson or Chamberlain take the mound. But Girardi clearly wasn't going to take a four-run lead for granted. Hence, his setup man takes the hill to protect it. That is, he took the mound to protect the lead in a Sabathia start.
That move, of course, backfired in the worst possible way. Soriano had nothing that night, and the Twins took full advantage. It spoiled a CC win in a game that the Yankees absolutely should have won. It's akin to Sabathia throwing seven strong against Boston last May, only to have the bullpen, and Marcus Thames, completely blow the ending. Yes, there's plenty of time to recover from it. But with an expected tight race with the Red Sox this season, the Yankees need to hold on in those situations, especially when Sabathia takes the hill.
Still, it's too early to get too worked up about the Yankees losing two out of three Sabathia starts. After all, last year they dropped two of his first five, and six of his first 11. In that context, two of the first three doesn't seem that bad. But in another way, with the Yankees' rotation concerns coming to fruition, it becomes a bigger concern. Last year the Yankees had A.J. Burnett, Andy Pettitte, and Phil Hughes pitching well in the first two months. This year they might have Burnett, but without Pettitte and with a shaky, at best, Hughes, winning CC's starts becomes even more important.
Right now we've basically seen one instance where the Yankees failed to hold a lead for Sabathia, and another where they failed to support him with adequate runs. The only game they won for him, really, was the one in which he pitched the poorest. (You can make an argument for last night, but the only damage the Sox did was constantly singling up the middle.) Surely this will get better. It did in both 2009 and 2010, when Sabathia was almost unbeatable from June forward. But this season the early games mean a bit more, because of the relatively weaker supporting cast. There is no such thing as a must-win at this point in the season; there really won't be until September. But when Sabathia takes the mound this weekend against the Rangers, the Yankees have to come out and support their ace. He's their key to another AL East crown.