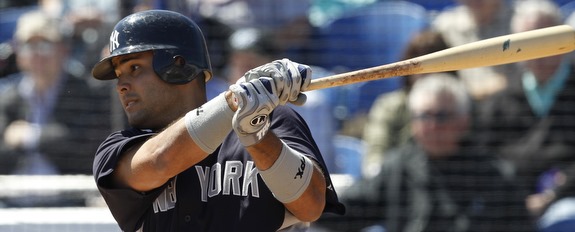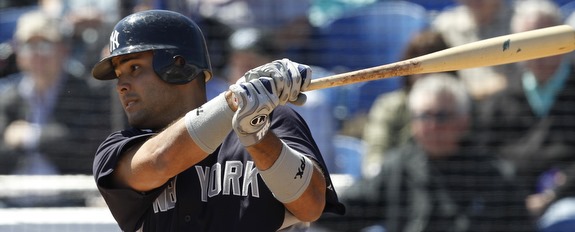 The MSM-types love the word fail. The batter failed to get the runner in. The pitcher failed to bail out his defense. Jesus Montero failed to win the backup catcher's job in Spring Training. That was a popular one a few weeks ago. It's certainly true to an extent, because if Montero had a more productive spring, there's a pretty good chance that he'd be in the big leagues right now as Russell Martin's caddy. But really, the only thing he failed at was performing well over a 40 at-bat sample. If two more hits drop in and he goes 12-for-40 instead of 10-for-40, he's a .300 hitter and not a .250 hitter in camp. Small sample sizes, they're a bitch.
Predictably, much was written about how Montero's stock dropped in Spring Training, how he was no longer considered an elite prospect because of 19 games he played in camp. That, of course, is the real failure. No prospect's stock can or should fall based on Spring Training or any random 19-game sample for that matter. Is Mike Trout no longer the best prospect in the game after hitting .276/.276/.364 in camp? Should the Royals be concerned that Mike Moustakas and Wil Myers combined to go 5-for-27 (.185) in camp? No, of course not.
Four games into the Triple-A Scranton season, Montero has picked up right where he left off last year. He has nine hits (including a homer) in 20 trips to the plate so far, including eight hits in his last 16 at-bats. Does that mean his stock is back up to where it was before Spring Training? No, the needle should have never moved in the first place. All the efforts to sensationalize Montero's spring shortcomings have been dissipated in the first series of the season. The guy's going to hit, we've known that from day one. Nothing's changed.
Joel Sherman wondered yesterday if Martin and Montero were the new version of Scott Brosius and Mike Lowell. The Yankees acquired Brosius back in the day to be a one-year stopgap until Lowell could take over third long-term, but he played so well his first year that he ended up getting a contract extension and Lowell was shipped to Florida for three pitching prospects. Same deal with Martin; he was brought in as a stopgap but has played pretty well so far, so Sherman wondered if Montero could find himself on the trade block for help elsewhere. Brian Cashman has long called the Lowell trade his worst decision, so I assume he's learned from that. No player should be untouchable, but we've already said the Yankees should only trade Montero for the very best, something that certainly didn't happen with Lowell (who was a big-time prospect in his own right). Is it possible? Sure. But I'd call it unlikely.
Baseball is a game about the long haul, looking at small pieces of information and extrapolating them out is going to burn you more often than not. That's a real failure. Nineteen games in Spring Training doesn't tell us much about Montero, nor does four Triple-A games. Eight games isn't enough to declare Martin the catcher of the future either. Until further notice, Montero remains in the Yankees' long-term plans, no matter what is written about his stock.