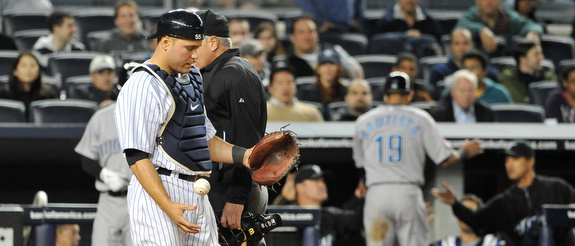 Hitless in eight at-bats with runners in scoring position, eleven men left on base. Yankees lose, thaaaaaaaaaaa Yankees lose. Bullets points is all I have the motivation for, so…
Four at-bats with the bases loaded, and all four guys swung at the first pitch. Three resulted in outs, the other a swing-and-miss. This game was over after the fifth inning, when the Yankees had the bases loaded with no one out only to have Mark Teixeira and Alex Rodriguez make three outs on two pitches. Terrible job by them, and also by Derek Jeter (strikeout on a pitch at eye level) and Nick Swisher (first pitch groundout) for those hacky at-bats with the bases loaded in the eighth.
We got our first look at bad Freddy Garcia in this one. He had no command of his slop, giving up homers to Jose Bautista and J.P. Arencibia on a pair of 80-something mph nothingballs that hung out over the plate. Batting practice pitches. He walked five guys in five innings, and the only reason it wasn't worst than it was (three runs in five innings) is because Juan Rivera hacked at pitches out of the zone to end two innings/threats.
David Robertson botched a run down that directly led to two extra runs scoring for Toronto in sixth, the eventual margin of victory. That was (at least) the second time this year a Yankees pitcher botched a run down that led to multiple runs for the other team. Also, walking the leadoff hitter (a fast guy at that) on four pitches is a major no-no.
Robinson Cano had two homers and two walks, raising his season totals to eight and three, respectively. His last two homer game came exactly one year ago Friday. Tex and Russell Martin each had a single and a walk, but the other six hitters in the lineup combined to go 3-for-24 with three walks (two by Brett Gardner) and ten strikeouts.
Here's the box score and video, here's the WPA Graph.
That's pretty much all I care to write about this loss. These same two teams will play again tomorrow afternoon (4pm ET start, but apparently it's on YES and not FOX), when A.J. Burnett faces Kyle Drabek. If you want to head up to the Stadium, RAB Tickets can get you there dirt cheap.