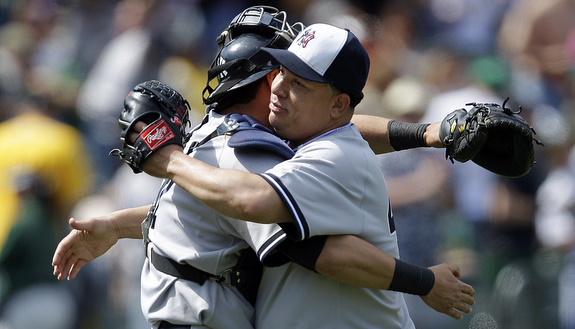 How did you celebrate Memorial Day? Bartolo Colon honored those who gave their lives defending this country by throwing a complete game shutout, and I doubt you did something as cool as that. The Athletics managed to hit just seven (!!!) balls out of the infield in nine innings, and two of those balls were leadoff doubles that did not come around to score. The final tally: nine innings, four hits, no walks, six strikeouts, eleven ground balls, and just 103 pitches. Amazing. That's what Colon has been. Amazing.
As for the rest of the team … Mark Teixeira hit a first inning two-run homer, his seventh jack in eleven games. Robinson Cano doubled and tripled, Frankie Cervelli and Brett Gardner each stole two bases, and Nick Swisher even managed to reach base twice (single and a walk). Solid day all around and a textbook win. Great pitching, the long ball, and a few manufactured runs. Everyone's happy.
The Yankees have won two in a row, four of six, six of nine, and nine of 13. They also held multi-run leads in their two most recent losses, so those games were winnable. RAB will back to normal on Tuesday, when Freddy Garcia gives it a go against Brett Anderson. Here's the WPA graph and box score of Bartolo gem.