After going an AL record 341 games between nine-inning complete games, the Yankees have received two such efforts in the last week. CC Sabathia did the honors against the Blue Jays last Tuesday and Bartolo Colon did the same to the Athletics yesterday, but you might remember that Sabathia's was not a shutout. He allowed four runs in the early innings of that game before settling down. A big reason why the Yankees have had so few complete games (shutouts or otherwise) in recent years is Mariano Rivera, and that's a pretty damn good reason. In honor of Colon's gem, let's look back at the last five complete game shutouts thrown by Yankees' pitchers.

CC Sabathia (May 8th, 2009 vs. Orioles)
This game is more memorable for Alex Rodriguez than Sabathia. After missing the first 28 games of the season due to his hip surgery, A-Rod returned to the lineup in Baltimore and promptly hit a three run homerun on the first pitch in his first at-bat. That swing gave the Yankees a lead Sabathia would protect for all nine innings, allowing four hits and a walk on 112 pitches. Two of those hits led off the ninth, but CC rebounded to punch out the next three for outs numbers 25, 26, and 27. This was Sabathia's "welcome to New York" moment of sorts; he came into the game with a 4.85 ERA and the Yankees were just 2-4 in his starts. (Game Score: 86)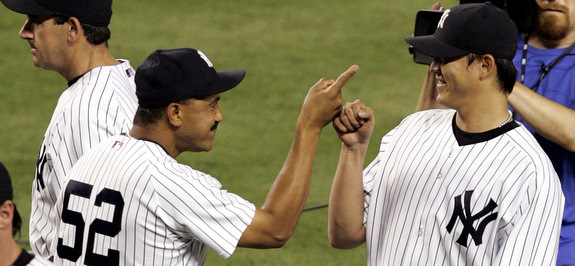 Chien-Ming Wang (July 28th, 2006 vs. Devil Rays)
Two years before his career effectively ended while running the bases in Houston (sob sob), CMW tossed nine shutout and fairly typical CMW innings against the team former known as the Devil Rays at home. He struck out just one of the 30 batters he faced, getting 19 ground ball outs and seven in the air. Tampa didn't put a man on base until the fifth inning, when they got one of their two hits. It was vintage Chien-Ming Wang, he threw just 104 pitches thanks to the impatient Devil Rays' batters. (Game Score: 82)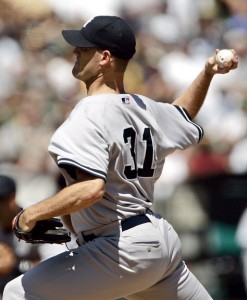 Aaron Small (Sept. 3rd, 2005 vs. Athletics)
Yep, Aaron Small. Fun fact: He made just nine starts in 2005 despite that 10-0 record. The other win came in long relief. The Yankees gave Small just one run of support through the first six innings, so his margin for error was small. He allowed five hits and two walks on 112 pitches, but only once did Oakland have two runners on base at the same time. Small struck out just three, getting most of the other outs in the air and on line drives. Good thing he was pitching in spacious Whatever They Called It Back Then Coliseum. (Game Score: 78).
Mike Mussina (June 14th, 2005 vs. Pirates)
It wasn't until the fifth inning that the Pirates put someone on base, and Bernie Williams saved the shutout by throwing a runner out at the plate in the sixth inning. No, seriously. Bernie really threw a runner (Matt Lawton) out at the plate. Moose struck out six and walked one, surrendering five hits in this game, throwing a tidy 109 pitches in the interleague matchup. The Yankees scored seven runs before the fifth inning was over, making life a little easier for their starter. (Game Score: 82)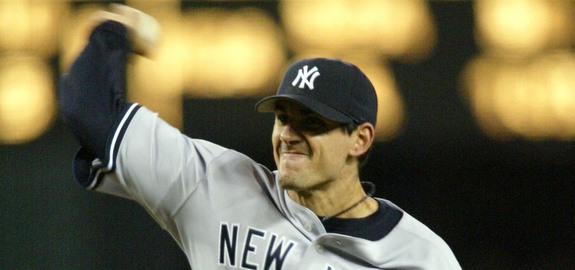 Carl Pavano (May 17th, 2005 vs. Mariners)
Pavano didn't do much for the Yankees, so this game was easily his best in pinstripes. This was before the days of the completely punchless Mariners offense, and Pavano allowed just five singles and a hit batsman against seven strikeouts. Two of those hits came in the fourth inning and another two came in the ninth, when the Yankees were up six-zip. This was Pavano's ninth start of the season, and he'd make just 17 more over the next three and a half seasons with New York. (Game Score: 84)
* * *
Moose owns four of the six complete game shutouts before those five games, with the other two going to Roger Clemens and David Wells. Boomer actually threw nine complete game shutouts in pinstripes, six more than Andy Pettitte did in 273 fewer starts. Wow. Here's a list of all 806 CG SHO in Yankees' history.