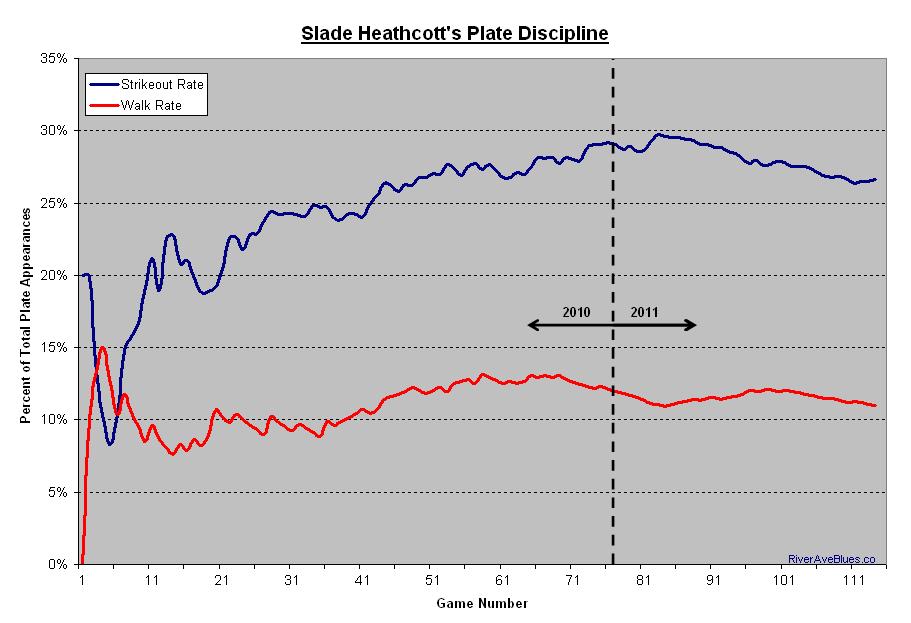 When the Yankees drafted Slade Heathcott in the first round of the 2009 draft, they knew he was going to be a bit of a long-term project. Just about every high school player is, unless you're getting a rare talent like Alex Rodriguez or Jason Heyward or Rick Porcello or Clayton Kershaw. These kids need time to develop their physical tools into actual baseball skills, a process that tends to be more painful than pleasant. In 117 career games coming into Thursday, Heathcott is a .274/.363/.388 hitter with 140 strikeouts and 58 walks in 537 plate appearances. He's been much more productive this year, with a .307/.382/.477 batting line in 38 games played. The hit tool – the ability to actually get the bat on the ball and drive it with authority – was never much of a question for Heathcott though.
The graph above shows Heathcott's cumulative strikeout and walk rates (expressed as a percentage of his plate appearances) from the start of the 2010 season through Wednesday's game. You can see that after joining the Low-A Charleston River Dogs in early-June last year, Slade's strikeout rate gradually climbed as the season went on, finishing at 29.2% of his plate appearances. The walk rate also increased throughout the season, settling in at 12.1% on the final day of the year. That was the ninth best walk rate in the league (min. 350 PA) and the second best by a teenager, so yeah, be impressed.
Heathcott has gotten the strikeout rate under control in 2011 as he unsurprisingly repeats the league. After peaking at 29.7% of his career plate appearances seven games into this season, it's dropped all the way down to 26.6% thanks to his last 31 games (just 15 K in 138 PA, or 10.9%). The walk rate has been up and down this season, but it's generally hovered right around that 11-12% mark for his career to date. The walks aren't a problem at all (league average is about 8.5%, both in Single-A and MLB) and the strikeouts are becoming less of one. The South Atlantic League average is 20.4% strikeouts (17.6% in MLB, if you're wondering), and although Heathcott is still well-above that mark, he's steadily improved this year, especially over the last month or so.
Note: Just  to be clear, the graph does not include Heathcott's three game came with the rookie level Gulf Coast League Yankees or Thursday night's game. Those 15 or so plate appearances don't make much of a difference anyway.