Things aren't as bad for the Red Sox now as they were the last time the two teams met. Of course, it was difficult to get any worse for them at that time. Even through their struggles they managed to take two of three. While they're not out of the woods, it is now the Yankees who are struggling. Perhaps we'll see a reversal of fortune this weekend. Given the way the Yankees have played lately, it's tough to see them doing any worse.
What Have the Sox Done Lately?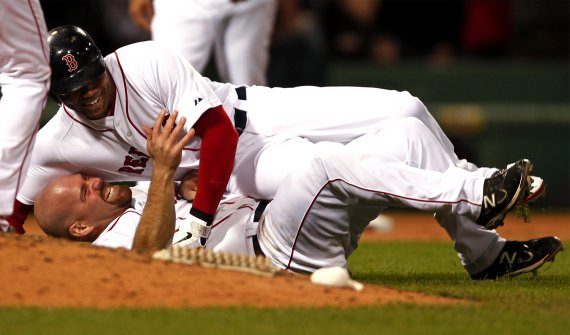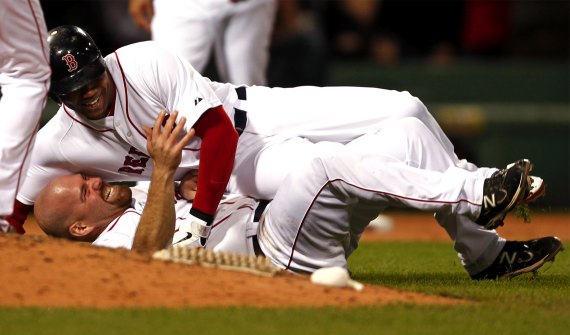 The Sox haven't exactly been on fire, but they haven't struggled too badly either. They did drop their last two to the Blue Jays, but before that they won three straight against the Twins. Of course, they dropped the three before that, but won the three before that. Yeah, they've been doing the up again, down again thing, and it has them at 17-20 currently, and 5-5 in their last 10. It's tough to read too much into that, of course, since they'll have their three best starters going this weekend, whereas they had Matsuzaka, Lackey, and Wakefield sprinkled throughout those 10 games.
Red Sox on Offense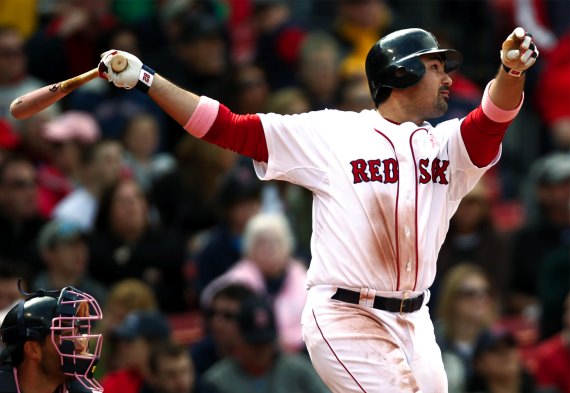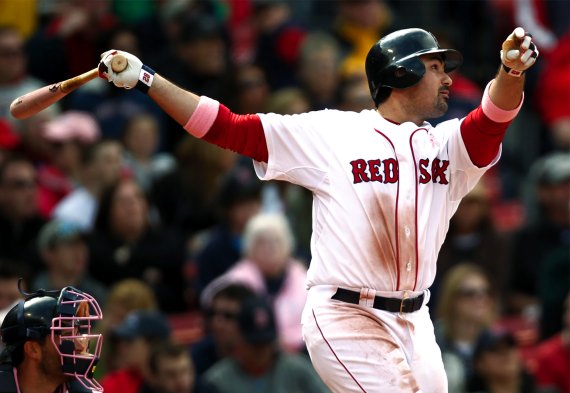 At all times there must be at least two Red Sox players who absolutely crush the Yankees. These are usually the better players anyway, and they crush other teams. But as with Miguel Cabrera, it seems that they give that little extra and really punish the Yankees. It used to be Ortiz and Manny. Now it's Pedroia and Youkilis. It's hard to remember a series from the past few years — in which they both played, of course — where they didn't scald the ball and make life tough on the Yanks.
It might scare you a bit, then, that Pedroia is on something of a cold streak. He's hitting just .237/.355/.317 on the season, and that's just .195/.313/.220 this month. Don't be lulled, though. As I mentioned on the podcast, to me this makes it appear as though Pedroia is primed for a breakout in the series. We know he's a good hitter, one of the best hitting second basemen in the league. He's going badly now, and he's going to turn it around. Considering how much he's killed the Yanks, I'm having an easy time envisioning him with a 6 for 12 series with a handful of walks and extra base hits.
Adrian Gonzalez, Jed Lowrie, and Youkilis are leading the offense right now, with 22 doubles and 12 homers between them. In fact, Gonzalez has hit four of his seven in the last four games, during which he has gone 10 for 20 with a double in addition to the four homers. Youkilis hasn't been quite as hot of late, though he's still getting his singles and walks. Lowrie has slipped from his early season dominance but is still hitting .327/.360/.505 in 114 PA. I'm surprised he's walked only six times all year, but that's probably because he was hitting the ball so well earlier in the year. David Ortiz has turned around his recent history of poor starts and his hitting .291/.372/.488 in his first 145 PA, so he's helping lead the charge, too. The surprising contributor here is Jacoby Ellsbury, who is at .292/.342/.451, which is nice for the Sox, because he helped compensate for Carl Crawford's early season crawl. For his own part, Crawford has hit .356/.370/.467 since the calendar flipped to May.
The only trailers, really, are J.D. Drew (.242/.364/.364), Pedroia, and Jarrod Saltalamacchia (.200/.250/.267). Chances are we're going to see Jason Varitek (.145/.241/.212) in at least one, and perhaps two, of the games this weekend. That's a gain all around, as he can't hit and has no arm. The only positive is that it seems he gets better performances out of the pitching staff. How much of that is skill and how much is chance — he does seem to catch the better pitchers, after all — is up for debate. Either way, the Sox have a light-hitting fixture at the bottom of the lineup.
Red Sox on the Mound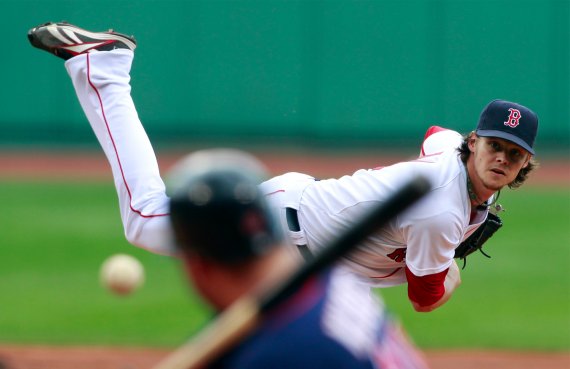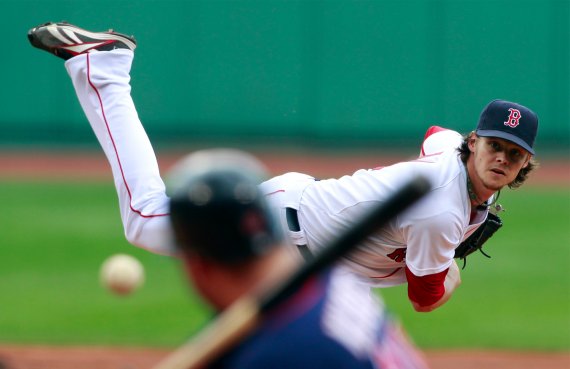 Friday, RHP Clay Buchholz. The last time the Yankees faced Buchholz they hit him around pretty well, racking up eight hits and scoring five runs while driving him from the game in the fourth. He's had some better success in his subsequent starts, and in his last two his line goes: 11.2 IP, 10 H, 2 R, 2 ER, 3 BB, 8 K, 0 HR. The last start was the most impressive, no runs on two hits and six strikeouts in five innings, but it was shortened by rain. We'll have to deal with his ultra slow approach, which makes for some bad baseball watching. But that doesn't seem to affect his results.
One thing to watch with Buchholz is the ground balls. He did a great job in his first two seasons of keeping the ball on the ground, and he's done a decent job of it this year, too. But his fly ball percentage is up a bit, as his home runs to fly ball ratio. That could play into the Yankees hands. Of course, how many times have I written that before, and how many times has it not come true?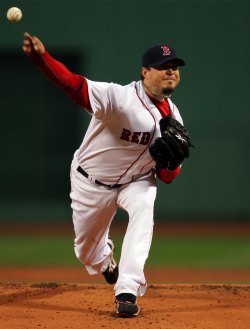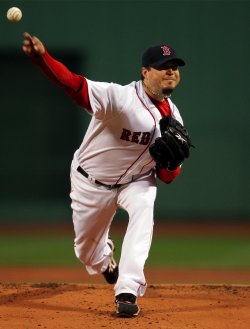 Saturday, RHP Josh Beckett. After looking a bit shaky in his first start Beckett got back on track against the Yankees in his second one. He now has his ERA down below 2.00, and his peripherals go right along with that. The strikeouts are a tick lower than in the past, but just a tick. Everything else, including the low walk and home run rates, are right in line with his best years. The Yankees do have a history of knocking around Beckett, but when he's on like this we just can't expect it. That curveball is one of the most devastating pitches in the league, and when his back is strong and he's throwing it well and often, few opponents stand a chance.
Here's the thing, though: he's not going to the curveball as much as he has in the past. In the past two years he's gone to the changeup a bit more often. Thing is, at least this year it has been just as effective, if not more effective, than his curve.
Sunday, LHP Jon Lester. That's the name you hope you avoid when the Sox are in town, and the first time through the Yankees did get that lucky. This time they rejiggered the rotation to slot Lester in. He's coming off a very poor start, in which he walked five, including three in the first inning, against Toronto. Yet he's not a guy I'm going to bet on having two poor starts in a row. Would you? We could be in for another one of those shutdown Sunday night performances we've seen from Lester in the past. This is the one game I'm not looking forward to, not only because Lester has a history of killing the Yankees (3.28 ERA in 74 career innings, including 80 strikeouts), but because Freddy Garcia is going for the Yanks. I love what Sweaty Freddy has done so far, but the Red Sox seem like a team that could knock him around a bit.
Recommended Red Sox Reading: Red Sox Beacon, written by friends of RAB Marc Normandin and Patrick Sullivan.