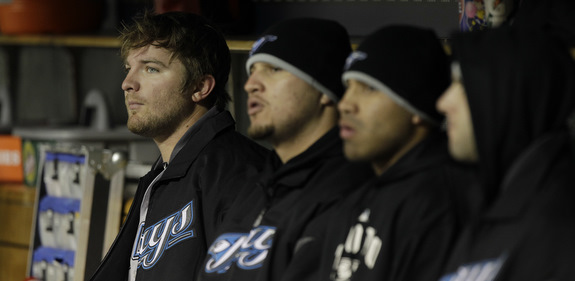 Remember last year, when the Yankees and Blue Jays didn't play each other until the first week of June? No such luck this season, this mid-week three-game series will already be their third meet-up of 2011. These two clubs split a two-game set north of the border in mid-April before the Yankees took two of three in New York late in the month.
What Have The Blue Jays Done Lately?
After winning six games in a row two weeks ago, the Jays have alternated wins and losses since Wednesday. The Astros (!!!) took two of three from them in Toronto over the weekend, and they come into this series right at .500 with a 23-23 record. The Jays do have a +11 run differential though, so they should probably be 24-22 or something like that.
Blue Jays On Offense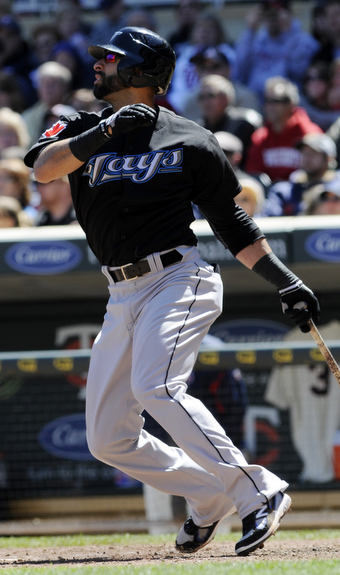 There really is nothing you can do to stop Jose Bautista, and containing him is pretty much a fruitless endeavor as well. The best player in baseball has just three hits (two of which have left the yard, of course) and two walks in his last 17 plate appearances, but he's still hitting .353/.500/.816 on the season. Joey Bats kills the Yankees, so just accept it. He's going to hit a homer or four during these three games, there's nothing the Yankees can do. He's that good. Luckily, Bautista is basically the entire Blue Jays' offense.
Adam Lind is on the shelf with a back problem, so just one other Toronto regular has an OPS north of .800. That's catcher J.P. Arencibia, who does it with power (.276 ISO) and not by getting on base (.309 OBP). Yunel Escobar is sporting a fine .283/.363/.410 line, but the rest of the lineup … sheesh. You've got the likes of Corey Patterson (.271/.307/.431), impromptu cleanup hitter Aaron Hill (.241/.283/.319), Juan Rivera (.225/.315/.331), Rajai Davis (.252/.298/.327), Edwin Encarnacion (.244/.270/.336), and so on. Bautista and Yunel are really the only two Jays' coming into the series hot as well.
One thing Toronto will do is run. They're third in the league in stolen bases (46) and will run at will, in any count with pretty much anyone at the plate or on the bases. Davis is by far the biggest threat with a dozen steals, but Hill, Patterson, and Bautista will go as well. The best way to shut the Jays' down offensively is the old Michael Jordan defense; let Bautista hit his homers but stop everyone else, especially the guys hitting in front of him.
Blue Jays On The Mound
Monday, RHP Carlos Villaneuva: Starting in place of the injured Jesse Litsch (shoulder impingement), Villanueva is being pulled out of the bullpen to make his first start since 2009. He's had long relief appearances of 42, 51, and 69 pitches already this season, so he's probably good for 80 or so pitches tonight. Villanueva's career numbers as a starter really don't tell us much of anything since they came so long ago and in the other league, but out of the bullpen this year he's struck out 7.77 men per nine while walking 3.70 per nine and getting a ground ball 39.3% of the time. Those are almost identical to his career totals (8.05 K/9, 3.22 BB/9, 40.4%), so he is who we thought he was. The former Brewer throws a lot of offspeed stuff, using his upper-80's fastball just under 40% of the time. A low-80's changeup is his favorite secondary pitch at a little over 25% of all pitches, though he'll also throw a low-80's slider more than 20% of the time as well. A low-70's curveball fills out the rest of the pie. The Yankees have seen him twice this year, a one inning relief appearance in each of the first two series, so Villanueva shouldn't be a total surprise.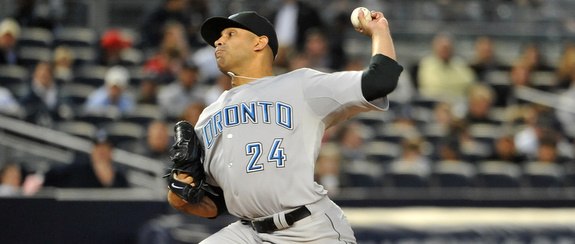 Tuesday, LHP Ricky Romero: Romero has a case to be the best pitcher in baseball that no one talks about. He's young (turned 26 in December), left-handed, and in possession of gaudy peripherals (8.84 K/9, 3.10 BB/9, 55.8% grounders), and yet "Ricky Romero underrated" returns far fewer Google results (52,200) than "Ivan Nova underrated" (308,000). If Ricky pitched for the Yankees, he'd be a national hero. He held the pinstripers to two runs over six innings earlier this year, just one of his seven starts of six-plus innings and two earned runs or less. Romero throws two fastballs 34.7% of the time each, a four-seamer that averages 92.3 mph and a two-seamer at 91.5 mph. A mid-80's changeup is his go-to offspeed offering, though he'll also break out an upper-70's curveball on occasion. One thing he does not do is pitch backwards; four out of every five at-bats start with a fastball, and he'll changeup hitters to death when ahead in the count. The Yankees have seen plenty of him over the last two years and two months, but Romero's so good that it doesn't even matter.
Wednesday, LHP Jo-Jo Reyes: Uh oh, a young lefty the Yankees haven't seen before. Reyes, who came over in the Yunel trade, has been surprisingly effectively for the Jays even though his ERA (4.08) doesn't really agree. His 3.36 FIP is propped up by strong walk (2.40 BB/9) and homerun rates (0.55 HR/9) and not necessary the whiff numbers (6.84 K/9), but there is still some funny business going on here. Reyes has a .354 BABIP despite a mediocre 35.8% ground ball rate, which is backwards. More fly balls should equal a lower BABIP, so that and the strand rate (64.2%) are why his ERA isn't as good as it maybe should be. Jo-Jo is similar to Romero in that he's heavy on the low-90's four and two-seamers with the occasional changeup, but he'll also throw a slider semi-regularly. He's on a bit of a roll now, allowing just eight earned runs (but seven unearned) in his last 28.1 IP across five starts. Like I said, the Yankees have never faced him before, but he isn't going to miss a ton of bats and will allow them to put the ball in the air. I'll take it.
Bullpen: Toronto's bullpen comes into the series pretty well rested. Casey Janssen is the only guy to pitch both Saturday and Sunday, and both Jon Rauch and Shawn Camp have appeared in two of the last three games. Octavio Dotel and Jason Frasor are fresh, ditto struggling closer Frank Francisco, who blew a tied game on Friday and has allowed six runs and six walks in his last six innings. Marc Rzepczynski is the lefty killer (.143/.250/.143 against) that also gets out righties (.219/.265/.344). He's not just a specialist.
The toughest thing about the Jays' bullpen is all the different looks they have. Camp is fastball-changeup, Janssen fastball-cutter, Dotel fastball-slider, Rauch fastball-slider-changeup, Francisco fastball-splitter, and Frasor almost all fastballs. It's a sneaky good bullpen crew equipped to do whatever manager John Farrell needs.
Recommended Blue Jays Reading: Drunk Jays Fans, Ghostrunner on First, and Tao of Stieb.