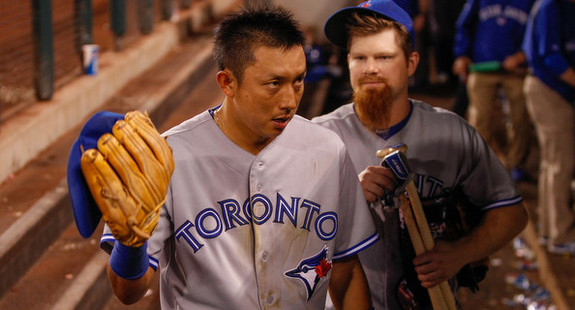 The final homestand of the 2014 season and Derek Jeter's career is about to begin. The Yankees open the eight-game homestand with four games against the Blue Jays, starting tonight. I swear, it feels like I've had to write a Blue Jays series preview every other week this season. Anyway, the Yankees are 8-7 against Toronto this year, including 4-2 at Yankee Stadium.
What Have They Done Lately?
The Jays were just swept by the Orioles in Baltimore, allowing the O's to clinch the team's first AL East title since 1997. Toronto lost two of three to the Rays before that. Overall, the Yankees have Blue Jays are tied for second place in the division with identical 77-74 records. The Jays have the run differential edge +20 to -34, however. This weekend is a battle for second place. Feel the excitement.
Offense
With an average of 4.45 runs per game and a team 105 wRC+, manager John Gibbons watches over a solidly above-average offense. They are without ex-Yankees OF Melky Cabrera (125 wRC+), who broke a finger sliding into a base a week or two ago and is done for the season. 3B Brett Lawrie (101 wRC+) and IF Maicer Izturis (79 wRC+) are also done for the year with oblique and knee injuries, respectively. C Dioner Navarro (103 wRC+) is day-to-day after taking a foul tip to the face mask.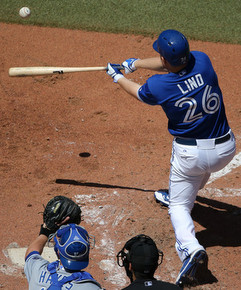 Even without Melky, the Blue Jays have a scary middle of the order thanks to OF Jose Bautista (155 wRC+) and 1B Edwin Encarnacion (149 wRC+). They both have 32 homers. DH Adam Lind (147 wRC+) is also having a strong year and is a nice left-handed complement to Bautista and Encarnacion. SS Jose Reyes (102 wRC+) sets the table from the leadoff spot and OF Anthony Gose (72 wRC+) has taken over as the everyday center fielder. OF Colby Rasmus (103 wRC+) is now just a bench player.
3B Danny Valencia (77 wRC+) is playing the hot corner regularly with Lawrie out. IF Juan Francisco (108 wRC+) had been platooning with him but he's been slumping hard since about June. IF Ryan Goins (26 wRC+ in limited time) is the everyday second baseman. C Josh Thole (73 wRC+) is the starting catcher while Navarro is out. OF Kevin Pillar (71 wRC+), IF Munenori Kawasaki (81 wRC+), IF Steve Tolleson (82 wRC+) ,and OF John Mayberry Jr. (117 wRC+) are the regular bench players. C George Kottaras, 1B Dan Johnson, and OF Dalton Pompey are the September additions.
Pitching Matchups
Thursday: RHP Shane Greene (vs. TOR) vs. RHP R.A. Dickey (vs. NYY)
The 39-year-old Dickey is about to wrap up his fourth straight 200+ inning season, and he was better this year than he was during his first season with the Jays. He has a 3.84 ERA (4.31 FIP) in 31 starts and 196.2 innings with good but not great peripherals: 7.41 K/9 (19.2 K%), 3.11 BB/9 (8.1 BB%), 1.10 HR/9 (11.1 HR/FB%), and 42.7% grounders. As a knuckleballer, Dickey relies on weak contact more than anything. Righties (.325 wOBA) have been better against him than lefties (.307 wOBA) and he's been better on the road (.308 wOBA) than at home (.327 wOBA). Dickey threw two knuckleballs with the Mets a few years ago, but he has since dropped the harder low-80s version and now sticks with the softer mid-70s version. He throws the knuckler roughly 80% of the time while filling in the gaps with low-80s show-me fastballs. The Yankees have only faced Dickey once this year, way back in early-April, in the second series of the season. He held them scoreless for 6.2 innings.
Friday: RHP Hiroki Kuroda (vs. TOR) vs. LHP Mark Buehrle (vs. NYY)
Buehrle, 35, is 12 innings away from his 14th (!) straight 200+ inning season with two starts to go. Unless they start him on three days' rest in the season finale or something. He's thrown at least six innings in each of his last five starts, but one short start could cause him to fall short of 200 innings. Buehrle has a 3.40 ERA (3.71 FIP) in 30 starts and 188 innings this year, plus he's sporting his usually low strikeout (5.07 K/9 and 13.2 K%) and walk (2.06 BB/9 and 5.4 BB%) rates. His ground ball rate (43.9%) is right in line with his career norm but his homerun rate (0.67 HR/9 and 6.6 HR/FB%) is the lowest of his career. Buehrle's platoon split is small and he has been much better on the road (.300 wOBA) than at home (.360 wOBA). As always, he works in the mid-80s with his four-seamer, two-seamer, and cutter while mixing in some upper-70s changeups and low-70s curves to keep hitters off balance. The Yankees have seen Buehrle four times this year: three runs (two earned) in six innings in mid-June, four runs in 6.2 innings in late-June, six runs in three innings in late-July, and four runs in six innings in late-August.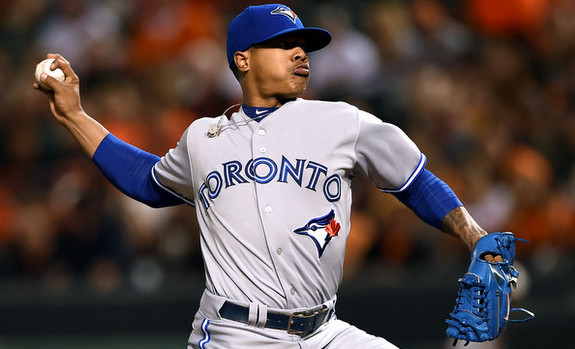 Saturday: LHP Chris Capuano (vs. TOR) vs. RHP Marcus Stroman (vs. NYY)
Last time out, the 23-year-old Stroman created a ruckus when he threw a retaliation pitch behind the head of Orioles catcher Caleb Joseph. He was ejected and has since been suspended six games, but he is appealing and is expected to make this start. Stroman has made 19 starts and five relief appearances this year, pitching to a 3.80 ERA (2.99 FIP) in 120.2 innings. His strikeout rate is alright (7.46 K/9 and 20.2 K%) but his walk (2.09 BB/9 and 5.7 BB%), homer (0.52 HR/9 and 7.1 HR/FB%), and ground ball (54.7%) numbers are spectacular. He has been way better at home (.251 wOBA) than on the road (.355 wOBA) but has a negligible platoon split. The Long Island raised Stroman uses mid-90s two and four-seamers as well a low-90s cutter to set up his mid-80s slider, mid-80s changeup, and low-80s curve. The four-seamer, cutter, and curve are his main pitches. The Yankees have faced him twice this year, first scoring two runs in 3.2 innings and then scoring one run in eight innings, both times in June.
Sunday: RHP Masahiro Tanaka (vs. TOR) vs. RHP Drew Hutchison (vs. NYY)
Again with Hutchison. The 24-year-old will be the first non-James Shields pitcher to make six starts in one season against the Yankees since both Edwin Jackson and Roy Halladay did it in 2008. (Shields did it in 2010 and 2012.) They've faced him in every series this year. Geez. Hutchison has a 4.51 ERA (3.82 FIP) in 30 starts and 175.2 innings after missing just about all of last season due to Tommy John surgery. Both his walk (2.87 BB/9 and 7.5 BB%) and strikeout (8.71 K/9 and 22.9 K%) rates are very good, the homer (1.08 HR/9 and 9.3 HR/FB%) and grounder (36.7%) rates less so. He gets hit hard by lefties (.348 wOBA) and at home (.333 wOBA), though not so much by righties (.274 wOBA) and on the road (.305 wOBA). A low-90s fastball is Hutchison's main pitch and he throws it roughly two-thirds of the time. Sliders and changeups in the mid-80s round out his repertoire. Amazingly, each of Hutchison's five starts against New York have gotten progressively better this year: six runs in 3.1 innings in April, four runs in 4.1 innings in early-June, four runs in 6.1 innings in late-June, two runs in 6.2 innings in July, and no runs in seven innings in August. I guess a no-hitter's coming this weekend.
Oh, and yeah, Tanaka is returning to the rotation this weekend. It will either be totally awesome or the worst thing ever. Lots riding on his right elbow.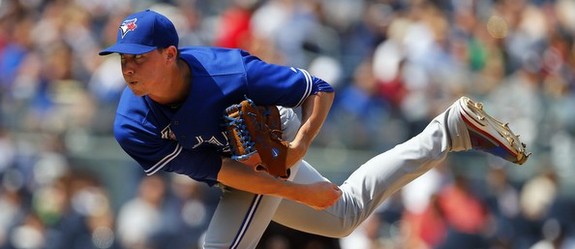 Bullpen Status
Because they have been losing so much recently, Gibbons had to use closer RHP Casey Janssen (4.24 FIP) and setup man RHP Aaron Sanchez (2.57 FIP) yesterday just to get them work. Janssen's had an up and down season and he'll be a free agent this winter. I wonder what kind of contract he'll get. Anyway, LHP Brett Cecil (2.48 FIP) and LHP Aaron Loup (3.70 FIP) are the team's other regular late-inning relievers.
RHP Dustin McGowan (4.92 FIP) and RHP Todd Redmond (3.44 FIP) are Toronto's other bullpen regulars. RHP Brandon Morrow (3.83 FIP) is now working in relief after missing most of the season with a finger injury. LHP Daniel Norris, LHP Sean Nolin, and RHP Kendall Graveman are the club's September pitching call-ups. Head over to our Bullpen Workload page for the status of the Yankees' bullpen, then head over to Drunk Jays Fans for everything you need to know about the Blue Jays.