Prior to last night's loss to the Mets we heard that Eric Chavez is slowly but surely making his way back from a deep bone bruise in his foot and has not walked with a limp in days. He's still a few weeks away from returning though, and the Yankees have been short a viable pinch-hitting option and true backup first/third baseman since he hurt himself legging out a triple in Detroit. Two players were dropped by their teams within the last 24 hours, so let's see if either is capable of filling that bench role for the Yankees while Chavez is on the mend…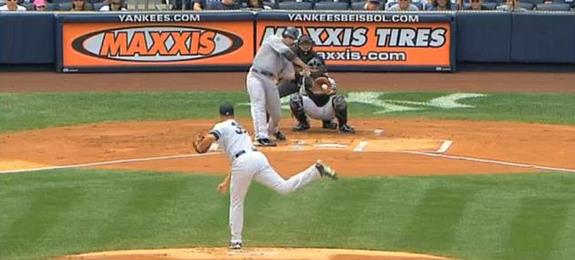 Russell Branyan (released by Arizona)
We've watched Branyan hit some absolute moonshots at Yankee Stadium over the last few seasons, like this one off Javy Vazquez or this one off A.J. Burnett or this one off Chad Gaudin or this one off Al Aceves. He's managed to hit seven homeruns in just 12 games (11 starts) at the newest version of Yankee Stadium, including six (!!!) last year alone. The D'Backs cut him because he had a .285 wOBA as the third wheel in a first base platoon that included former Yankees Juan Miranda and Xavier Nady.
Cartilage damage and miscellaneous stiffness in his back has limited Branyan to just 256 games (out of 368) since 2009, but more importantly they've relegated him to first base and DH. He hasn't played third base since 2008 (276 defensive innings) or a corner outfield spot with any regularity since 2007 (79.1 innings), so his value is limited. Despite the poor showing in the desert, Branyan's underlying skills are still the same. He's never had a sub-.220 ISO or walked in fewer than 10% of his plate appearances in any season in which he came to plate 100 times or more. It's the standard three-true outcomes package, 50.6% of his career plate appearances have ended with a homer, a strikeout, or a walk.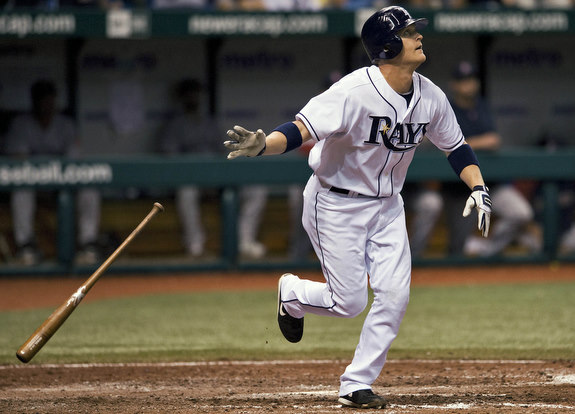 Dan Johnson (designated for assignment by Tampa Bay)
Johnson is another guy that has killed the Yankees over the last year or so, memorably hitting these two go-ahead homers homers (in the same game) last September. He started the year as Carlos Pena's primary replacement at first but was so bad (.165 wOBA) that he eventually lost the job to Casey Kotchman (!!!) and did little more than pinch-hit or spot start before getting the axe yesterday.
There's no way to spin that horrible performance into something positive, yeah his BABIP was low (.133) but that doesn't explain why he all of a sudden decided to start swinging at 26.4% of the pitches he saw out of the zone (16.3% career). Johnson's track record consists of patience (12.9% walk rate) and power (.169 ISO in the bigs but .253 in nearly 2,000 Triple-A plate appearances), and unlike Branyan he can actually play third. He's played 45 games at the position since the start of 2010 (majors and minors) and although he's not a great defender there, he can at least stand there and fake it every once in a while.
* * *
Neither Branyan or Johnson is a perfect fill-in for Chavez, but then again Chavez isn't exactly perfect either given his propensity to get hurt. Too bad we can't combine Branyan's offense with Johnson's health and versatility, that would be the best solution. Branyan would only cost the league minimum, though Johnson said he'd like to stay with the Rays' organization if he clears waivers, so he's unlikely to elect free agency. The Yankees would have to claim him off waivers, which would mean assuming his $1M salary for the rest of the season. That money is no big deal, but it's worth keeping in mind.
Ultimately, either guy would just be stepping in until Chavez returns, but we have to remember who we're dealing with. It sounds like Chavez will be back sometime next month, but he could easily be out longer than that given his injury history. Having a semi-capable replacement like Branyan or Johnson could end up being more important than we realize.
What would you do with the last bench spot until Eric Chavez comes back?
Sign Russell Branyan
Claim Dan Johnson
Stick with Chris Dickerson
Call up Jorge Vazquez
Total Votes: 957
Started: May 21, 2011
Back to Vote Screen