For stretches this year, the Yankees have played frustrating baseball. They do lead the league in many offensive categories, including SLG and wOBA, but there have been times when it appears that they simply cannot bring home the men they've put on base. Sure, they'll crack more than their share of homers, which helps the issue. But if they're not hitting for power, it can seem as though they're not hitting at all. It appears to be the biggest problem with the offense this year.
Yet, it's not actually that big a problem. And where it is a problem, it is somewhat solvable. Let's start with the last part first. Here's the Yankees' most common starting lineup, with their respective OBPs listed.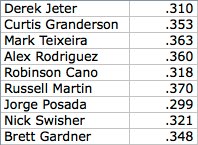 The problem at the start is having four guys in the lineup who have a .321 or lower OBP. That's not something we typically see from the Yankees. There are mitigating and damning circumstances around these numbers — they don't necessarily reflect recent slumps and streaks, for example. But for the most part the guys with the ultra low OBPs aren't doing much.
While that's a problem itself, the further problem arises when we take into consideration their positioning. Derek Jeter's .310 OBP atop the lineup doesn't help one bit. It means that the high-on-base guys behind him aren't hitting with as many men on base. Then we get to the five spot, after three guys with high OBPs. Robinson Cano makes a lot of outs, and therefore kills rallies in the process. After him comes a high OBP guy, followed by two low-OBP guys, followed by a high OBP guy — and then back to low again. It's unsurprising, then, that the Yankees have trouble sometimes getting a rally started.
The solution, of course, is to keep the high-OBP guys bunched together. Lead off with Gardner and move Martin up to fifth. That way they might be able to get something of a rally going. It creates a crater at the back end of the lineup, but that's a better situation than having them littered throughout the lineup, ready to kill a rally with their out-making ways.
There is another question to ask, though. Are the Yankees actually bad with runners in scoring position? The answer might seem like an obvious yes, but we can't answer that question without first examining the environment. That is, run scoring and power are down this year. Every team has seen a downturn in offensive output. Something has changed in the game, and we have to adjust our expectations.
The Yankees are actually 14th in the league in batting average with runners in scoring position. That's not nearly as bad as it feels. While we expect them to be better than average, I'd say that the perception is that they're below average. This is simply not the case. And, because the Yankees put more runners on base than most other teams, they benefit more from that average hit rate with runners in scoring position. For a quick illustration, the Orioles are second in the league with a .295 average with RISP, but they are 18th in OBP. They might hit home the guys they have, but they don't have many guys in scoring position in general. I'd much rather be in the Yanks' position than the Orioles'.
Another point in the Yankees' favor is their ability to cash in their base runners. They have had 1,130 runners this year, and 173 of them have scored. That's good for a 15 percent rate, which ties them for second in the league. Cleveland is first at 17 percent, and Minnesota is last with 12 percent. When viewed from a league-wide lens, the Yankees are better than their opponents at bringing runners home. In a game that pits teams against each other directly, that's clearly an advantage.
There's a good chance we see the Yankees improve on their performances with runners in scoring position. For that we turn to trusty friend BABIP. The Yankees have a .260 BABIP with runners in scoring position, which ranks 25th in the league. Of course, not everyone will finish with a league-average BABIP. Regression doesn't work that way. But regression does tend to work out and eliminate outliers in the long term. A team with an offense as potent as the Yankees simply should not have one of the worst BABIPs with runners in scoring position. Even a modest level of regression to the mean will pay off big for the Yankees.
The level of frustration with the Yankees' offense has, at times, risen high this season. The six-game losing streak in particular seemed like a low point for the offense. But throughout the season they've remained one of the best offensive clubs in the league. Even with runners in scoring position they've been no worse than average. Given their lower than expected BABIP, we should see that performance improve in the coming weeks and months. It makes the true potential of the Yankees' offense difficult to imagine. Run scoring is down, yet the Yankees are nearly matching their output from last year. It's scary to think what they could do if they hit even slightly better with runners in scoring position.