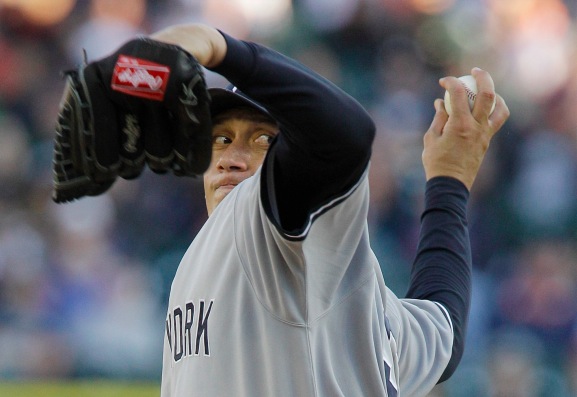 In some games there is no joy. Last night that was exactly the case. For instance, getting seven innings out of Freddy Garcia, even if he allows four runs, would be perfectly fine on most nights. Hell, he struck out eight, including Miguel Cabrera twice. But no, with the offense only able to muster four hits, there was nothing remotely resembling joy in Yankee land last night. It made Monday's game look like a route.
Only once in the evening did the Yankees have two runners on base at the same time. That came in the eighth, when they were already down 4-0 and the situation looked pretty hopeless. And, as if there couldn't have been any other outcome, Curtis Granderson grounded into a double play. The only other real chance they had was in the fourth, when Mark Teixeira doubled with one out. But, again, they were already in a 4-0 hole. Nothing felt particularly optimistic at that point.
Some games are full of homers and fist pumps. Others are full of curses and head-hanging. The past few nights have brought much of the latter. Of course, the Yanks aren't going to go 4 for 35 every night. There is tomorrow, of course, which is part of baseball's beauty. Best yet, the Yanks get another crack at the Tigers and the chance to split a four-game series on the road. That isn't all that bad an outcome, considering how they've played the past few nights, is it?