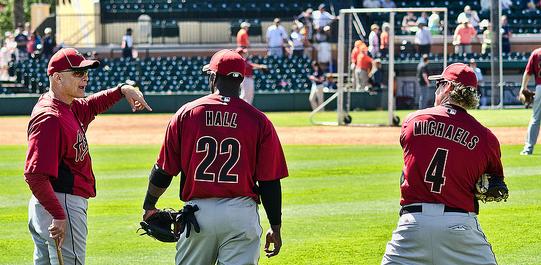 As the Yankees searched for bench help this past offseason, one of the names we heard them connected to Bill Hall. He was coming off a damn fine season for the Red Sox (18 HR, .342 wOBA) and apparently the brain trust thought he could do the same in pinstripes. Hall eventually took an offer from the Astros, turning down a chance to come off the Yankees' bench in favor of playing every day. Can't say I blame him.
Well, the Houston experiment did not go well. Hall hit to the tune of a .269 wOBA with two homers and 55 strikeouts in 158 plate appearances with the Astros before they released him over the weekend. GM Ed Wade called the signing a "failure in judgment," opting to eat the $2.25M left on Hall's contract (approximately $2M in remaining salary this year plus the buyout of next year's option) instead of hoping for a rebound in performance. That means any team can now sign Hall for the pro-rated Major League minimum (peanuts), and the Yankees have a second chance to add him to the team.
I have no problem picking up any player on the cheap, so in that sense I'm on board. The real question is why should we expect Hall to bounce back from his awful start and be worthy of a roster spot? The reality is that last year was an outlier for him, just look at his year-by-year wOBA …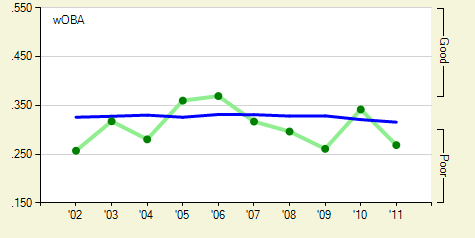 Hall was fantastic back in 2005 and 2006, earning himself a fat four-year, $24M contract from the Brewers, but he's been damn near replacement level since. Except for that one year with Boston. It wasn't a Fenway Park thing (.346 wOBA at home, .334 on the road), it wasn't a BABIP thing (.300 BABIP in 2010, .311 career), and it wasn't a batted ball profile thing. His HR/FB rate was an unsustainably high 17.0% compared to a much more normal 13.1% for this career, so maybe that was behind the good year. Whatever it was, it's not exactly something any team should count on happening again.
Late last week Joe wrote about the option of improving the team by upgrading the utility infielder, but Hall can't replace Eduardo Nunez (assuming the idea is to send him down to Triple-A so he can play regularly) because he hasn't played shortstop since 2006. Yeah, he stood there for 36 innings last year, but that was the only time he's played the position in five years. Plus his defense at second is terrible, I'm not sure why it would be better on the other side of the bag. He's more of an emergency shortstop more than anything, not a guy a team could legitimately use there. Andruw Jones has a) done nothing to lose his job, and b) is better than Hall anyway, so they're not going to change fourth outfielders. The Yankees could use him in place of Chris Dickerson, but then they have no left-handed bat on the bench. Not a huge problem, more of an inconvenience. I assume that would be his way onto the roster.
Like I said, bringing Hall in for the pro-rated minimum is a perfectly fine move, but I really don't see enough of an upgrade to consider it a no-brainer, an "oh my goodness they have to go out and get this guy" kind of move. If they sign him, great. If not, well no big deal. Hall's more name value than substance, has been for more than four years now.