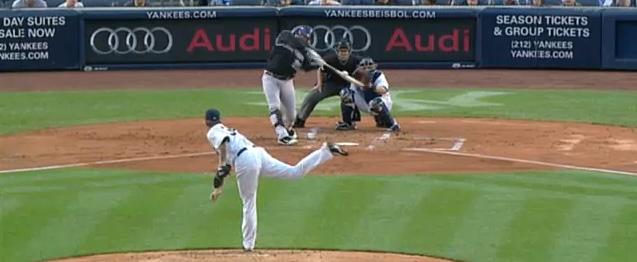 Let's recap…
It did not look like Ubaldo Jimenez was long for this game early on. He walked Curtis Granderson and Mark Teixeira in the first inning, then Alex Rodriguez doubled down the left field line to drive in Grandy. Charlie Blackmon bobbled the ball in left, but for whatever reason Tex stopped at third. Maybe he didn't see the bobble, maybe third base coach Robbie Thompson held him up, who knows. Someone definitely made a mistake though. Grandy created their second run with a walk, stolen base, move to third on a sac fly, then score on a sac fly in the third inning.
That's was it though, Jimenez settled down after that and retired 11 of the last 14 men he faced. One of the three that reached base did so on an error, and another one of the runners (Eduardo Nunez) was erased on a caught stealing. A-Rod got doubled off second on a Robinson Cano line drive to end the first, and I can't help but wonder what could have been if he got back to the bag in time and Tex had scored on the double. Oh well.
A.J. Burnett walked five and struck out five, and four of those whiffs came in the sixth inning**. He's the first pitcher in team history (!!!) to strike out four in an inning, and it's all thanks to a wild pitch strike three that allowed the runner to reach instead of ending the inning. Jason Giambi murdered a 2-0 fastball for a solo homer in the second, then Troy Tulowitzki hit a solo shot in the fifth on a pitch out over the plate. The other runs came on a Todd Helton single and Ty Wigginton grounder, and both rallies started with walks. Free baserunners are bad news.
Granderson (three walks) and Nick Swisher (two singles) were the only Yankees to reach base twice. Tex walked, A-R0d had the double, and both Russell Martin and Nunez singled. Cano's eleven game hitting streak ended. Grandy also stole two bags. They had their chances earlier in the game, for sure. Ubaldo wasn't great, he definitely wiggled out of some jams. Such is life.
Boone Logan retired three of the four left-handed batters he face (two strikeouts), the one exception being a ground rule double to Carlos Gonzalez. He retired one righty and walked another. Fluke, or the start of a turn around?
Here's the box score, here's the WPA graph, and here's the hilarious strike zone plot*. Seriously, Ed Hickox must have been double parked or something, he was calling everything a strike.
Game two of the series is Saturday afternoon, when CC Sabathia will look to end this little two game losing streak against Aaron Cook. RAB Tickets can get you there dirt cheap, if you want to head up to the Bronx.
* I love that you can see Boone Logan's pitch to the backstop above the legend.
** Update: That was actually the second time Burnett has struck out four batters in one inning in his career. He also did it with the Marlins way back in the day. He and Chuck Finley are the only guys to do it twice. Ever.