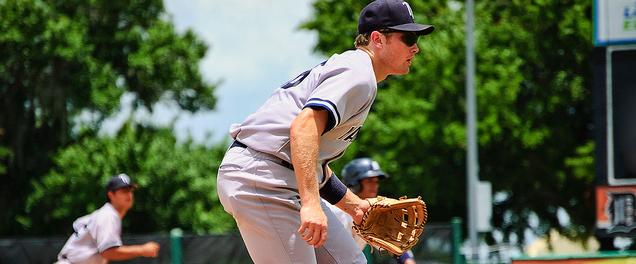 It's been four years since the Yankees gave Bradley Suttle what was then a fourth round record $1.3M signing bonus in 2007. He hit a solid .271/.348/.456 (.361 wOBA) with Low-A Charleston in 2008, but missed all of 2009 with major shoulder issues. Suttle returned in 2010 and was decent with High-A Tampa (.272/.340/.411 with a .348 wOBA). This year has disappointing, a .216/.302/.405 batting line with a .321 wOBA for Double-A Trenton. His strikeout (34.1%) and walk (8.4%) rates are career worsts as is his BABIP (.298), though a .198 ISO is his best ever.
Here's what Baseball America had to say about Suttle's offense right before the 2007 draft (subs. req'd)…
There's a debate among scouts about who's better, Suttle or his Longhorns teammate, Kyle Russell. Suttle doesn't have Russell's power ceiling, but he's a better bet to hit in the major leagues. He's a pure hitter and switch-hitter to boot, with scouts preferring his stroke from the left side. He has a strong 6-foot-2, 213-pound frame, though his inside-out swing doesn't have much lift and somewhat limits his power. He drives more balls into the gaps than over the fence.
They also ranked him as the best pure college hitter heading into the draft (subs. req'd), ahead of top ten picks like Matt Wieters and Matt LaPorta. We're four years and more than 1,300 plate appearances into Suttle's pro career now, and a .258/.333/.422 batting line (~.345 wOBA) hardly resembles what you'd expect from such a highly touted college hitter. However, let's focus on one piece of that scouting report, the "with scouts preferring his stroke from the left side" part. Here are Suttle's career splits…

Pretty consistent with the scouting report, because he's done absolutely nothing from the right side of the plate as a pro. The strikeout and walk rates are better, sure, but not nearly enough to make up for the utter lack of hitting ability. Also, before we go too much further: yes, it's a small sample size. I don't think I had to say that, but I did anyway.
So after looking at all this, the question is should Suttle stop switch-hitting and focus on his left-handed swing only? The Yankees have had success getting switch-hitters to abandon their weaker sides in the recent past, namely Eduardo Nunez and Frankie Cervelli, and Suttle seems like a prime candidate for the move. It's a drastic change, no doubt about it, because he's had the platoon advantage his entire life and all of a sudden it will be gone against lefties. Heck, there's a legitimate chance he'll be worse against lefties as a left-handed batter than he has been as a righty.
If they do decide to make a switch, I think it might be best to let him ride this season out and then drop the right-handed swing over the winter. That way he can ease into it rather than jump right into something he's never done before against Double-A caliber pitching. Right now Suttle looks like little more than a platoon bat at the corner infield spots, one with some power and one base skills and enough defense to have value. If he learned to play left field he could be a mini-version of Eric Hinske, or at least be closer to that than Brandon Laird, who hits from the other side of the plate and has drawn just 13 more walks than Suttle in 726 more plate appearances since 2007.
The Yankees have gotten very little return so far from their 2007 draft, none in terms of big leaguers. Chase Weems has contributed the most of the lot by being traded for Jerry Hairston Jr. at the deadline in 2009. Austin Romine has the best shot at being an above average everyday player from that haul, but Suttle, Laird, Ryan Pope, and Andrew Brackman might still be able to contribute in lesser roles. Perhaps having Suttle focus on hitting from the left side exclusively is a way to extract more value from him long-term.