Interleague play always seems to be kind to the Yankees, and 2011 is no different. Wednesday's win gave them their fifth interleague series win in five tries, and they did it by giving A.J. Burnett some rare run support.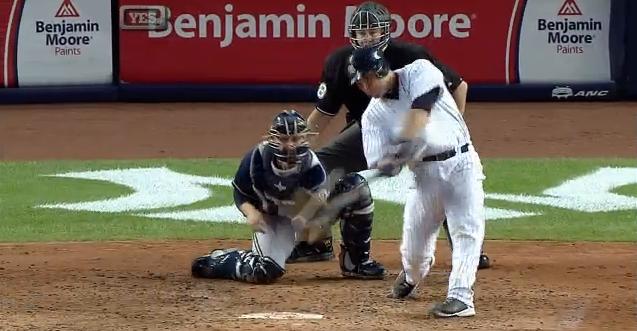 The Big(-ish) Inning
The Brewers were nursing a one-zip lead into the fourth inning, milking Shaun Marcum's changeup for all it's worth. The righty pitched around trouble in the first (runner on second, two outs), second (man on first, one out), and third (first and second, one out), but his luck ran out in the fourth.
Robinson Cano started the inning with booming triple to dead center, but that was only the second hardest hit on the play. Nyjer Morgan ran full speed into the wall, falling to his knees while Ryan Braun came over to field the ball. It was a brutal but hilarious collision; it's okay to laugh since he was fine. Nick Swisher tied things up with a solid single to right, then Jorge Posada moved him to third with a single off the right field wall. With men on first and second and none out, the Yankees were set up for a big inning, and Russell Martin cut right to the chase.
Marcum jumped out ahead on the Yankees catcher, starting him off with two quick strikes. The third pitch was that changeup, but it hung up just a bit and Martin golfed it out and into the left field seats, his tenth homer of the season and first extra-base hit in 68 at-bats. Russ has been struggling with the bat, no doubt about it, and he needed that hanging changeup more than anyone else in the lineup. An inning that started with a one-run deficit ended with a three-run lead.
Hey Hey, It's Good A.J.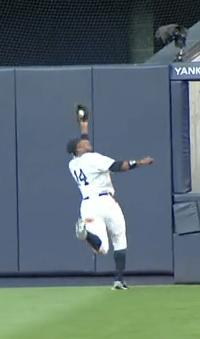 It wasn't a good start for Burnett, but it was the finish that matters. The Brewers manufactured a first inning run on a walk, stolen base, and single, but A.J. settled down and retired 12 of the next 15 men he faced. Burnett's biggest test came in the sixth, when Jonathan Lucroy started the inning with a simple little single back up the middle. Rickie Weeks hit a rocket to short that the Yankees could only turn into one out (Lucroy out at second), then Morgan singled to center to bring the big bats to the plate as the tying run.
A.J. started Braun off with some curveballs, but he fell behind in the count and laid a fastball right in there. Braun hit a bullet to Alex Rodriguez at third, but he was off-balance and didn't get the throw to first in time. Now the bases were loaded with one out, and Prince Fielder was at the plate. He did the Yankees a favor and hacked at the first pitch, a changeup, and grounded it to Mark Teixeira at first who got the force out at second (the runner at third scored). The two superstars were gone, but the tying run was still at the plate. Burnett gave Corey Hart two curveballs after a first pitch fastball, and a weak ground out to third ended the inning and the threat.
It's cliche but it's true, this was one of those innings that would have turning into a multi-run nightmare last year. Burnett made his pitches and navigated the 3-4-5 hitters with men on base without allowing them to hit the ball out of the infield. Those three batters were three of the nine biggest plays of the game according to WPA, and they all went the Yankees way. Burnett's night ended with just two runs allowed on seven hits and two walks in seven innings, though he only struck out four. He did get eleven ground ball outs compared to five in the air, though.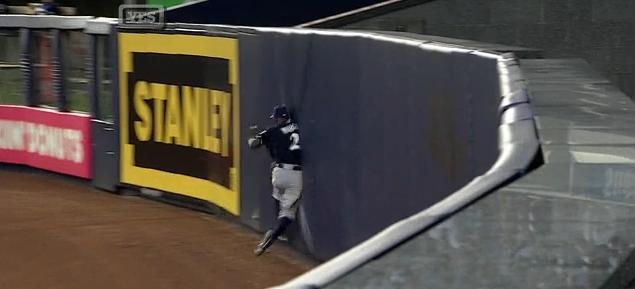 Leftovers
Burnett had a chance to finish to go even longer, but Eduardo Nunez started the eighth inning out with his ninth error as a shortstop, skipping a throw to Tex like a rock on a lake. David Robertson came in and cleaned up the mess, striking out Braun on three pitches in the process. He did the same to Joey Votto last week, so that's two of the very best hitters in baseball that he absolutely depantsed over the last seven days. I don't think Mariano Rivera even broke a sweat during his flawless ninth inning.
Posada's such a bad baserunner that he got tagged out on a homerun. Seriously. Jorge yanked Tim Dillard's pitch over the fence in right in the sixth, but it bounced back onto the field of play and the Brewers applied the tag between first and second. The play was eventually reviewed and deemed a homerun, a solo shot and Posada's second in three games.
As for the rest of the offense, Tex and A-Rod managed to combine for a big fat 0-for-8 with five strikeouts. Alex's eight game hitting streak came to end with three whiffs. Curtis Granderson drew two more walks, Brett Gardner slashed a double, and Swisher walked in addition to the single. The Grandyman also stole a base and made a gorgeous catch in center to start an inning ending double play in the first. He ran down the ball near the warning track, fired to Cano who executed a perfect relay throw to first to double off the runner. Curtis' catch was fantastic, but Cano's relay was awe worthy. He caught it and delivered a chest-high strike to Tex all in one motion. Just gorgeous.
After the final out, during the postgame interview on the field, this happened (paraphrasing)…
Martin: "I don't know how many at-bats it's been since my last extra-base hit."
Kim Jones: "Do you want me to tell you?"
Martin: "No, don't tell me. Don't tell me."
Kim Jones: "It was 68 at-bats."
Way to rub it in, Kim. Anyway, the Yankees have now won four games in a row, tying a season high winning streak that they've done several times before. They're also a season high 16 games over .500 and have won 26 of 38 games since that ugly six game losing stretch we all seem to have forgotten about. The lead in the division sits at three games in the loss column after the Red Sox were unable to beat one of the Phillies' vaunted aces (Vance Worley).
WPA Graph & Box Score
That's a nice one, love those big one inning spikes when they go the Yankees' way. MLB.com has the box score and video, FanGraphs the other stuff.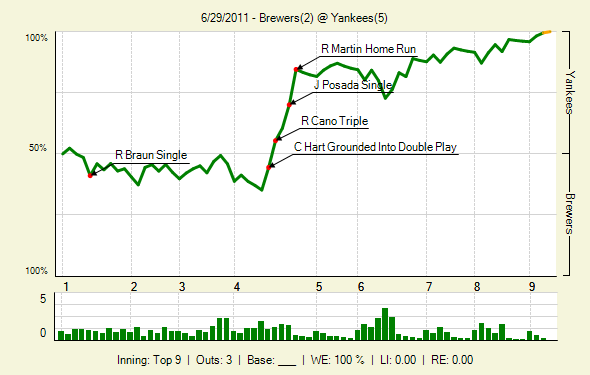 Up Next
The Yankees will go for the sweep on Thursday afternoon, when lefties CC Sabathia and Randy Wolf give it a go at 1:05pm ET. RAB Tickets can get you to the game dirt cheap.