Is it just me, or it does it seem like every single My9 game features some kind of rain delay? Tuesday's game got pushed back 40 minutes or so because of a quick storm, but it was the Yankees' bats that supplied the thunder (oh snap). They scored early and often, and with their ace on the mound, this one was over after two innings.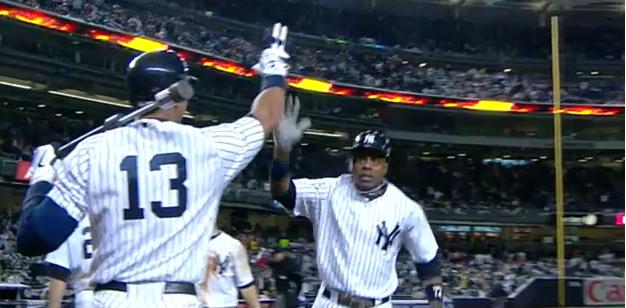 Brett Gardner, Leadoff Hitter
With Derek Jeter on the shelf for at least 15 days, Brett Gardner is going to get a second chance at the leadoff job he lost earlier in the year. He led off the first with a three pitch ground out, drew a five pitch walk with one out in the fifth, and then led off the sixth with a ten pitch at-bat and an infield single. A first pitch stolen base followed that. Gardner went 3-for-4 with a walk and three runs scored on the night, setting the table for the offense each time up. If you go back to April 23rd, a span of 165 plate appearances, Brett's hitting .333/.406/.504. That'll do.
Curtis Granderson, MVP Candidate
There's little left to say about the season Grandy is having, so when he goes 2-for-4 with four runs driven in and his 21st homerun, it's just another night of the office. His two-run single in the second inning turned a two run lead into a four run lead, and I can't remember the last time I've seen a Yankee's batter capable of turning around a high fastball like Granderson. The most popular response I got on Twitter was Gary Sheffield, and he's the only one even in the ballpark for me. Another night, another pitcher with no answers.

Nick Swisher, Platoon Bat
I thought Paul O'Neill did a fine job of breaking down Swisher's left-handed swing during the broadcast, showing how he was opening up early and getting off balance. He hasn't had those same problems from the right-side, which is why he went 2-for-3 with a double and a homer off lefties Michael Kirkman and Arthur Rhodes while drawing just a measly walk off righty Alexi Ogando. Swish is now hitting .176/.315/.284 off righties but .356/.439/.576 off lefties. That has to fix itself at some point, right?
Eduardo Nunez, Starting Shortstop
Gardner gets the glory of the leadoff spot, Nunez the glory of the shortstop position. In his first game as the (temporary) starting shortstop, Nunez opened the scoring with a bases loaded single in the second inning, a solid line drive to left in a 1-1 count. He tacked on another hit later in the game to finish 2-for-4 with a run scored and a run driven in. Obviously we don't expect that kind of offense every game, but as long as Eduardo can manage to be more than a zero at the plate while turning everything hit in his general direction into an out, he'll be a perfectly fine fill-in.
Frankie Cervelli, Bad Player
Speaking of zeroes at the plate, Cervelli went 0-for-4 with a strikeout and five left on base, and he's now 1-for-18 with seven strikeouts in Russell Martin's absence. At least he didn't throw any balls into center field.
CC Sabathia, Ace
It wasn't exactly an ace-like performance for Sabathia, but if seven innings, seven singles, one double, four runs, no walks, and six strikeouts qualifies as a poor start, then the Yankees are in pretty good hands whenever he's on the mound. CC's command was a little off, he was leaving some pitches up in the zone when they were supposed to be at the knees or buried in the dirt, but that happens from time to time. Maybe he was just pitching to score, which I hear is something the greats tend to do. Considering how often Sabathia picks the rest of the team up, the offense owes him a game like this every so often.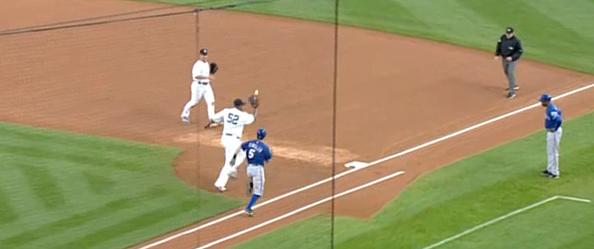 Leftovers
Ogando has allowed more than two runs in just three of his 13 starts, twice against the Yankees. I love how no one in the YES booth even bothered to try to explain why they're hitting him so well when no other team has been been able to. They just chalked it up to "you can't predict baseball." My guess: Ogando is a two pitch pitcher, and they're just spitting on his slider and forcing him to go after them with the heat. It didn't hurt that he was misses his spots big time either.
I don't know about you, but I was terrified when Sabathia had to run over to cover first base twice in the first inning. The grass was wet following the rain, and after what happened to Bartolo Colon over the weekend … yikes. Thankfully, all went well. Luis Ayala chipped in a perfect eight, Pants Lendleton Lance Pendleton an eventful but ultimately scoreless ninth.
As for the rest of the offense not mentioned above, Mark Teixeira capped off that six run second inning with a two run single, Alex Rodriguez drove in two with a double into the gap and also singled to start that second inning. He also hit a ball right to wall in right-center, looked like it was gone off the bat. Robinson Cano (homer) and Jorge Posada (double) each had a hit, and I noticed that Jorge used a two-handed follow through on his. That's Kevin Long's trademark, so I wonder if he's been working made some adjustments with Posada recently. Has this been going on for a while, or is it something new? I didn't notice it until tonight.
A tip o' the old RAB cap goes out to Michael Young. This was his 1,574th career game, a new Texas Rangers' franchise record. Congrats to him.
WPA Graph & Box Score
MLB.com has the box score and video highlights, FanGraphs the other stuff.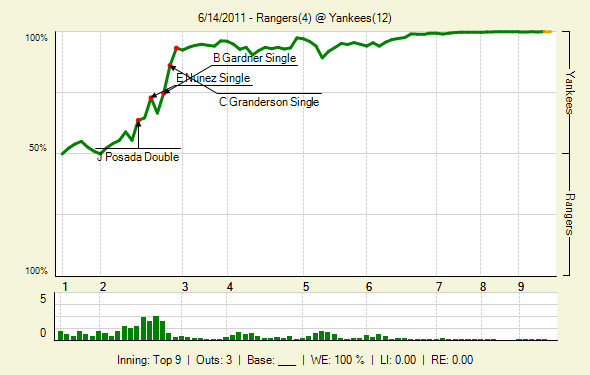 Up Next
Same two teams Wednesday evening, when Ivan Nova gets the ball against Derek Holland. If you ask me, that one has four hours written all over it.