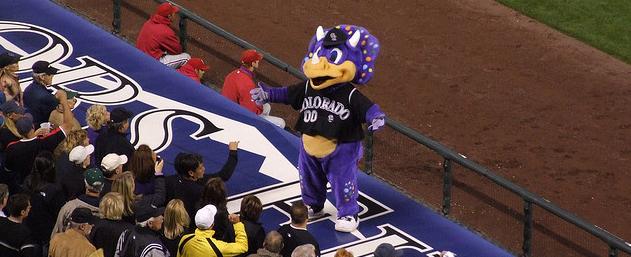 And now it's the National League's turn to come to the Yankees. The Bombers have done their time in Chicago and Cincinnati, and now they're back in their natural element, with nine real hitters in the lineup and no need for double switches. The less "strategy," the better.
What Have The Rockies Done Lately?
Although they dropped their most recent game to the Indians, the Rockies are coming in hot. They've won two of their last three games, six of their last eight, and nine of their last 14. Most of those games have been close though, nine of the 14 were decided by two runs or less. Four of the last five have been one run affairs. Colorado is exactly .500 at 37-37, and their +11 run differentially is just a win or so better than average.
Rockies On Offense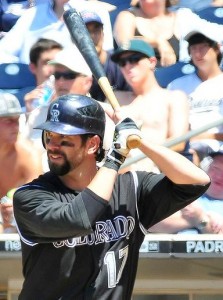 The Rockies can definitely hit (.323 wOBA as a team, ninth best in baseball), but their lineup is very top heavy. It starts right at the top with Carlos Gonzalez, who has followed up last year's monster .416 wOBA, 6.6 fWAR season with a .348/1.5 effort this year. Since moving to the leadoff spot earlier this month, the center fielder is hitting .362/.392/.551 in 16 games. The number two hitter changes by the day, but of late it's been either Jonathan Herrera (.319 OBP, .288 wOBA) or Chris Nelson (.279 OBP, .327 wOBA). They split time at second base as well.
Batting third is the best player in franchise history, Todd Helton. He's having a great dead cat bounce year (.382 wOBA), doing his usual job of getting on base like a fiend (.387 OBP) while rediscovering some of that lost power (.190 ISO and nine homers, already more than he had last year in half the plate appearances). Troy Tulowitzki is generally one of the five most valuable players in baseball and the cleanup hitter, but he's down to a .357 wOBA due to a prolonged stretch of mediocre hitting (.251/.300/.407 since the end of April). It's worth noting that his last 14 games feature a .356/.387/.559 line, and he capable of doing major damage at any moment. Former Yankee Jason Giambi will be the designated hitter and protect Tulo, and he brings a .426 wOBA to the table in limited playing time. Hopefully the Yankees take a huge lead in one of these games and the Giambi parks one into the upper deck in garbage time, I wouldn't mind that for old time's sake.
The rest of the lineup is a bit more fluid. Ty Wigginton (power heavy .358 wOBA) is now the regular third baseman after Ian Stewart's disaster start, and the duo of Ryan Spilborghs (.320 wOBA vs. LHP) and Seth Smith (.427 wOBA vs. RHP) platoon in right. Catcher Chris Iannetta sports a .229 batting average but a .389 OBP because his 19.9% walk rate is the second highest in baseball (behind only Jose Bautista). His power is very real as well (.218 ISO). Recent call-up Charlie Blackmon (.338 wOBA in limited time) handles left field duties. Colorado has three guys that qualify as elite count-workers (Helton, Giambi, and Iannetta), three that can steal a few bags (CarGo, Tulo, Blackmon), and a number of players capable of putting one in the people. It's a diverse and effective offense, but that top five is where the real damage is done.
Rockies On The Mound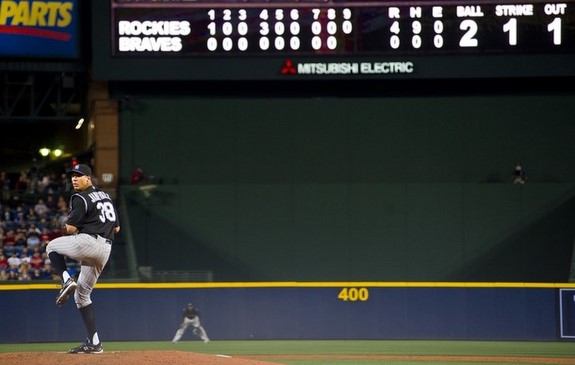 Friday, RHP Ubaldo Jimenez: It's been a very up-and-down year for Mr. Jimenez. Sometimes he'll be this guy, other times he'll be this guy. He's very enigmatic, almost like a younger version of A.J. Burnett (who he will be facing). Ubaldo's strikeout numbers aren't as good as you'd expect them to be with his stuff (7.83 K/9) but he's gotten the walks under control (3.86 BB/9) and generates a fair number of ground balls (45.9%). His stuff is absurd despite a noticeable drop in velocity; he'll still sit 94-96 with both a two and four seamer. Jimenez's wide array of secondary pitches includes a changeup (mid-80's), slider (low-80's), and curveball (high-70's), and his new toy is a nasty little splitter that dives down and away from lefties and sits in the high-80's. You can see it at 0:30 and 0:40 of this video. Filthy. If good Ubaldo shows up tonight, there's almost nothing the Yankees can do. If it's bad Ubaldo, then it's all about patience.
Saturday, RHP Aaron Cook: A shoulder issue kept Cook on the shelf until late-May and this will be his fourth start back. He's an extreme pitch-to-contact guy, having struck out just four men per nine innings since his first full season in 2006. Cook will get a healthy amount of ground balls (50% in 2011, but well over that in the last few years) with an upper-80's sinker and a low-80's slider, plus he'll also throw some low-70's curves on occasion. He typically won't hurt himself with walks, but the Yankees tend to eat pitchers without overpowering stuff and a pitch-to-contact approach for breakfast. Cook hasn't been great since coming off the disabled list, which naturally means he'll throw eight scoreless tomorrow.
Sunday, RHP Juan Nicasio: Nicasio started this season in Double-A and crushed the competition there (10.0 K/9 and 1.6 BB/9 in 56.2 IP) before skipping right over Triple-A and joining the Rockies' rotation. His numbers aren't as stellar in five big league starts (7.53 K/9, 2.20 BB/9, 40.7% grounders) but that's to be expected. The 25-year-old relies heavily on a mid-90's fastball, throwing it about two-thirds of the time. Nicasio backs it up with a low-80's slider and a mid-80's changeup, but when push comes to shove he goes back to the number one. There's nothing tricky here, it's power stuff and he dares you to hit it.
Bullpen: It doesn't show up in the ERA (3.93), but the Rockies have a phenomenal relief corps that is near the top of the league in strikeout rate (8.01 K/9) while boasting the game's best walk rate (2.72 BB/9). It starts at the back with Huston Street (8.31 K/9 and 1.56 BB/9), who does his job well but is amazingly homer prone (1.56 HR/9 this year, 2.09 HR/9). I guess solo shots aren't the end of the world. Rafael Betancourt might be the best setup man in the world, having struck out 11.6 batters per nine innings since the start of last season while unintentionally walking just 1.08. He's a human rain delay because he takes his sweet time between pitches, but he's also brutally effective.
The middle innings feature former Marlins and Astros closer Matt Lindstrom, who throws serious gas but doesn't miss as many bats as you'd expect. He can make it interesting on occasion, but he gets it done more often than not. The criminally underrated Matt Belisle (8.39 K/9 and 2.10 BB/9) will throw four different pitches in relief and fill-in wherever manager Jim Tracy needs him. You could see him in the third or the eighth, he's like the 2009 Al Aceves. Lefty specialist Matt Reynolds has held same side batters to a .188/.239/.288 batting line since coming up in the second half of last year. The hard-throwing Rex Brothers was just called up and doesn't really have a defined role, and we're most likely to see his mid-90's gas from the left side in low leverage spots, if anything. Swingman Clayton Mortensen has done some starting and some relieving this year, and right now he's the weak link in the bullpen (4.98 FIP). The Rockies' bullpen is a microcosm of the team; they're deep and diverse with no obvious weak spot, better than their .500 record would lead you to believe.
Recommended Rockies Reading: Purple Row