The pitching matchup was lopsided (on paper), the offense were pretty comparable (on paper), and you had two first place teams (in reality) opening a three game set on Tuesday night. The Yankees put this one to bed early, rolling to their third straight win.
Feed The Narrative
So maybe Zack Greinke can't pitch in New York. Or maybe he can and this was a bad game. Or maybe he can but his laughable defense betrayed him. Seriously, how bad are the Brewers in the field? Nyjer Morgan turned a routine fly ball into a triple in the first, and Casey McGehee tried to tag Alex Rodriguez at third instead of throwing to first (with Jorge Posada running!) to end the frame. Laughable. But anyway…
The Yankees knocked Greinke out of this game after just two innings and 56 pitches, tagging him for seven runs. After coming into the game with eight unintentional walks all season, he walked three in this game. It was also the first time in his career he did not strike out a batter in a start. Instead of focusing on the fact that the Yankees crushed an elite pitcher, we'll all argue over Greinke's ability to handle pressure and New York and whatever else we can come up with. Either way, yay Yankees win.
Freddy Gets By
A closer game would have been much more stressful. After a scoreless first inning and a quick second inning, Freddy Garcia really wasn't fooling anybody. The Brewers hit several rockets but ran themselves into two inning-ending outs on the bases that killed potential rallies. In fact, Milwaukee's fourth inning went like this: single, single, fielder's choice (runner out at second), single, sacrifice fly (runner thrown out trying to go from first to second). The Brew Crew were all over Freddy the second and third time through the order, but hey, two runs in six innings. Sign me up.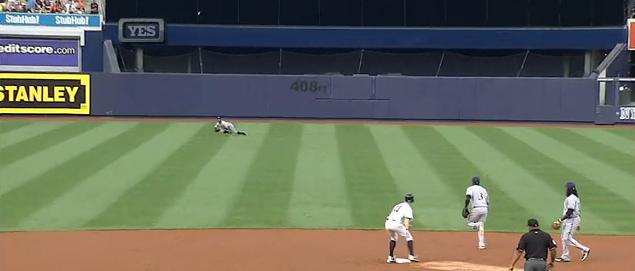 Lol Brewers, lol
I touched on this a second ago, but how sloppy were the Brewers? Let us count the ways…
Morgan plays that routine fly ball into a triple
Brewers play the shift on A-Rod to pull, but they feed him offspeed stuff away and he slaps a single where the second baseman should have been.
McGehee fields a grounder at third and tries to tag A-Rod instead of throwing to first to get the slow-footed Jorge Posada to end the inning. McGehee hurt himself in the process, but stayed in the game.
Marco Estrada simply dropped the ball while on the mound for a balk.
Zach Braddock went to his mouth while on the mound, resulting in an automatic ball four to Robinson Cano.
Rickie Weeks' falls down fielding a routine ground ball, shuffles it to Yuniesky Betancourt at second for the first out, but he bobbled it and couldn't turn the inning ending double play.
That's all the stuff I can remember, and just for the record: I did not see number five. I was in the other room at the time, so I'm going off word of mouth for that one. Craziest thing? The Brewers had ZERO errors in the game. Goes to show how useless they really are. We've definitely seen the Yankees play a sloppy game like that once or twice this season, and it sure is no fun to watch. The Brewers will be better than that Wednesday night, I'm sure of it.
Oh By The Way, Offense!
Hooray for double digit runs, that's a good way to make the night fun. Nick Swisher hit a three-run homer off Greinke (and a double later), and Mark Teixeira hit a two-run shot in garbage time for his MLB lead tying 24th. Curtis Granderson reached base three times (two walks and the "triple"), A-Rod reached base three times (two hits and a walk), Brett Gardner reached twice (walk and a hit-by-pitch to leadoff the game), and the trio of Russell Martin, Jorge Posada, and Eduardo Nunez each picked up a hit as well. Chris Dickerson got to pinch-hit in garbage time and put just his second ball in play of the month. That lack of playing time will kill ya.

Leftovers
Garcia was lifted after six innings and just 76 pitches, which seemed kinda odd. If the game was closer, I'd understand it more, but they were up by nine at the time. Probably could have squeezed another inning or two out of him, but whatever. Nitpicking at its finest. (Ed. Note: Girardi later said he pulled Garcia because the bottom of the 6th lasted too long, and he didn't want to run Garcia back out there. Understandable.)
Oh, Nyjer did the honors of hitting a line drive right back at Garcia, which he caught but dropped before throwing to first for the out. One comebacker per start for Freddy, it's in his contract. Look it up.
Hector Noesi relieved Garcia and really had to work in his two innings (48 pitches), but he did strike out three. After the beating he took in Cincinnati, it's good to see him get back out there and toss up a few zeroes. Cory Wade tossed an uneventful ninth.
The Yankees have won three in a row, seven of their last nine, ten of their last 13, and 13 of their last 17. That's a pretty nice run, I'd say.
WPA Graph & Box Score
Nice and boring. MLB.com has the box score and video, FanGraphs the nerd score.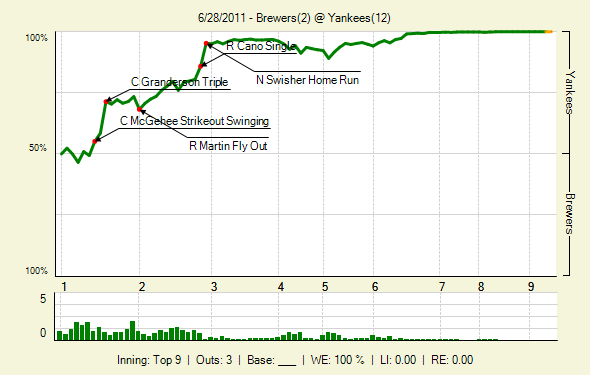 Up Next
Game two of the series will be played tomorrow night, when A.J. Burnett gives it a go against his former Blue Jays' teammate Shaun Marcum. If you want to check out the game, RAB Tickets can get you there on the cheap.