The only thing that can stop the Yankees right now is Sergio Mitre. Saturday's win over the Mets was about as flawless as a win can be in this league … until Mitre issued the first walk of the day (by a Yankees' pitcher) and ruined the shutout. The Yankees held on for the win anyway, their seventh in a row.
Third Time Through The Order
For the first five innings, the Yankees couldn't do anything about Dillon Gee. Other than a pair of Eduardo Nunez doubles, anyway. He had the Yankees off balance with his changeup, throwing it for both called strikes and swings and misses out of the zone. The Yankees had struck out seven times already, including all three outs in the fifth. Then it went south for the Mets' right-hander.
Brett Gardner led off the sixth with a fly out, but Curtis Granderson adjusted to Gee's changeup and yanked a 1-2 pitch into the Mets' bullpen for the game's first run. Wasn't a horrible pitch, Grandy just sat back on it. Mark Teixeira singled on a first pitch fastball, Alex Rodriguez singled on a 0-2 fastball, then Robinson Cano tripled them both in on a 1-0 changeup. Nick Swisher plated the fourth run with a sacrifice fly to complete the floodgate opening. The third out of the inning came on a great diving stop by Justin Turner on what would have been Nunez's seventh hit in his last seven plate appearances.
We've seen the Yankees do this to pitchers before, numerous times. Alexi Ogando and Juan Nicasio are two recent examples. If you're going to come at them with the same pitching plan the third time through the order, they're going to make you pay. Grandy and Cano sat back on the same changeup Gee had been throwing when ahead in the count all day and Tex jumped on a fastball. The kid got a little too predictable, and the Yankees went into attack mode.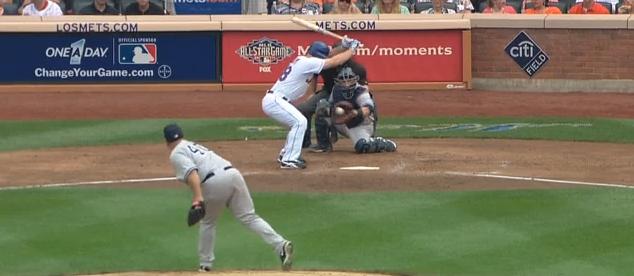 Bartolomania Returns
Joe Girardi said he was looking for 80-85 pitches from Bartolo Colon today, and that's exactly what he got. Twenty-two days after injuring his hamstring, Bartolo returned the mound with six shutout innings, striking out six and walking none on exactly 80 pitches. It wasn't the nine innings he said he could pitch before the game, but it was more than enough.
Jose Reyes started the game with an infield single (after taking what should have been strike three), but Colon then retired the next 13 men in a row before allowing another infield single, this one to Jason Bay. In between, just four Mets hit the ball out of the infield. Bay's single was followed by legit singles from Lucas Duda and Josh Thole to load the bases with one out in the fifth, the first real rally of the day.
Thanks to those NL rules, Gee was batter. Given the way he was pitching, there was no way Terry Collins could pinch-hit for him, but for whatever reason they didn't try to pull off the squeeze play. Colon fell behind in the count 2-0, but recovered to get Gee to ground the ball weakly to third. A-Rod stepped on the base and threw over to first for the inning-ending double play. Love those NL rules. (nope)
Seriously though, it looked like Colon had never gotten hurt in the first place. He had his velocity and the batters were staring at that two-seamer all day long (five of the six strikeouts were looking). It was the same guy we saw in April and May. Welcome back, Bart.

Everyday Eduardo
Someone doesn't want to give Derek Jeter his job back next week, eh? One day after going 4-for-4, Nunez went 3-for-4 with two doubles and his third homer of the year, a legit blast over the big wall in left-center. The one out he made was on that great catch by Turner. Eduardo now has one more homer and one fewer extra base hit than Jeter this season despite having 167 fewer plate appearances. Yeah, his defense can be (very) erratic, but overall the kid has done a fine job holding the position down. Well done, Eddie.
Leftovers
Cory Wade threw two fine innings of relief (two hits, no runs) only to be followed by Mitre's awfulness. Maybe he was … uh … rusty after having not pitched in ten days. Yeah, that must be it. (nope)
The Yankees had a chance to score a run in the second inning after Colon bunted Nunez over to third with one out. Gardner grounded the ball to the right side, but Duda threw home and cut Nunez down trying to score. It was definitely a risky call by Collins since the middle of the order was due up; if that ground ball finds a hole, all of a sudden the Yankees are looking at a big inning.
Aside from the Nunez tack-on homer, all of the Yankees' offense came in that sixth inning. Brett Gardner took a big fat 0-for-5 from the leadoff spot, but Granderson had the homer and a walk, Tex and Cano each had one hit, A-Rod had two, Nick Swisher and Russell Martin drew walks, and Nunez did his thing. In his last eight plate appearances, Cano has seen a total of 19 pitches, and four of those came as part of an intentional walk. So really it's 15 pitches in his last seven plate appearances, or 2.14 per. Yikes, Robbie.
Here's a fun fact courtesy of Kevin Davidoff: 36 of Granderson's 148 career homeruns have come since he worked with Kevin Long last August. That's 24.3% of his career homers in 13.1% of his career plate appearances. In-frickin-sane.
For the second straight day the Yankees helped set a new CitiField attendance record. They topped Friday's mark by 22 fans, so 42,042 were in the house for this one.
The Yankees have officially won all six of their interleague series this year, going 14-4 against the so-called senior circuit with one more to play. They're on a season-high seven game winning streak and are a season-high 19 games over .500. No team is within 30 runs of their +122 run differential, and they've outscored their opponents 32-5 over the last five games. When you're hot, you're hot.
WPA Graph & Box Score
This one had all the feel of a classic pitcher's duel, but then the Yankees had to Yankee. MLB.com has the box score and video, FanGraphs everything else.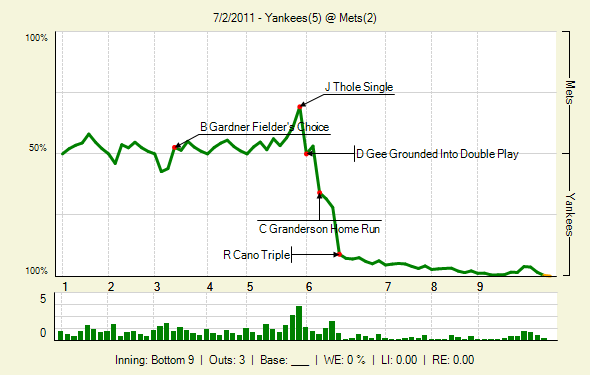 Up Next
The Yankees will go for the sweep tomorrow afternoon when Freddy Garcia gives it a go against the knuckleballing R.A. Dickey. That's a regular old 1pm ET game. RAB Tickets can get still get you there, even on short notice.