This one had all the feel of Tuesday's loss. The Yankees scored two runs early on a homerun, didn't add to the lead, then all of a sudden some defensive miscues in the seventh made it look like the lead was in jeopardy. They escaped this jam and did end up tacking on a few runs late, leading to a relatively uneventful 4-0 win.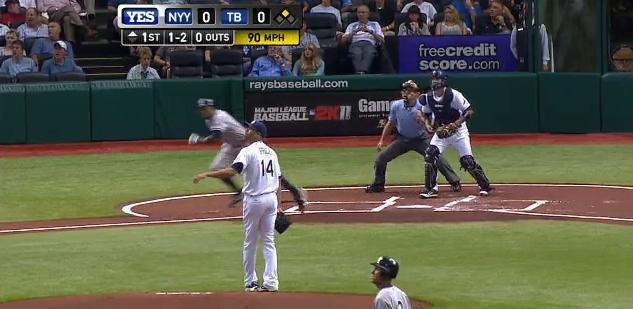 Curtis Granderson Is Better Than You
The Grandyman has been grand all season, but you know what? It had been a while since he took a lefty deep. A month and a half in fact, which I chronicled in this post last week. Granderson put an end to that homerless drought in the very first inning, clobbering a 1-2 hanging slider from David Price into the right field seats for a two-run shot. Derek Jeter had led the game off with a single one batter earlier. Those were ultimately all the runs the Yankees would need thanks in part to Curtis' running catch that ended the fifth. Tampa had men on second and third at the time, and Evan Longoria really put a charge into the ball. Granderson went back on caught it on the run, crashing into the wall shortly after the catch. The wall survived.
It was just another game in the life of the Yankees' best player, who's been hitting homers and making spectacular grabs all season long. That was his tenth homer off a lefty this season, the most in baseball and twice as many as any other left-handed batter in the AL. Two of those homers have come off Price, who has given up just four homers to lefties in his career (the other two came from Chase Utley and Jacoby Ellsbury). Granderson hit 11 homers off lefties from 2008-2010 combined. Think about that.
It's worth noting that Curtis has taken a bit of a beating during the last two games; he fouled a ball off his leg on Tuesday then in this game he a) fouled another ball off his leg, b) crashed into the outfield wall making that catch, and c) took a Price fastball to the back, right on the 4 in 14. Poor guy probably sat in an ice bath for an hour after the game. Don't be surprised if he gets the series finale off, they've played a ton of games on turf lately and he's got to be sore.

Freddy Sez: No Sweat!
One day towards the end of the season we'll have a Freddy Garcia Appreciation Thread, and it will be glorious. The offseason afterthought tossed up yet another quality start, his 12th in 17 starts. He put two men on base in the first, third, fifth, and seventh innings, but wiggled out of the jam each time (he did get some help in the seventh, but more on that in a bit). Garcia struck out seven and walked zero in 6.2 IP, even getting 13 swings and misses (out of 92 pitches). That's his third highest total of the season. Eight hits and three ground outs to ten air outs is kinda scary, but I've stopped caring about the process with Freddy (and Bartolo Colon, to an extent). I really don't care how he does it anymore, he's been defying the odds all season and has done more than anyone expected. Bravo, Freddy. Keep fighting the good fight.
Eduardo Scissorhands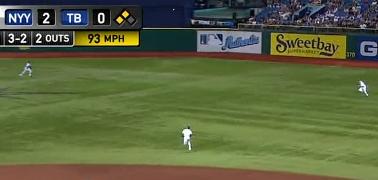 Eduardo Nunez's evil twin made an appearance in this game. Sean Rodriguez started the seventh inning off by laying down a bunt that appeared to be heading foul, and it did. Except Nunez ran right by the ball and didn't bother to pick it up in foul territory. The ball kept rolling and eventually bumped into third base, which means it's a fair ball. A rookie mistake, yes. But good grief. Nunez also bobbled the ground ball that would have been the third out of the inning, putting the tying run on base. He bobbled the ball literally three times on the same play. Neither play came back to hurt them, but sheesh. The kid is a rolling blooper reel on defense.
HowEVA, let's give Nunez some props for driving in a pair of big insurance runs in the top of the ninth. Nick Swisher and Russell Martin both walked after a Robinson Cano ground out, then moved over on Chris Dickerson's ground out. Cesar Ramos fell behind Nunez 3-0, and the Yankees' temporary third baseman did what he was supposed to do and took two pitches. Unfortunately both were strikes. The 3-2 fastball caught a little too much of the plate, and Nunez fisted it out to shallow right, a two RBI bloop. T'was a fine piece of hitting to cap off the night.
Leftovers
The Yankees have been running all over the recently called up Robinson Chirinos. They're 11-for-12 in stolen base attempts in the first three games of the series, and frankly not too many of them were particularly close plays. Jeter and Brett Gardner each swiped a base in this game while Nunez stole two. Granderson got thrown out though. Should probably also mention that Chirinos is the third Ray to make his big league debut in this series. Alex Torres (Monday's losing pitcher) and Dane De La Rosa (threw part of the eighth and part of the ninth in this game) are the others.
Call me an optimist, but it looks like Martin and Mark Teixeira have been making better contact of late, no? The Russtache did not have a hit in this game but he drove a ball to the warning track in his first at-bat (just like his last at-bat in Tuesday's game) and lined another pitch to third later on. Teixeira doubled to right, the second time he's done that in as many games. He has three hits in his last seven plate appearances, two of which are the doubles. Small sample flukes, or a positive sign? Let's hope for the best.
Mr. Gardner reached base two more times, once on an infield single that involved Price dodging a broken bat, and once on a walk. Unfortunately Jeter ended the inning as the next batter both times, once with a double play. Swisher had two hits and a walk as well, and the only Yankee not to reach base was Cano. He had one seriously ugly at-bat against Price, swinging at three straight fastballs at eye-level. He would have kept swinging at that pitch if they gave him ten strikes.
The bullpen was perfect, Boone Logan relieved Garcia and struck out Casey Kotchman to end that seventh inning jam, then David Robertson and Mariano Rivera each followed with two strikeout perfect inning. Those three needed just 35 pitches to record seven outs, which is pretty impressive considering all the whiffs. Robertson, by the way, mowed right through Longoria, Matt Joyce, and B.J. Upton on nothing but fastballs. Not a single curve or changeup. He's just showing off now. Joyce, by the way, struck out in all four at-bats.
Last, but certainly not least, congrats to Hideki Matsui. He hit his 168th big league homerun on Wednesday night, which gives him 500 for his career between Japan and MLB. A hundred and forty of those dingers came in pinstripes. Here's the video.
WPA Graph, Box Score & Standings
MLB.com has the box score and video, FanGraphs the nerdy stuff, and ESPN the up-to-the-minute standings.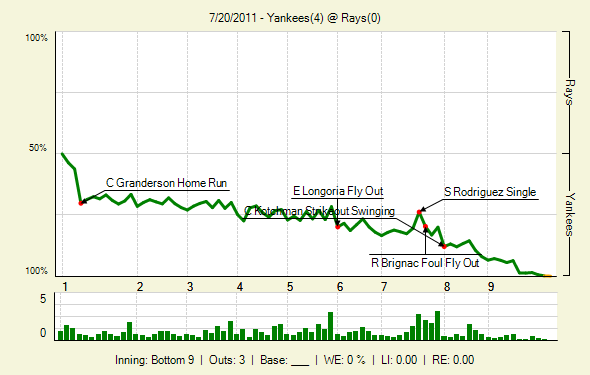 Up Next
One more game at the Trop, then it's back to the Bronx. CC Sabathia will give it a go against Jamie Shields on Thursday night. The Yankees have already clinched a split of the four-game set, but it's time to get greedy and win the series.