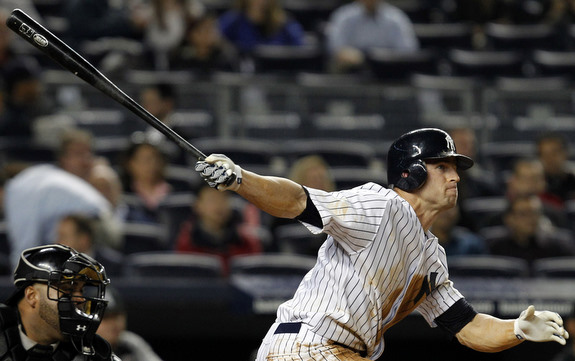 I've been following the minor leagues for quite some time now, and I've been wrong about a lot of players, in both a good way and bad way. I was wrong about Brett Gardner. I saw a guy with little power and thought he'd have trouble handling big league fastballs. I didn't think the plate discipline he showed in the minors would translate to the show because pitchers had no reason not to challenge him. I undervalued his defense and baserunning. I was wrong. I don't think I've ever been more wrong about a prospect coming up.
The Yankees entrusted Gardner will a full-time job at the start of last season, 257 team games and nearly 900 plate appearances ago (892 to be exact). During that time he's hit .280/.376/.394 with 73 stolen bases in 92 chances (78.5% success rate). His .359 wOBA since the start of 2010 is sixth best among big league left fielders, his OBP third best. He's generated 27.0 runs with his bat in that time, another 6.7 with his legs. That 33.7 run offensive contribution is bested only by Josh Hamilton, Ryan Braun, Matt Holliday, and Carlos Gonzalez. Not Carl Crawford, not Martin Prado, not Alfonso Soriano, not anyone else handling left field full-time. Only 13 outfielders total, regardless of field, have topped that production.
The last week has been the best offensive stretch of Gardner's career; he's reached base 18 times in seven games since the All-Star break. He has 14 hits in 25 at-bats plus four walks. That's a .560 batting average and .621 OBP in the seven games. He's struck out just twice during that time, in part because his 2.9% swing and miss rate since the start of last year is the fourth lowest in baseball. I also underrated his ability to get the bat on the ball. Only six players have seen more than the 4.25 pitches Gardner sees in an average plate appearance this year. I also underrated his ability to work the count.
Then there's the defense. Oh the defense. UZR doesn't just rate Gardner as baseball's best defensive player since the start of last season, he's lapped the field. The system has him saving 41.6 runs with the glove in that time, well ahead of second place Adrian Beltre and his 20.6 runs saved. If you prefer John Dewan's +/- system, or DRS, then Gardner is baseball's third best defensive player (29 runs saved) since the start of 2010 behind Brendan Ryan (36) and Troy Tulowitzki (33). Total Zone has him at 21 runs saved, behind only Jay Bruce, Juan Pierre, and Jose Lopez (all 22). The best thing about Gardner's defense is that I don't even need to use numbers, it's easy to see how he dominates the defensive side of the game just by watching. If a ball gets by him, you know the other team has earned it.
It's been more than a month since Gardner has been caught stealing a base, and he's swiped seven bags in the last five days. No AL player has more than his 30 steals this season, and only three players (Michael Bourn, Rajai Davis, and Pierre) have more than his 77 steals since the start of last season. It's been a long time since the Yankees had this kind of player on their roster, a dynamic leadoff type that did everything but hit for power. A lot of people doubted Gardner's ability to be an everyday player in this league, including yours truly, but our sample is larger than a year and a half now. Gardner isn't just one of the best players on the Yankees, he's one of the very best outfielders in baseball.