The first two games of the series were pretty ugly, but it looked like the Yankees woke up before the third game and continued to play well into the finale today. The 7-2 win salvaged the four-game series with a split, which is pretty good considering how the the games went on Thursday and Friday.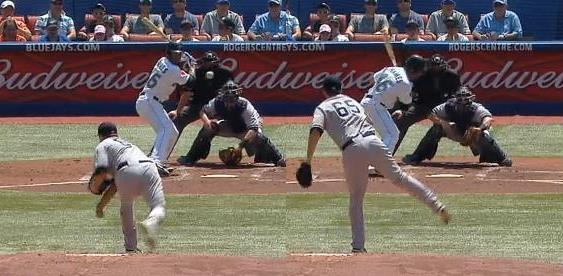 Phil Hughes, Actually Not Terrible
Earlier this week we passed along a story about how Hughes and pitching coach Larry Rothschild were working on a new/old curveball grip and refining his mechanics, exactly the kind of story I tend to brush off. I'll believe it when I see it. A new grip/refined mechanics is the "best shape of his life" for pitchers; it usually means little and is more of an excuse. Well we saw the new curveball on Sunday. I can't say I saw the change in mechanics, I don't exactly have the eye for that stuff, but the curveball was noticeably sharper. It didn't just float and tumble, it had actual bite.
Hughes averaged 91.25 mph with his fastball and topped out at 92.8, and he held it well throughout the game. He could barely go six pitches before his velocity dropped in April. The location was better as well. Toronto batters swung and missed at eight of his 80 pitches, six times at the fastball. Three of those whiffs came in one at-bat against J.P. Arencibia in the fourth, when Hughes fed him three straight fastball for the strikeout. It was the first time all year we saw him actually overpower a hitter. He got better and more efficient as the game went on, throwing 20 pitches in the first and 18 in the second, before 13, 14, six, and nine in his final four frames, respectively. The Blue Jays had four hits off him (two for extra bases) and drew two walks, but the important thing is that they fouled off just 13 pitches. Usually that number is in the 30's for Phil.
It was an all-around solid performance against a generally mediocre offense missing its best player, but it's the best Hughes has looked in quite some time. Joe Girardi lifted him after just six innings with those 80 pitches, but he probably could have run him back out there for the seventh. I can understand wanting to take him out on a high note, but at some point they have to start letting Hughes go 100+ pitches if they expect him to stay in the rotation the rest of the year. Looking ahead to the rest of the schedule, Phil's next two starts will be at home against the punchless Athletics and Mariners. If that's not a chance to build confidence, nothing is. Hughes took a positive step forward in this game, but nothing more. He's not out of the woods yet.

Brett Gardner, Leadoff Hitter
Yawn, three more hits and a walk for Gardner in this game, this time from the leadoff spot with Derek Jeter getting the day off. Gardner led the game off by falling behind in the count 0-2, working the count back to 2-2, then singling back up the middle after an eight pitch at-bat. He then stole second (his 11th straight successful steal) and scored on Nick Swisher's single. Gardner singled to right as part of a four-run fourth inning, coming around to score on Curtis Granderson's double. Gardner then beat out an infield single in the seventh (was erased on a fielder's choice on batter later) and walked in the ninth, scoring on Granderson single after yet another steal (12th straight). He scored three of their seven runs.
All told, Gardner had ten hits and a walk in 17 plate appearances during the series, stealing three bases in three attempts and striking out exactly zero times. They might not let him through customs next time they're in Toronto. He ran into a little rut in late-June/early-July, but Gardner is up to .286/.364/.418 with 26 steals on the season, and .326/.400/.480 in his last 255 plate appearances. It's been obvious that he should be leading off for quite some time, and there's really no reason not to with Alex Rodriguez hurt. Slide everyone down a notch so Derek Jeter bats second, Granderson third, Mark Teixeira fourth, and so on. Give me a valid reason why they shouldn't. Go ahead, I'll wait.
A Perfect Bullpen
The first two games of the series really taxed the bullpen, and Mariano Rivera had an uncharacteristically long outing on Saturday, so it was refreshing to see some solid bullpen work. Not just solid, perfect. Nine up, nine down for Cory Wade, David Robertson, and Boone Logan. The first two struck out one batter apiece while Logan fanned the side, including lefties Adam Lind and Travis Snider. Fine way to end the series.

Leftovers
Gardner drove the offense, but Granderson also had a single and a double, Teixeira a single and a walk, Robinson Cano a single, and Swisher two singles. Russell Martin used the power of the Russtache to double the other way. He saw just six pitches in four plate appearances, though. The Yankees went a combined 5-for-8 with runners in scoring position. Hooray offense.
How bad is Angel Hernandez? He completely botched that play at first to end the third. The throw pulled Jorge Posada off the bag but apparently Yunel Escobar didn't touch the base either. Posada then stepped on the bag, so Escobar's out. Except Hernandez didn't call him out, which prompted Posada to run over to tag Escobar. And Jorge didn't even apply the tag, he missed, and Hernandez called Escobar out anyway. Brutal.
It doesn't feel like it, but the Yankees are actually 4-2 in their last six games and 21-10 over the last month or so. They're 34-18 since the six-game losing streak. That'll do.
WPA Graph & Box Score
MLB.com has the box score and video, FanGraphs has the other stuff.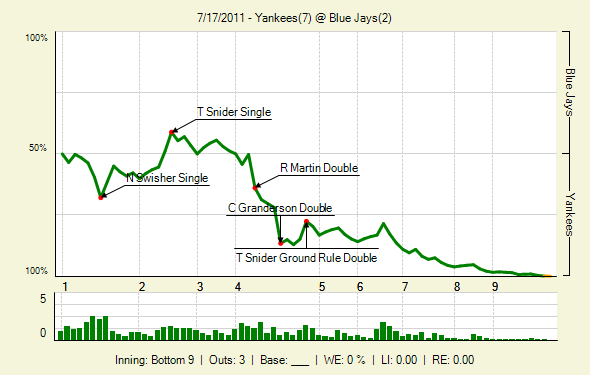 Up Next
From one artificial surface to another. The Yankees are off to Tampa for a four game series, which A.J. Burnett will open against rookie Alex Cobb on Monday night. The bad news: They've never faced Cobb before. The good news: Ken Singleton and David Cone will be in the booth all series.