Four questions, four answers this week. Remember to use the Submit A Tip box in the sidebar if you have any questions you want to send in.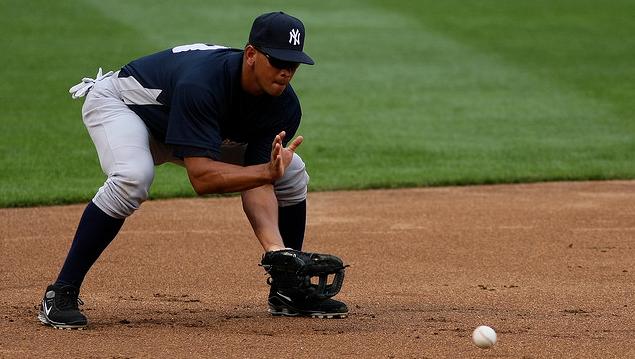 Kevin asks: Is it just me or is A-Rod quietly having his best defensive season at third base? His UZR is already 10.3, only the second time he has been above average.
Alex Rodriguez has looked much better this year defensively, no doubt about it. UZR doesn't tell us much after half-a-season, but it's cool to see his 10.3 UZR as the third best in baseball, regardless of position. Brett Gardner is first at 16.0, Gerardo Parraz second at 11.2. Denard Span and Dustin Pedroia are right behind Alex at 10.0 and 9.9, respectively. For what it's worth, DRS has him at +8 runs saved, which is the 15th most in baseball. The Fans Scouting Report has him at four runs above average. So yeah, all the advanced metrics agree so far, and he certainly passes the eye test.
I think most of it has to do with the weight loss and what not this offseason. Remember he shed something like 15 lbs. and 4% body fat in the offseason, and he was noticeably slimmer and lighter on his feet in camp. It's not as obvious now because he's dealing with that knee issue and it has slowed him down a little bit, but he did make that great play to save Boone Logan's bacon Wednesday night, and we've seen him make plays like that all year.
Dan asks: What factors into decisions on rehab assignments for injured players? By this I mean what determines whether or not someone will even take rehab starts (e.g. Colon vs. Jeter), and why do others max out their rehab at AA instead of AAA (e.g. Hughes)? Wouldn't it make more sense to test their performance against better competition?
The Double-A vs. Triple-A thing mostly has to do with travel. They'll pick whatever team has the easier schedule (i.e. is closer to home in New York) and send them there. Trenton was home during Derek Jeter's rehab and their travel wasn't bad when Phil Hughes was around. A lot of times you'll see guys rehab with Short Season Staten Island and skip the upper levels entirely. It's not so much about testing performance, because you know these guys can perform at the big league level, it's just about staying sharp and getting back up to game speed.
The length of the rehab assignment depends on a lot of things, namely the type of injury and how much time the player misses. Bartolo Colon was shut down for about a week, then he started throwing bullpen sessions. They didn't have to rebuild his pitch count like they did with Hughes. Jeter just needed a little tuneup (two rehab games, not even the full nine innings either) after missing two weeks, but remember he needed five full rehab games after separating his shoulder in 2003. A-Rod played in a week's worth of Extended Spring Training games when he was coming back from his hip surgery. There's a lot that goes into it, and every player is different.
Larry asks: I have a question about waiver trades in August and players to be named later. Can the Yankees trade "a player to be named later" for a player who cleared waivers? For example, lets say Carlos Beltran clears waivers and the Yankees and Mets agree on a player to be named later, lets say its one of the Killer Bs who obviously would not clear waivers. Are the rules regarding who the player to be named later has to be? When does the player have to be named? Otherwise couldn't the Yankees and the Mets wait until After the World Series to name the player and complete the trade? It just seems to me like there is a lot room to manipulate the system.
The only players that have to clear waivers to be traded in August are players on the 40-man roster, and yes, they could agree to a player beforehand but not name him until after the season. Dellin Betances won't clear waivers, but if the Yankees wanted to trade him for Carlos Beltran, he could be the player to be named later but not officially sent to the Mets until after the end of the World Series. PTBNLs have to be named within six months of the original trade, that's really the only criteria. Teams do this all the time, every single year, and it's a big fat loophole in the system.
Stephen asks: In a hypothetical two-team expansion draft after this season, who would be the 15 all-organization Yankees you would protect first?
The Platoon Advantage and a ton of other sites recently conducted a mock two-team expansion draft, and it was a lot of fun to read through and follow. The rules are explained via the link, but the general idea is that every player in the organization is eligible to be taken except amateur players acquired in 2010 and 2011 (that's drafted players and international free agents). Teams can protect 15 players for the first round and then add three more players after every round thereafter. Here's the 15 players I'd protect (alphabetically) …
Manny Banuelos
Dellin Betances
Robinson Cano
Joba Chamberlain
Brett Gardner
Curtis Granderson
Phil Hughes
Brandon Laird
Jesus Montero
Hector Noesi
Ivan Nova
Eduardo Nunez
David Robertson
Austin Romine
Nick Swisher
It's an expansion draft, and an expansion team is not going to take on the $100M+ contracts of CC Sabathia or A-Rod or Mark Teixeira. I feel pretty comfortable leaving those guys unprotected. It's the young guys in their pre-arbitration years or guys signed to long-term, below-market extensions that are most in danger of being poached. And heck, if some expansion team wants to take A-Rod's or Rafael Soriano's or A.J. Burnett's contract off the Yankees' hands, let them.
David Phelps and Adam Warren were the last two cuts. I gave some thought to protecting Russell Martin, but I figure he's around for one more year (if that) and I've already protected two young catchers. Phelps and Warren are numbers crunch guys, but I can't justify protecting them over Hughes or Nova or Noesi, who have at least shown something in the big leagues. Betances and Banuelos are too talented to leave unprotected, can't let a top prospect like that go for nothing. Ditto Montero and Romine, and even Nunez, who's proven useful.
I'd protect Phelps, Warren, and Corban Joseph after the second round, then J.R. Murphy, D.J. Mitchell, and Gary Sanchez third time around. That leaves Andrew Brackman, George Kontos, Ryan Pope, Graham Stoneburner, Shaeffer Hall, Josh Romanski, Frankie Cervelli, Ramiro Pena, Greg Golson, Chris Dickerson, Cory Wade, and Rob Lyerly among the notables left unprotected. I can live with that.