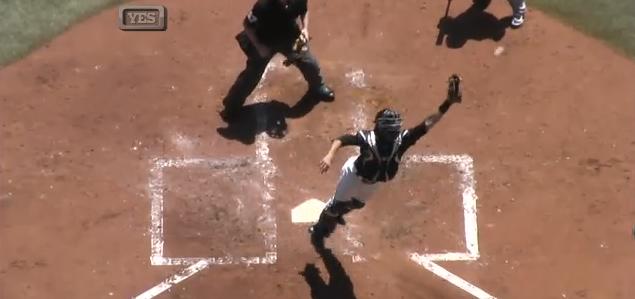 It had been almost a week since the Yankees last won a game, though the All-Star break makes that sound worse than it is. After losing two games in a row, the Yankees had the right man on the mound to … put it on the left side!
CC Sabathia's 23.2 IP scoreless streak ended in the very first inning thanks to a walk, a stolen base, and a single, but that was all the Blue Jays got. The big guy struck out eight in eight innings, walked three and allowed just three hits. He threw 110 pitches and got 14 swings and misses, his fifth highest total of the season. Over his last five starts, CC has struck out 50 and walked just nine in 39.2 IP. He's quite good, you know.
The Yankees got all the runs they would need in the second inning, when Andruw Jones singled in Nick Swisher and Eduardo Nunez drove in Brett Gardner with a ground out. They chipped in another run in the third when the Jays botched a run down (they had Robinson Cano caught between first and second, but Curtis Granderson broke for home from third with two outs and Toronto threw the ball away), and a Derek Jeter infield single plated the fourth run in the fourth.
Brett Gardner had three hits (including two doubles) in four trips to the plate and is 7-for-12 with three doubles in the series. Jeter singled twice, Granderson singled and walked, Mark Teixeira singled, Cano singled and walked, Swisher doubled over the center fielder's head, Andruw singled, and Frankie Cervelli walked. Eduardo Nunez was the only Yankee not to reach base, though he did lay down a bunt that eventually led to the run down mishap. Cervelli and Gardner each stole bases.
Mariano Rivera allowed two bloop singles in the ninth but was otherwise his normal self, striking out two. He did have to throw 28 pitches though (23 for strikes), which might be an issue if the Yankees have a late lead the next few games. It was a pretty standard win, Sabathia dominated, the offense scratched out some runs, and Mo slammed the door. That's the story right there. Here's the box score and WPA Graph.
The final game of this four-game series will be played Sunday afternoon. Phil Hughes will make his second start off the disabled list against Carlos Villanueva. I'm kind sick of Toronto, time to get out of there.