It's July 7th, but somehow the Yankees and Rays have only played two games so far. That was back in mid-May, when the Yankees were in the middle of that ugly six-game losing streak. They dropped the first game but rebounded behind Ivan Nova to win the second, and that's it. These two teams are going to see a lot of each other in the second half, I guess.
What Have The Rays Done Lately?
Tampa has won just four of their last nine games, and they needed an Alex Burnett (who?) meltdown to avoid being swept by the Twins yesterday. They've been playing just a touch better than .500 ball for about a month now, but they do have the third best record (48-39) and fourth best run differential (+35) in the American League.
Rays On Offense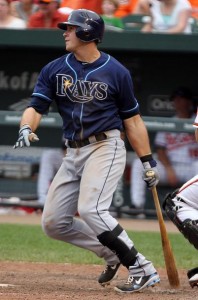 Luckily for the Yankees, two of the Rays' most important offensive players are battling injuries. Johnny Damon is expected to miss a few days with a left hand contusion after Francisco Liriano hit him with not one, but two pitches yesterday, and his .279/.327/.426 batting line will likely be replaced by Sam Fuld (.243/.304/.357) and/or Justin Ruggiano (.284/.308/.486 in limited action). Evan Longoria is playing with a nerve issue in his left foot, which is part of the reason why his season line sits at a pedestrian .243/.329/.471. No one likes to see anyone get hurt, but the fact of the matter is that those injuries have a tangible impact on the game.
Tampa's offense has generally been reliant on two guys this season. Ben Zobrist is hitting .265/.349/.461 with the fourth most extra base hits (41) in the American League. We could see him play second or right or both in this series. Matt Joyce has a nifty .291/.352/.510 batting line, but that's propped up by an early season hot streak and he's hit just .160/.219/.298 since June 1st. A nagging shoulder issue has contributed to that somewhat. Casey Kotchman has been the mother of all surprises, sporting a .343/.401/.464 batting line while playing against both righties and lefties. B.J. Upton is the only other constant in the lineup, and he's at .231/.318/.405.
The other lineup spots are one big revolving door. Sean Rodriguez (.323/.413/.585 vs. LHP) will platoon against southpaws, usually at second base with Zobrist shifting to the outfield. Elliot Johnson (.250/.388/.300 vs. LHP) will get some time at short as the offensively incompetent Reid Brignac (.187/.233/.217 overall) sees more and more time on the bench. John Jaso (.234/.288/.361 vs. RHP) and Kelly Shoppach (.222/.329/.333 vs. LHP) platoon behind the plate. As usual, Tampa will augment their offense with stolen bases, and the main culprits are Upton (20), Fuld (16), and Zobrist (eight). Damon (seven) will also run if he's healthy enough to play.
Rays On The Mound
Thursday, RHP Jeff Niemann (vs. Bartolo Colon): The big (6-foot-9) right-hander just returned from the disabled list, missing just about all of May and most of June with a back issue. He's been good (six shutout innings), bad (five runs in three innings), and good again (one run in six innings) in his three starts back, though all those games came against National League teams. Niemann's fastballs (two and four-seamer) both sit in the low-90's, mostly 91, and he backs them up with a curveball, a slider, and a little splitter-changeup hybrid thing that he'll break out from time to time. The Yankees are familiar enough with Niemann and he's a good matchup for them because he's a big-time fly ball guy (39.9% grounders) and doesn't miss many bats (5.63 K/9).
Friday, RHP Jeremy Hellickson (vs. Freddy Garcia): The rookie sensation has been more rookie than sensation so far. His shiny 3.21 ERA is backed up by underwhelming peripherals: 5.90 K/9, 3.39 BB/9, 33.1% grounders, a 4.29 FIP, and a 4.45 xFIP. Hellboy will sit right around 90 mph with a two and four-seamer, and his go-to secondary pitch is a low-80's changeup that fades down and away from left-handers. He'll also mix in a curveball. Hellickson has given up seven homers total in his last five starts, during which he's pitching to a 4.50 ERA. The Yankees have seen him before but not really: just 3.2 IP across a pair of relief appearances last season. That might be a problem.
Saturday, LHP David Price (vs. A.J. Burnett): Because he wasn't good enough last year, Price has gone ahead and knocked close to two full walks off his walk rate while increasing his strikeout rate this year. He's the opposite of Hellickson in that his ERA (3.56) doesn't do his underlying performance justice: 8.85 K/9, 1.67 BB/9, 42.7% grounders, a 2.73 FIP, and a 2.86 xFIP. Price lives of his fastball, legitimately sitting in the mid-90's, and he'll throw it straight, with some sink, or with some cut in on righties. A low-80's changeup has become his top secondary weapon, but he'll also show a curveball and a wipe-out slider. The Yankees have faced him once already this year (five runs in five innings) and have seen him several times over the last few years, but Price is one of those guys where it might not matter. It's frontline stuff and if he's on, he can beat anyone.
Sunday, RHP Jamie Shields (vs. CC Sabathia): Shields is in the middle of his best season ever, backing up his 2.47 ERA with a 3.07 FIP and 2.87 xFIP. He leads the league with six complete games, and he's managed to get a handle on last year's homerun trouble by upping his ground ball rate (45.3%). The improvement has to do with his curveball, which he's throwing more than ever (21.1%) and in any count. Shields' four and two-seamer still sits in the low-90's, and of course he has that great changeup. The Yankees have seen plenty of Shields over the years and have already beaten him once this year (four runs in seven innings), but he's certainly a tough assignment.
Bullpen: As unit, the Rays are middle of the pack in bullpen ERA (3.65) but bottom ten in FIP (4.10) and next-to-last in xFIP (4.30). Kyle Farnsworth has been very good in the ninth inning (2.08 ERA and 2.81 FIP) but he doesn't strike out nearly as many batters as he once did (5.97 K/9). Joel Peralta has been solid as the setup man (3.63 ERA, 3.51 FIP) and J.P. Howell (8.56 ERA and 5.59 FIP in limited action) is working his way back into things after missing more than a year with shoulder surgery. Juan Cruz has been surprisingly solid in the middle innings (3.13 ERA and 3.40 FIP).
The rest of the bullpen isn't anything to write home about. Lefty Cesar Ramos has a 4.05 ERA (4.94 FIP) and a reverse split, and big Adam Russell (6-foot-8, 255 lbs.) has just 12 strikeouts against 18 walks in 31 IP. He lives off his 53.8% ground ball rate. Long man Andy Sonnanstine (3.31 ERA, 4.42 FIP) never really pitches. He's thrown just 16.1 IP this year and has appeared in only four games (one spot start) since June 1st. Tampa is okay in the late innings, but the middle innings could get interesting if the Yankees knock their starters out early enough.
Recommended Rays Reading: The Process Report and DRays Bay