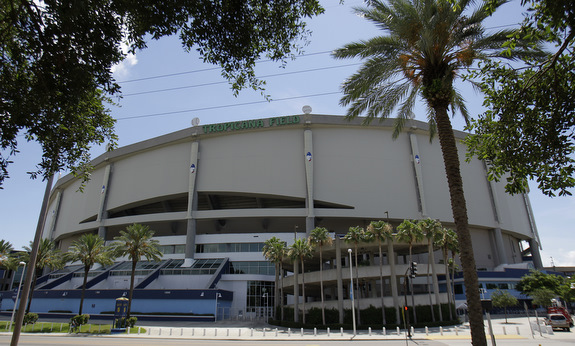 The Yankees and Rays played each other a little over a week ago, when the Bombers took two of three at home. That was supposed to be a four game series, but Mother Nature got in the way. This one will be a four-gamer, the dome will make sure of it.
What Have The Rays Done Lately?
Played a lot of innings, that's what. The Rays and Red Sox played 16 innings last night, with Tampa coming out on the wrong end of a 1-0 score. Those two teams split the first two games of their series, and the Rays have lost four of their last five series. They're 3-6 since the end of interleague play, and three of those losses were shutouts. They're six games back of the Yankees in the loss column for the wildcard.
Rays On Offense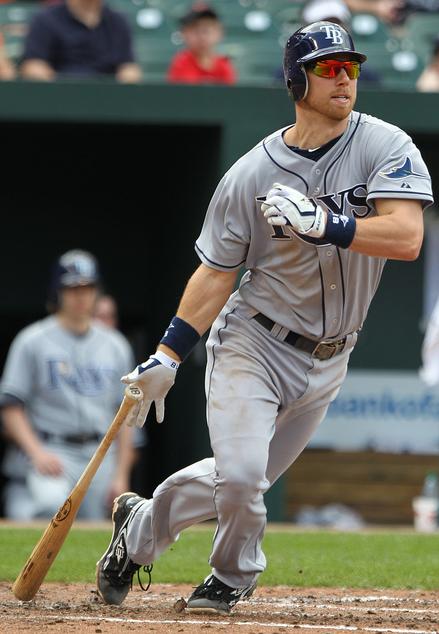 Same set of guys we saw last weekend. The meat of the order is Johnny Damon (.275/.322/.420), Ben Zobrist (.266/.359/.474), Evan Longoria (.233/.317/.441), Casey Kotchman (.333/.393/.465), and B.J. Upton (.240/.422/.418), the guys that play every single day. Matt Joyce fouled a ball of his knee on Saturday that forced him from that game and kept him on the bench yesterday (other than a pinch-hitting appearance, when he fouled a ball off his toe), and his availability for this series is unclear. I'm sure we'll see him at some point, either off the bench or starting. Either way, his excellent season line (.293/.353/.522) masks a .183/.236/.351 slump since the calender flipped to June.
Then you have everyone else. Sean Rodriguez crushes lefties (.306/.405/.556) but can't touch righties (.169/.234/.297). Reid Brignac (.193/.236/.221) has kinda sorta taken the shortstop job back from Elliot Johnson (.209/.276/.357) with a recent hot streak (two multi-hit games in his last four contests). John Jaso (.255/.347/.371 vs. RHP) and Kelly Shoppach (.239/.363/.388 vs. LHP) typically platoon behind the dish. Tampa recently recalled third catcher Jose Lobaton, but he hurt his knee last night and could end up on the disabled list. Sam Fuld (.238/.296/.351) will make an appearance now and then, as will Justin Ruggiano (.259/.279/.439). The Rays have a pretty drastic home/road split, but not in the traditional way. As a team, they've hit .227/.296/.374 at Tropicana Field, but .258/.325/.416 away from home. It's weird, the Trop has turned into a pretty extreme pitcher's park over the last few years, suppressing offense to about 80% of the league average since the start of last season according to ESPN's park factors. Don't ask me to explain.
Rays On The Mound
Monday, RHP Alex Cobb (vs. A.J. Burnett): Uh oh, a rookie they've never seen before. At least this one isn't a soft-tossing lefty. Cobb has made five spot starts for Tampa this season, all with generally good results. He gave up four runs in four innings in his debut, but he's allowed no more than three runs in the other four games while failing to complete six innings only once. Cobb has struck out 19 and walked 12 in 29 IP, getting exactly 50% ground balls. He makes his living with a low-90's two-seamer and a mid-80's changeup that he'll throw a pretty much any time. A high-70's curveball is his third pitch, a mid-80's slider his seldom used fourth offering. Cobb does have a pretty significant platoon split in both the majors and minors, which is odd given the changeup.
Tuesday, RHP Jeremy Hellickson (vs. Bartolo Colon): The Yankees were supposed to get Hellickson last week, but he was scheduled to start the game that was rained out, so Tampa skipped him. This start will be his first since July 3rd, so 16 days off. Maybe there will be some rust. Hellickson is another fastball-changeup-curveball guy, but his stuff and command is a full grade better than Cobb's, if not more. His underlying performance this year isn't great (5.90 K/9, 3.39 BB/9, 33.1% grounders), but he's coming off a nice run of seven quality starts in his last eight outings. The Yankees haven't seen him other than a handful of short relief appearances last season.
Wednesday, LHP David Price (vs. Freddy Garcia): Finally, someone we're familiar with. The Yankees put ten men on base and scored four runs against Price last week (5 IP), and also scored five runs in five innings off him earlier this season. He lives off his mid-90's two and four-seamers, throwing them a combined 70.7% of the time this season. A mid-80's changeup and a high-70's curve are his favorite two secondary pitches, and the high-80's slider he used to dominate the SEC is basically a show-me offering these days. The Yankees have had some success against Price this year, but come on. You know how good he can be.
Thursday, RHP Jamie Shields (vs. CC Sabathia): The Yankees didn't have any success against Shields last week; he limited them to four hits and one unearned run in eight innings. It took an otherworldly effort from Sabathia for them to win. Shields throws three low-90's fastballs (four-seamer, two-seamer, cutter) but doesn't use them that often. Just 40.1% of his pitches are fastballs. His hellacious low-80's changeup is his go-to pitch, and he's using his high-70's curve more often this year (21.4%) than ever before. A mid-80's slider will make an appearances every once in a while. Shields has been both very good and very bad against the Yankees in recent years, and they've seen enough of him to know what's up.
Bullpen: The Rays played deep into the night yesterday, so their bullpen is pretty taxed on the moment. Both Juan Cruz (3.70 FIP) and Jake McGee ( 4.84 FIP in limited action) have pitched in each of the last three days. Cesar Ramos (4.66 FIP), Adam Russell (5.08 FIP), and Brandon Gomes (4.01 FIP in limited action) have each pitched in the last two days. The trio of Kyle Farnsworth (2.86 FIP), J.P. Howell (5.97 FIP), and Joel Peralta (3.85 FIP) each pitched yesterday as well as Friday. Tampa has to send someone down to call-up Cobb in time for tonight's game, and it'll almost certainly be Gomes after the threw three innings and 48 pitches last night. They're definitely stretched a little thin at the moment, but most days they're set in the eighth and ninth innings while being a little hit-or-miss elsewhere.
Recommended Rays Reading: DRays Bay