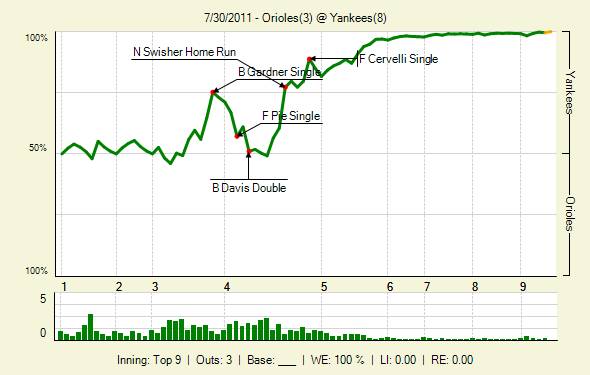 For the first two innings, Chris Tillman looked like Cy Young, striking out four men in a row at one point. He reverted back to his usual self after that, which meant his day ended with seven runs allowed in 4.1 IP. Let's recap quickly…
The highlight of the offense was Nick Swisher, who was a triple shy of the cycle and has hit .351/.439/.544 since the All-Star break. Brett Gardner opened the scoring with a two-run single in the third, and the trio of Eric Chavez, Frankie Cervelli, and Chris Dickerson all had run-scoring singles. Jorge Posada drove in a run with a ground out.
Swish, Chavez, Cervelli, and Dickerson all had multiple hits, while Robinson Cano (walk), Gardner,  and Posada (single) all reached once. Eduardo Nunez and Mark Teixeira went a combined 0-for-9 with four strikeouts (three by Nunez), though Tex did come around to score after reaching first on a fielder's choice. Considering the lineup, eight runs if pretty damn good.
Bartolo Colon had been amazingly efficient with his pitches earlier in the season, but he needed 105 to get 15 outs this afternoon. He walked two and gave up five hits, allowing two runs to score on ground ball outs. He pitched around a bases loaded jam in the first (struck out Mark Reynolds) and a runners on second and third situation in the third (struck out Derrek Lee). Bart did whiff six and get five ground ball outs, but it was a shaky outing and he had to battle for each out. It could have been worse.
Big ups to Cory Wade, who spared the bullpen after Colon's short-ish start by soaking up three innings on 39 pitches. He did allow a solo homer to Reynolds, but that was the only blemish. Considering the score at the time (8-2), who cares. His work is greatly appreciated and will help the Yankees later tonight. Of course Boone Logan had a shaky ninth and caused Mariano Rivera to start throwing in the bullpen, so that sucks.
Here's Tim Welke's strike zone, which screams "we've gotta play two today so hurry the hell up." Here's the box score, the FanGraphs stuff, and the updated standings.
The second game of today's doubleheader starts at the usual time, regular old 7pm ET. Ivan Nova will make his triumphant return to the bigs against Zach Britton, who is doing the same. The Yankees will have to make a move for Nova, but they have not yet announced it.