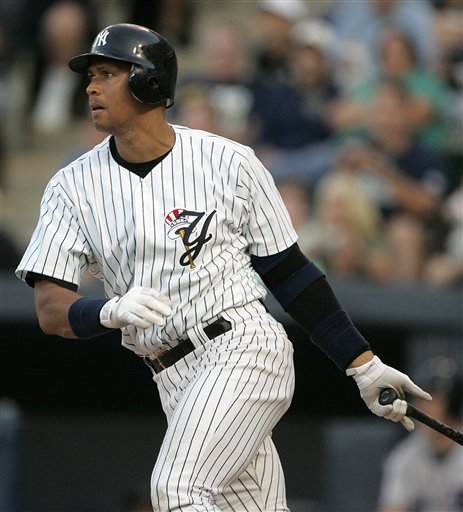 The Yankees have been without their starting third baseman and cleanup hitter for close to six weeks now, but are close to getting Alex Rodriguez back now that he's playing the field for Triple-A Scranton in rehab games. He went 1-for-3 with a hard hit single and played six innings in the field last night (video here), his first game action at third since having knee surgery last month. Assuming all goes well, he'll return to the Yankees at some point during the upcoming four-game series in Minnesota.
Eduardo Nunez and Eric Chavez (with a little Brandon Laird mixed in) have filled in admirably during A-Rod's absence, but Yankees' third baseman are hitting just .260/.308/.333 since he got hurt. The team's overall offensive output has gone up, from 5.22 runs per game before the injury to 5.85 after, but that has more to with the small sample size and playing some really bad teams more than anything. Even though he hasn't played in a month, Alex is still second among all big league third baseman with 4.0 fWAR, a tenth of a win behind Kevin Youkilis, who just passed him over the weekend. The Yankees have gone 23-11 without A-Rod, but there's no doubt they're a better team with him in the lineup.
Once he comes back, the lineup will basically go back to normal. A-Rod will (rightfully) hit cleanup and Brett Gardner will get bumped back to the bottom of the order. It's obvious the Yankees aren't going to move Derek Jeter down in the lineup, even just against righties, so moving Gardner down is the next best thing to do. You can't give Curtis Granderson, Mark Teixeira, and Robinson Cano fewer at-bats by moving them down even one lineup spot just accommodate Gardner, it's not worth it. We'll be back to the regular top five, meaning Jeter, Grandy, Tex, A-Rod, and Cano. Everyone else falls into place right after that.
Thankfully, Alex's return also means the end of the 13-man pitching staff, and I assume Hector Noesi will (finally) get send back to Triple-A for regular work. The guy has thrown 3.2 IP in the last 20 days. It's a waste, he needs to get back to the minors and actually do some pitching. I guess the alternative would be what, cutting Luis Ayala? I see no reason to do that. Freddy Garcia's cut finger buys them some time with the six-man rotation decision, and Joe Girardi will just have to live with a six-man bullpen for 10-12 days until September call-ups. It won't be the end of the world.
I also think that once A-Rod comes back, he's going to see a lot more games at DH than we're used to, at least at first. There's no reason to push him in the field so soon after surgery, so two or three days a week at DH rather than one might be the norm through the end of the season, especially with September right around the corner. That'll give Nunez and Chavez some semi-regular playing time, which is always good, especially in the kid's case. I don't know how A-Rod will hit when he comes back, but I suspect it won't be poorly. Perhaps a healthy knee will improve his power output, which wasn't really a problem to begin with. Either way, the Yankees are currently in first place and are a few days away from making a substantial addition to the roster, and that's exciting.