It's been nearly four full years since he last stepped onto a Major League field, but it wasn't until yesterday that Orlando Hernandez officially announced his retirement from baseball. The one they call "El Duque" spent parts of nine seasons in the big leagues, pitching for both New York teams as well as the White Sox and Diamondbacks. He was also a National and a Ranger at various points, but in name only. He never pitched for either team. The vast majority of his career was spent in pinstripes (exactly two-thirds of his career innings, in fact), during which time he was one of the most unique players in franchise history.
A fixture on the Cuban National Team for the better part of a decade, El Duque defected from Cuba on Christmas Day in 1997, eventually gaining asylum in Costa Rica after a stop in the Bahamas. The Yankees won the sweepstakes to sign Hernandez that winter, inking him to a four-year contract worth $6.6M. Initial reports said he was 28, but others suggested he was 32. I bet if they had chopped the guy open like a tree and counted the rings, they would have gotten another number entirely.
Despite his extensive experience in Cuba and in international competition, the Yankees had El Duque begin the 1998 season with two starts in Single-A before a quick promotion to Triple-A. He made seven starts for Columbus, then made his big league debut on June 3rd, replacing Ramiro Mendoza in the rotation. I remember that first start well, and for the same reason so many other people remember El Duque: the leg kick. It was unlike anything I had ever seen before, his knee hiding his face, the hands below the foot, it was everything I could ever conjure up while playing wiffle ball except on the big league field.
Hernandez held the then-Devil Rays to five hits and one run over seven innings that night in the Bronx, a preview of what was to come. El Duque threw a complete game four-hitter the next time out, then followed that up with a two runs in 7.2 IP in his third start. Only three times in his first 14 starts did he allow more than two earned runs, and he completed at least seven innings ten times during that stretch. Hernandez finished the season with a 3.13 ERA and a 12-4 record in 21 starts, earning him a fourth place finish in the Rookie of the Year voting. His True Yankee™ moment came in Game Four of the ALCS, when he fired seven three-hit, shutout innings against the powerhouse Indians with the Yankees staring a potential 3-1 series deficit in the face. Seven one-run innings in Game Two against the Padres in the World Series followed, as did his first ring.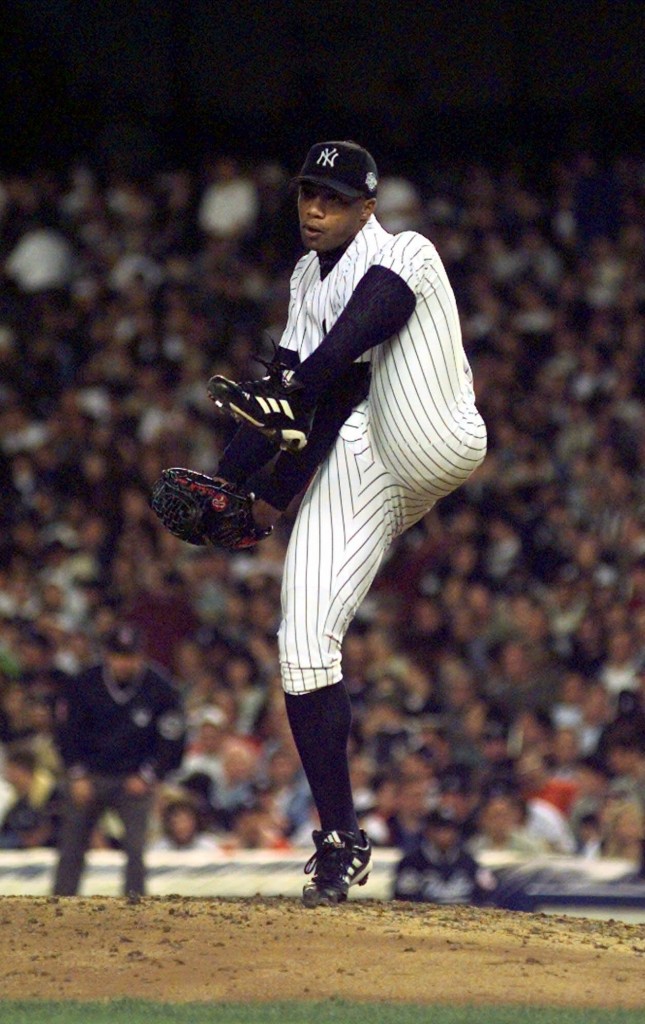 El Duque made 33 starts the next year, going 17-9 with a 4.12 ERA. He made four postseason starts and won them all, which is usually what happens when you allowed just four earned runs in 30 IP. In Game One of the World Series, he struck out ten and allowed just a single hit to outpitch Greg Maddux. Things went a little south for Hernandez in 2000, though he still started 29 games and posted a 4.51 ERA. The Yankees again went to the postseason, but El Duque took his first career playoff loss against the Mets in Game Three of the World Series. Four runs and a dozen strikeouts in 7.1 IP is hardly the end of the world though.
Injuries and ineffectiveness started to creep into the picture in 2001, when he managed just 16 starts and a 4.85 ERA. Hernandez's Yankees career came to an end after the 2002 season, or so we thought. He was traded to the White Sox in January 2003 for reliever Antonio Osuna and a minor leaguer, who then flipped him to the Expos as part of a package for Bartolo Colon later that day. El Duque didn't throw a single pitch in 2003 due to injury, and more than a year after trading him away, the Yankees signed Hernandez late in Spring Training in 2004. As it turned out, he ended up being a savior that season, pitching to a 3.30 ERA in 15 second half starts. He also made a representative start (5 IP, 3 R) in the ALCS against the Red Sox.
The Yankees allowed Hernandez to leave as a free agent after the season, officially closing the book on the career in pinstripes. The veteran right-hander contributed 876.1 IP with a 3.96 ERA to the Yankees' cause, not to mention postseason dominance that is still kinda hard to believe. El Duque threw 102 IP in the playoffs for the Yankees from 1998-2004, pitching to a 2.65 ERA. He won three rings in New York and was less than an inning away from winning a fourth, one win away from going to a fifth World Series.
* * *
El Duque isn't a Hall of Famer, far from it. He never even made an All-Star Team, and only twice in his career did he throw more than 165 IP in a season. He made a great first impression in 1998 but gradually got worse and worse each year, though he always had a flair for the dramatic. I remember him throwing his glove to Tino Martinez after Rey Ordonez's comebacker got caught in the webbing. I remember when he stood in the first base line with his arms crossed after fielding a grounder while Coco Crisp tried to juke his way to first. I remember the eephus pitches. I remember the smile. I remember the delivery and guarantee it'll be in the wiffle ball arsenal for life. El Duque is an All-Joy Team first ballot Hall of Famer, the pitcher that didn't just pitch a great game but also put on a great show while doing it.