This one looked like trouble, at several different points as well. The Yankees had some issues with a rookie pitcher they'd never seen before and things got hairy in the ninth, but ultimately it was another win for New York in what was probably their most important series of the season (to date).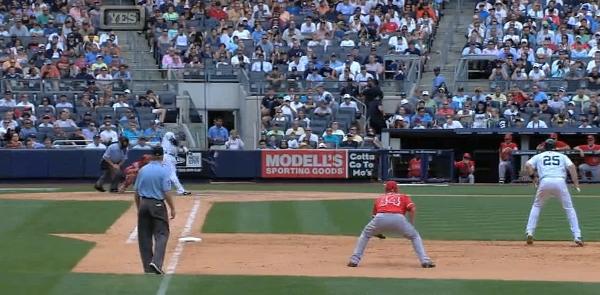 Robbie Makes 'Em Pay
The Angels have long been billed as a fundamentally sound club that plays good defense and runs the bases well and blah blah blah, but they sure didn't do that in the seventh inning of this one. The Yankees had runners on first and second with two outs following some Fernando Rodney hilarity, but Mark Teixeira chopped the routinest of routine grounders to second. The inning should have been over, but Maicer Izturis got ahead of himself and took his eye off the ball, muffing the grounder and extending the inning. Extra outs are bad news, especially against good teams like the Yankees.
That brought Robinson Cano to the plate with the bases juiced and two outs, though he was just 5-for-25 with zero homers off Scott Downs in his career. The Halos southpaw started him out with a sinker down and in, which Cano ripped down the first base line but just foul. Downs came right back the same pitch, but Robinson made the adjustment and swatted it off the facing of the second deck in right for a tie-breaking grand slam. The inning was supposed to over, but Izturis gave the Yankees an extra out and boy did they pay for it. It's the first homerun Downs has allowed to a lefty since June 2nd of last year, when Carl Crawford got him.
The funny thing is that Izturis' error was almost like a thank you gift for Brett Gardner's bunt earlier in the inning. Rodney came into the game with a 5.40 BB/9 on the season and he immediately walked the leadoff guy, and that's not exactly a situation that screams "give away an out!" The Yankees did anyway, but Izturis was nice enough to give them the out back a few batters later.
WWWMW™ Continues
Cano's grand slam gave the Yankees a comfy 6-2 lead, so Cory Wade came on for the final three outs in the ninth. He got a quick ground ball out, but then Izturis singled kinda sorta back up the middle and Peter Bourjos doubled into the left field corner. That put men at second and third with one out, meaning the tying run was on deck. Technically, that's a save situation, so in came Mariano Rivera.
New Yankee Stadium aficionado Russell Branyan stepped to the plate in place of Bobby Wilson, and clobbered the first pitch he saw into the right field stands for a three-run shot. It was almost an identical pitch to the one Bobby Abreu hit out on Monday, a cutter on the inner half that didn't cut. Mo got the next two outs without any stress, though he and Russell Martin changed up the game plan and pitched away from the two lefties to get the last two outs.
It's the seventh time since becoming the closer that Rivera has allowed runs in three straight games, and it's the third time since becoming a full-time reliever that he's allowed homers in back-to-back games. Joe Girardi said after the game that he'll be worried about Mo "if it happened for a month," which is my line of thought. We've seen him come out of bad weeks before and we'll see him come out of bad weeks again.

Third Time's A Charm For Granderson
Curtis Granderson's new favorite number must be two. Tuesday he made a boneheaded baserunning play to end the game, a play so stupid you had to facepalm twice after it happened. Then on Wednesday he atoned for his sin by clubbing (wait for it) two homers in a win over the Halos. In this game, he hit into not one, but (yes!) two double plays in his first two at-bats before hitting a (here it comes!) TWO-run homer to tie things up in the sixth. Maybe that means he'll finish in second place in the MVP voting after the season. Either way, Curtis now leads all of baseball with 93 RBI, jumping past Adrian Gonzalez with the homer. RBI's aren't the best stat in the world, but it sure it sure is cool seeing his name atop the leaderboard.
Leftovers
Bartolo Colon made just one mistake in this game, catching too much of the plate with a two-seamer to Alberto Callaspo that he hit out for a two-run homer in the fifth. Erick Aybar ended his 0-for-30 streak (yes, 0-for-30) with an infield single one batter prior. Bart struck out three and walked two, giving up five hits and just the two runs. I liked the decision to lift him after six even though he had only thrown 91 pitches, we're at the point in the season where Joe Girardi has to consider saving bullets and stuff.
Rafael Soriano replaced Colon in the seventh and allowed his first baserunner since May 13th on a ground ball single through the right side. He'd retired 16 straight since coming off the disabled list. David Robertson fired a perfect eighth before the Wade/Mo fiasco in the ninth. Meanwhile, Hector Noesi has thrown 2.2 IP in the last 15 days. There's just so much wrong with this Noesi situation. Sigh.
Leadoff man Brett Gardner had a double and a walk, though his streak of 22 consecutive steals came to an end when he was thrown out to end the eighth. For shame. Derek Jeter had three hits and a walk, raising his season line to .276/.340/.362. Since coming off the DL, he's hitting .312/.371/.408 in the perpetually growing sample size of 140 plate appearances. Mark Teixeira and Nick Swisher both singled, and Swisher, Eric Chavez, and Frankie Cervelli each drew walks. Martin pinch-ran for Cervelli in that seventh inning for some reason unbeknownst to me (is he really that much faster?), and apparently no one bothered to ask Girardi about it after the game. Just seemed weird, like something (injury? trade?) up.
The Yankees have won two in a row and ten of 13. After taking two of three from the team chasing them for the wildcard, the Yankees lead the Angels by eight full games. That's a mighty comfortable lead in the middle of August.
Box Score, WPA Graph & Standings
MLB.com has the box score and video, FanGraphs some other stuff, and ESPN the updated rankings.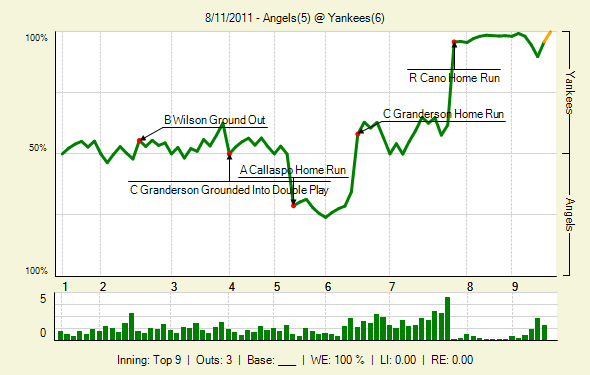 Up Next
It's a mid-August Yankees-Rays series that doesn't mean a whole lot, kinda like the old Devil Rays days. CC Sabathia gets the start on Friday night against his ace lefty counterpart, David Price. Word on the street is RAB Tickets can get you into the stadium for cheap if you're considering a game this weekend.