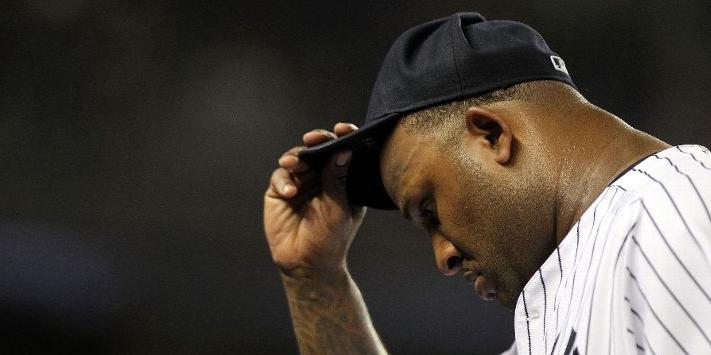 The Yankees will be in Fenway Park tonight for their final road series against the Red Sox tonight, and they'll have their ace on the mound. Unless you've been living under a rock for the last for months, you're well aware that CC Sabathia has yet to beat Boston this year, a big part of the reason why the Yankees have lost ten of twelve to their biggest rivals. He's 0-4 with a 7.20 ERA against the Sox but 17-3 with a 2.40 ERA against everyone else.
In his four starts against Boston this year, Sabathia has given up 20 runs in 25 innings. He has given the team length, failing to complete at least six innings just once (his first start on April 10th, when he went 5.2 IP), and his FIP (~3.70) looks a lot better than that ERA, but 20 runs in 25 IP is 20 runs in 25 IP. Here's the weird thing though: 15 of those 20 runs have been scored in just three innings. Look…
April 10th: one run in 5.2 IP overall
May 14th: two runs in six innings, then a four-run seventh
June 9th: six scoreless innings, then a seven-run seventh
August 6th: five-run third inning, but two runs in five innings otherwise
That June 9th game is particularly annoying. Sabathia cruised through the first six innings on just 82 pitches, allowing just two singles and two walks while striking out five and getting six other outs on the ground. He then gave up six hits to the next eight batters and allowed four runs to score before giving way to David Robertson. Robertson allowed all three of the runners he inherited to score before recording the final out of the inning. How often does that happen? As I said, annoying*.
The three big innings, one in each of his last three starts against Boston, suggest an anomaly more than anything. Sabathia's never had trouble beating the Red Sox before, going 4-2 with a 3.04 ERA and a ~3.30 FIP in eight starts against them in 2009 and 2010, and it would have been 5-2 had the bullpen not coughed up a four-run lead in the eighth inning of this game last May. The Yankees are 5-3 in those eight starts, and it would be 6-2 if not for that bullpen meltdown. The "can't beat Boston!" shtick is isolated to 2011.
Sabathia's been just a little off with his command in his last five starts, giving up 46 hits and eight homers in 36.1 IP. His strikeout (35) and walk (five) totals are still stellar, but he's been just a bit less awesome than usual. Obviously the Red Sox offense will be a tough matchup with or without his usual command, but hopefully he manages to avoid that one big inning tonight. That's been the biggest problem for Sabathia against Boston this year, bar none.
* I seem to remember some defensive funny business in another one of the big innings as well, but it's honestly not worth the effort to confirm.