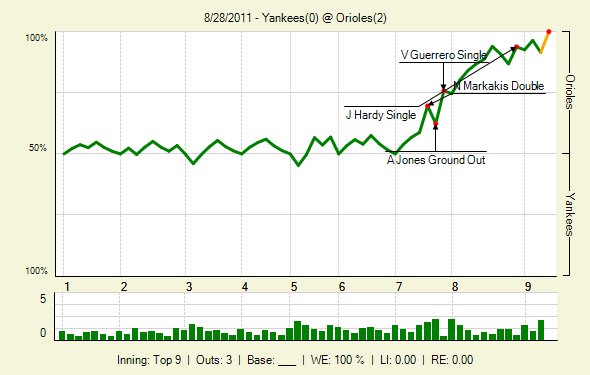 The first game of the post-Hurricane Irene era ended the same way as the last few games of the pre-Hurricane Irene era, meaning the Yankees lost, but it didn't really look the same. Let's recap…
For the first time in what feels like forever, the Yankees' starting pitcher was fantastic. Bartolo Colon was dominant and efficient, cruising through the first six innings on less than 75 pitches while allowing just two baserunners (both hits). He held his velocity late into the game, pumping 94 mph gas to the last hitter he faced, and his two-seamer had its usual wrinkle and was effective to batters on both sides of the plate. Colon did give up a pair of runs, one each in the seventh and eighth innings, but two runs in 7.2 IP is plenty good in my book. No blame gets assigned to Big Bart this afternoon, and his effort was clearly a good sign for the future.
The offense though, where did it go? The Yankees did have five hits (three by Mark Teixeira) and a walk, but they didn't get a single runner as far as second base the entire game. That's the first time that's happened since the Bryan Bullington game last year, which I'm sure you remember. Two double plays and Frankie Cervelli getting thrown out at second on a bloop single (not his fault, just an unfortunately play) will do that to an offense.
There's really not much more to add here. Boone Logan retired the only batter he faced to clean up Colon's mess in the eighth, and John Hirschbeck's strike zone was huge but consistent for both teams. That's pretty much it. Here's the box score, here's the FanGraphs' stuff, and here's the updated standings.
The Yankees have lost four of five games to the lowly A's and O's, and they're 9-9 in their last 18 against mostly weak competition. That's not getting it done, they needed to pad that wildcard lead during the last two weeks and didn't do it at all. Tampa housed the Blue Jays, so they're six back at the moment.
The second game of today's doubleheader will begin at 7:35pm ET. For those of you worried about blackouts and what not, it's been confirmed that the game will be available on both YES and MLB.tv. WFAN 660 has the radio call, remember. Anyway, that game will feature Ivan Nova against Brian Matusz, and hopefully the offense shows up this time.