For years, the Yankees employed a utility infielder basically because they had too, but they never really used the poor guy. Derek Jeter, Robinson Cano, and Alex Rodriguez were in the primes of their careers and very rarely took a day off, so the reserve infielder was just kind of there for emergencies. Cano is still very much in his prime, but Jeter and A-Rod have slowed down as they've gotten into their mid-30's. They're getting more regular rest (even if it's just a half-day as DH) and injured more frequently, so the backup infielder has become increasingly important.
Eduardo Nunez has been the primary infield fill-in this season, and he's been surprisingly productive. Maybe it's only surprising to me, but I'm sure I wasn't the only one with low expectations for the backup infielder. In 214 plate appearances this season, Nunez has hit .273/.325/.407 with 16 steals in 21 attempts, a .330 wOBA that is about five percent better than league average. His strength is simply getting the bat on the ball; his strikeout (9.8%) and contact (89.6%) rates are both substantially better than the league average (18.4% and 80.9%, respectively). After walking in just 5.6% of his minor league plate appearances (5.2% above Single-A), Nunez has upped that to 7.0% this season. His defense at short and third (primarily) has been sketchy (UZR hates him with a passion), but he seems to have improved of late, particularly on throws. Perhaps it was just a matter of getting regular reps.
I think it goes without saying that Nunez has been the Yankees' best utility infielder in quite some time, but just how much better? Let's look back at the last few seasons and the guys the Yankees had coming off the bench whenever they needed to replace someone on the diamond…
2009 & 2010
Ramiro Pena: .253/.283/.305 … 3.8% BB … 16.3% K … 11-for-13 in SB attempts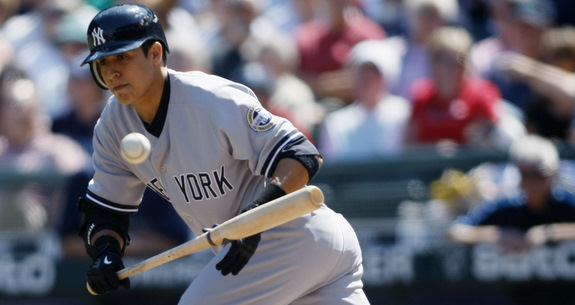 It was pretty surprising when the Yankees took Pena, a career .253/.311/.315 hitter at Double-A, north out of Spring Training in 2009, skipping the defensive specialist right over Triple-A. He performed about as well as could have been expected, flashing some leather and falling just short of his ZiPS projection (.249/.296/.332). Pena did end up back in Triple-A later in the 2009 season, giving way to trade deadline pickup Jerry Hairston Jr., who hit .237/.352/.382 in 93 PA with New York. Pena was the primarily utility infielder for all of 2010 though, with Kevin Russo and Nunez making short cameos.
2008
Wilson Betemit: .265/.289/.429 … 3.0% BB … 28.3% K … 0-for-1 in SB attempts
Before the days of Nick Swisher in right field, Betemit was the guy entrusted with resting the regular infielders. He definitely has some pop in his bat and showed it during his time with New York, clubbing 13 doubles and six homers in 189 PA during 2008 (a .164 ISO). The problem is that he was generally a statue on defense and Grade-A hacker incapable of putting together a tough at-bat, or so it seemed. He was also valueless on the bases. Cody Ransom made a late season cameo and won the heart of Ian O'Connor by hitting a homerun in each of his first two at-bats in pinstripes. He hit .302/.400/.561 in 51 PA late in the season.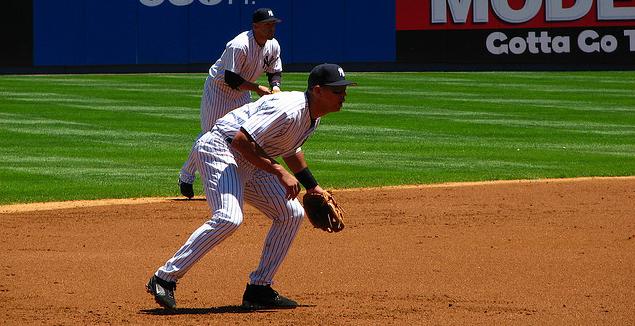 2007
Miguel Cairo: .252/.308/.318 … 6.6% BB … 16.7% K … 8-for-9 in SB attempts
Can you believe that Cairo is still playing? It's crazy, and he's actually performing quite well (.321 wOBA) for the Reds at age 37. Good for him. Anyway, Cairo was consistently ineffective for New York except for that ridiculous 2004 season when he took over the regular second base job thanks to his .336 wOBA. Cairo's defense was about average, but the Yankees got tired of his act in 2007 and released him in mid-August. They had acquired Betemit at the trade deadline to assume backup infielder duties, and he hit .226/.278/.417 with four homers in 92 at-bats down the stretch.
* * *
Previous reserve infielders include Cairo and Nick Green (2006), Rey Sanchez and Andy Phillips (2005), and Enrique Wilson (2004). All of them, including the 2007-2010 crop above, were pretty terrible and certainly worse than what the Yankees are running out there now with Nunez. ZiPS projects Eduardo to hit .266/.307/.371 (.305 wOBA) with seven steals in nine attempts the rest of way, which seems reasonable if not a little disappointing. I'm still not 100% sold on Nunez as a future everyday player, but he's certainly been better than I expected, and it's come at a good time because the Yankees needed him more than anticipated.