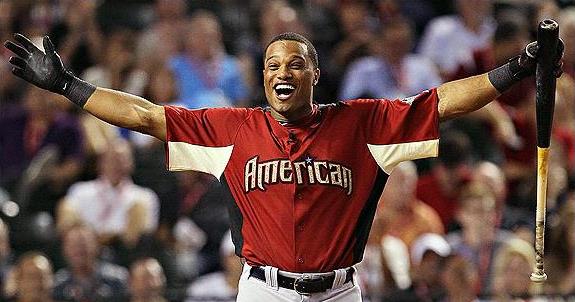 It was inevitable that Robinson Cano would disappoint on some level this season. In 2010 he put together a career year, hitting .319/.381/.534. That included a career high walk rate and career high ISO, which left us with a hope that this was the new Cano — the No. 3 hitter that we all envisioned when he debuted his sweet swing in 2005. In that way, 2011 has fallen below those lofty expectations. His wOBA is down 20 points and his walk rate is down to right around his career mark. The only thing he's retained is his power. Yet that doesn't tell the whole story. Seasons go in phases, and Cano appears to be hitting his stride. In fact, he's been hitting it for a few months now.
Cano started off the season impressively, hitting .320/.340/.639 in April. His walk rate was clearly low — he walked only three times in April, once on Opening Day and twice in one game on the 27th — but everything else seemed to be working. If he just laid off a few more bad pitches he could have been well on his way to another star-level season. But that lack of discipline soon came back to haunt him.
The team traveled to Detroit on May 3rd, and that's when Cano's slump began. For the next 34 games he hit .237/.294/.405 in 143 PA. He walked in just 4.2 percent of his plate appearances, and the lack of discipline apparently led to poor contact. His BABIP of .245 was far out of line with his established level. The slump might have drawn more comparisons to 2008 had Cano not continued to hit for power. In those 143 PA he still had 12 extra base hits, a .168 ISO.
Cano eventually broke out of the slump once Boston left town. Cleveland was next on the circuit, and Cano opened that series with a 3 for 4 performance that included an unintentional walk. That was on June 10th. Since then he has come to the plate 228 times and has hit .320/.377/.510, which is close to his 2010 production. The only difference is in the power department, where his .190 ISO since June 10th is a tick below his marks from the previous two years (.199 and .214).
The above, of course, merely dices Cano's season into convenient segments. All players streak and slump, and Cano is no different. What we can see, though, is that his mid-season slump has really dragged down his numbers. If you look through his 2010 game logs you won't see any slump that severe or that long. It's one major reason why he put together an MVP-worthy season. Without any prolonged slumps he was able to produce from start to finish and remain a prominent part of the conversation.
This year Cano has experienced a prolonged slump, which make his overall numbers look a bit worse. Combined with his refusal to take a pitch in April, it has led to a below expectations season to date. But it does appear something clicked in June, and since then he's back to producing elite numbers. He probably won't get his numbers back up to 2010 levels, but that's not what's important to the Yankees right now. As long as he hits at those 2010 levels the rest of the way, the offense will continue to steamroll opponents.