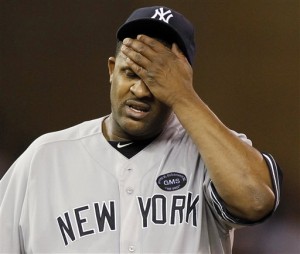 The Yankees are using a six-man rotation this week more out of necessity than preference, simply because they can't pull Phil Hughes out of the rotation given the schedule. If they want to do that, they'll have to wait until next Monday's off day at the earliest. The White Sox pulled off a six-man rotation for a few weeks earlier in the year, but we usually don't see big league teams employ them because a) rarely does a club have six quality starters, and b) they don't want to take starts away from their top arms. Given this current Yankees team though, I think there's some merit to sticking with a six-man starting staff beyond the next week…
The Upside
The Yankees didn't make a trade before Sunday's deadline, so the rotation you see now is (probably) the rotation you're going to see later in the year. CC Sabathia is a given, but he's also on pace to throw 250.1 IP through 34 starts. That's 13 more than he threw last year, 20 more than he threw the year before, and three innings shy of his career high. I'm sure he could throw the 250+ IP with no problem, but that doesn't make it a good idea. At some point they have to take their foot off the gas and give him extra rest.
Brian Cashman admitted to being in "no man's land" when it comes to Bartolo Colon, who has already thrown more innings this year than he has in any season since 2005. I don't worry too much about him physically breaking down (I figure if a 38-year-old breaks down, it probably was inevitable), I worry more about fatigue down the stretch. The Yankees would be in big trouble if Colon shows up in September barely able to crack 90 because he's running out of gas. Some extra rest over the next two months would help a bit. A.J. Burnett (on pace for ~205 IP) and Freddy Garcia (~185) are fine in terms of innings, no much of a concern there. I'd be more worried about Garcia's projected ~30 IP jump from last season if he wasn't a velocityless junk-baller.
There's also the element of having more time to evaluate Hughes. It becomes less less  a question if he bombs tonight, but if he pitches well or even just holds his own, the Yankees really would be doing themselves a disservice by not giving him some more starts. I suppose they could accomplish the same thing by using him in long relief, but that's irregular work and won't help control the workloads of everyone else in the rotation. By keeping him in the starting rotation, everyone benefits, especially the guys expected to be in the potential postseason rotation.
The Downside
Unless the Yankees suddenly decide they can live with a six-man bullpen, a six-man rotation will hamper their roster construction because they'll have to carry 13 pitchers. I'm almost certain they could get away with just six relievers, but I have no reason to believe they'd try it. A 13-man pitching staff means just three bench players, and at the moment those three are Frankie Cervelli, Andruw Jones, and Eduardo Nunez/Eric Chavez. That's fine for a short period of time, but Alex Rodriguez will be back soon and the Yankees are going to need a roster spot for him. They're obviously not going to cut Chavez or Jones, and sending Nunez to Triple-A means they won't have a true middle infielder on the bench. There's not much flexibility there.
I guess the other potential negative would be giving the core starters too much rest, if such a thing exists. Between the five days off between starts and various off days, it could throw those guys off their rhythm. Starting pitchers are creatures of habit, they tend to have very set routines between starts and six-man rotation would be screwing around with that routine.
* * *
Rosters expand 30 days from now, and two off days this month make the schedule a little easier to navigate. They could stick with the six-man rotation for now and get by with the three-man bench until A-Rod comes back. He's going to start baseball activities on Thursday, so you have to figure he's at least two weeks away from rejoining the team because of a minor league rehab stint and all that. We'll be in the middle of the month by the time he comes back, so then the Yankees could shift to a six-man bullpen for two weeks before rosters expand. There is an off day in there to make life easier, but there's also a doubleheader as well. It's doable, especially if they're liberal with the call-ups and send-downs should they need an fresh arm.
Depending on who you ask, the Yankees have either a 96.6% or 97.9% chance of making the playoffs this season. They're a game back of Boston for first place in the AL East, but the important thing is that they're seven games (eight in the loss column) ahead of the Angels for the wildcard. That's a pretty big margin for error, so it's not like they desperately need every win. They can afford to manipulate their rotation a bit just to rest the top guys heading into September and (hopefully) October, and I think there are some very real benefits to employing a six-man rotation for the next few weeks. Enough of a benefit that it outweighs the downside.