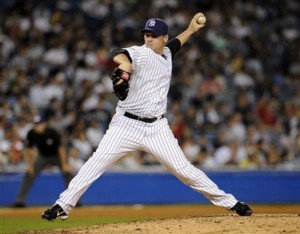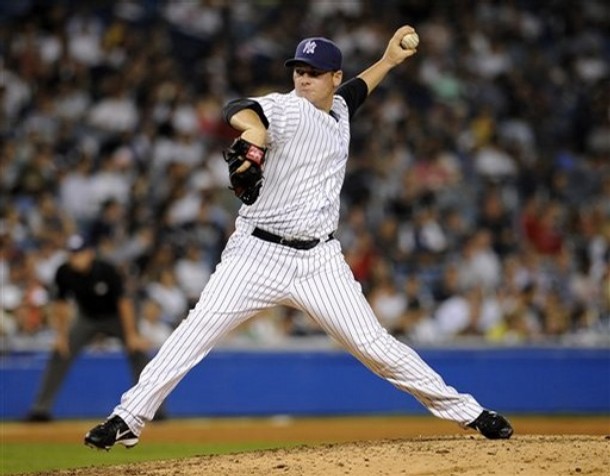 It's kinda hard to believe that it's already the last full week of August, but it is and the season is nearly at its end. September is right around the corner, meaning expanded rosters and non-stop talk about how the final month of the season is played with different rules than the first five. I really don't have a problem with it, it gives non-contenders a chance to see what they have in the farm system and contenders more help for the stretch drive. As long as every team can do it, it's fair in by book.
Based on what we've seen the last few years, the Yankees' first wave of call-ups (the guys that come up right on the first) will be the bare essentials. Last year the Yanks recalled a pitcher (Jon Albaladejo), an outfielder (Greg Golson), and a catcher (Chad Moeller) on the 1st, though they also welcomed Lance Berkman back from the disabled list. Two years ago they summoned three arms (Mark Melancon, Mike Dunn, Edwar Ramirez), an infielder (Ramiro Pena), and a catcher (Frankie Cervelli). More pieces came later in the month, but that was it on the first day rosters expanded.
The guys that come up on September 1st are likely to be the guys we've seen already this season, meaning Lance Pendleton and Chris Dickerson. Brian Cashman's recent comments indicate that Raul Valdes and Aaron Laffey will also be called up, so that's three arms right there. The fourth will be Hector Noesi, who I assume will go down for Freddy Garcia prior to Saturday's doubleheader with the Orioles. Ramiro Pena may or may not be ready to return from his appendectomy, but if he's not, then Brandon Laird is your extra infielder. Barring some funny business with the recently DFA'ed Gus Molina, Jesus Montero will be up as the third catcher as well. I'm guessing Justin Maxwell will be the 40-man roster casualty to accommodate Montero.
Triple-A Scranton is pretty much out of the playoff race barring a miracle comeback, and their season ends on September 5th. No postseason means more call-ups within the first week of the month, so expect to see Kevin Whelan and Greg Golson return. Steve Garrison is another possibility if Double-A Trenton fails to make the playoffs (which is very possible), though I think four lefties might be overkill. The wildcard is Andrew Brackman. He's been awful this year but did get a call-up last year even though he didn't pitch. I wouldn't be surprised either way. Pena is going to return at some point, so all told that's two infielders, two outfielders, a third catcher, and a bunch of arms. All except Montero are already on 40-man roster, so the moves are a piece of cake. The non-40-man guys are much more interesting though.
The most notable one (to me) is George Kontos, who's having huge, strikeout heavy year in Triple-A, his first as a full-time reliever. Yeah, he's made some spot starts and is pretty stretched out (good for 50-60 pitches or so at the moment), but then again all Triple-A arms are. Kontos will need to be added to the 40-man after the season to avoid exposure to the Rule 5 Draft, and he's a definite add at this point. The Yankees got a little lucky when the Padres returned him last year, but I doubt they'll roll the dice again. I have no idea what the 40-man roster move would be (Garrison? maybe even Pants Lendleton?), but I say give the kid a promotion and an inning or two next month, just to see what's up.
The other Rule 5 guys are Austin Romine, David Phelps, and D.J. Mitchell, all of whom are locks to be added to the 40-man after the season. I don't think any will be called up in September though, just because there aren't that many innings to go around and those guys are better off heading to Instructional League. Plus the 40-man roster crunch will be very tight if Maxwell and Garrison are cut lose. Phelps is a prime candidate for the Arizona Fall League after his shoulder problem as well. Although they're throwing bullpens down in Tampa, I would be stunned if either Damaso Marte or Pedro Feliciano returned next month.
So all told, I see 10-11 players being added to the roster at various points next month. The first wave of guys figures to be Laffey, Valdes, Pendleton, Montero, Laird, and Dickerson. Once the Triple-A season wraps up, I figure Golson and Whelan will come back to town, and Pena will rejoin whenever he's healthy. Kontos is another late add, and who knows with Brackman. Like I said, I could see it either way. The important thing to remember is that these guys aren't being brought up to put the Yankees over the top in the division race or anything, they're just there to take the load off the regulars and keep the pitching staff fresh by soaking up garbage innings. September will be exciting because we'll get to see some notable minor leaguers (Montero!), but the call-ups are always more exciting in our heads than in reality.