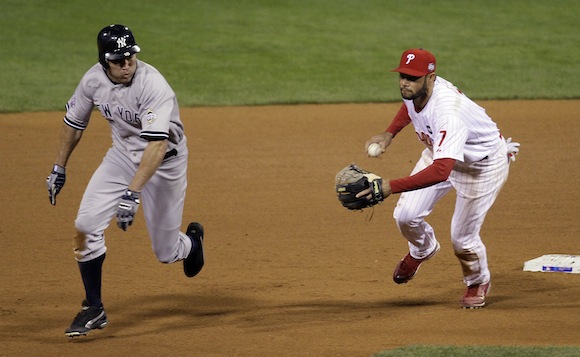 Cory asks: Word is Johnny Damon cleared waivers, is he worth looking at to fill the DH role? It seems like he would be at the least a slight upgrade over Chavez/Jones, but would pretty much close the door on Montero being any more than a bench option this season.
Damon did clear waivers, at least according to Jayson Stark. That means the Rays are now able to trade him to any team for a player that a) also cleared waivers, b) was claimed off waivers by the Rays, or c) is not on the 40-man roster. Money really isn't an issue here, there's less than $1.5M left on Damon's contract this season. He does have some weird incentives tied to attendance, but I think those go away if traded since they're dependent on Tampa's attendance. Either way, it's only another $750k at most.
So the real question is this: Is Johnny actually better than what the Yankees already have at DH? Even with his Friday homer off CC Sabathia, he's still hitting jut .261/.315/.395 with ten homers in 481 plate appearances. The Trop is one of the more extreme pitchers' parks in the game, so it's not a surprise that Damon has a .356 wOBA on the road and a .270 wOBA at home. The current cast of DH's for the Yankees is Eric Chavez (.323 wOBA vs. RHP in 81 PA) and Andruw Jones (.380 wOBA vs. LHP in 103 PA), though we should also include Jorge Posada in that mix (.351 wOBA vs. RHP in 228 PA). Damon's platoon split is basically non-existent (.315 wOBA vs. RHP and .309 vs. LHP), and based on just this season's numbers, he's not an upgrade anywhere. Unless you believe he'll hit like he has on the road for the rest of the season.
There's also the roster space issue. Someone would have to get the axe to make room for Damon, and frankly both Chavez and Jones have proven to be very useful in their prescribed roles. Eduardo Nunez can't go anywhere because he's the backup middle infielder, and they're not going to cut ties with Posada. They're just not. The Yankees could get a little creative and swing a trade for Damon on the night of August 31st, so they wouldn't need to play with a wonky roster for an extended period of time because of September call-ups the next day. Of course, there's basically no chance the Rays will go along with that, and they've already shown an unwillingness to trade within the division.
Johnny's still a good player, but he's no longer great or even very good. He's basically an average hitter these days, which is an upgrade over what the Yankees were getting out of their DH's for most of the year. I think I'd rather have the Chavez-Jones tandem going forward, unless they can finagle something on the 31st and use him as an extra bat in September. There's a pretty good chance that if he wasn't a former Yankee, we probably wouldn't even consider Johnny a viable option. There's some nostalgia afoot.